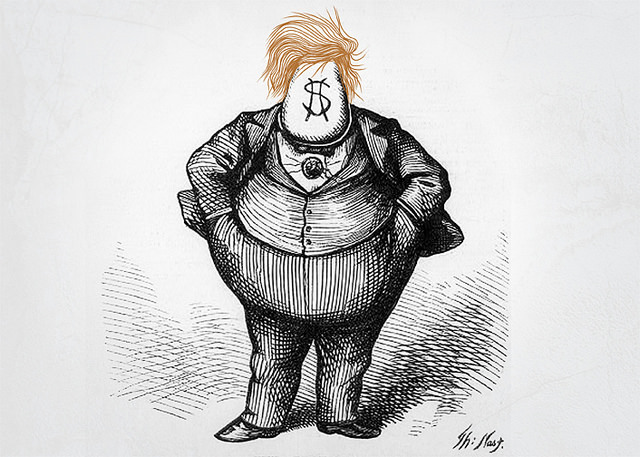 Update II:
Reports are circulating that Marla Maples, Trump's second wife, may be the source of the leaked Trump tax documents sent to the New York Times.
Read more here.
~~
Update I:
The following are some tweets by Donald Trump very much relevant to his hypocrisy and shamelessness regarding the paying of U.S. income taxes.
Courtesy ThinkProgress.org
On April 13 2012, Trump slammed Obama for paying "only" 20.5% of his income in taxes.

Donald J. Trump Verified account [email protected]
@BarackObama who wants to raise all our taxes, only pays 20.5% on $790k salary. http://1.usa.gov/HFZJKH Do as I say not as I do.
=
On February 23 2012, Trump criticized other Americans, mostly low income people, for not paying income taxes.
Donald J. TrumpVerified [email protected]
HALF of Americans don't pay income tax despite crippling govt debt…
=
On May 14, 2012, Trump criticized a billionaire for avoiding paying federal taxes.
Donald J. Trump Verified account [email protected]
Facebook billionaire gives up his U.S. citizenship in order to save taxes. I guess 3.8 billion isn't enough for @TheRealSaverin. He's taking off to Singapore but will continue to enjoy the fruits of the U.S.
=
On March 28, 2013, Trump bragged about how much he pays in taxes.
Donald J. Trump Verified account [email protected]
"@conservativeJT: @bluejoni @realDonaldTrump Trump is an American that will pay more taxes in one year than you pay in your entire life.
=
On December 7, 2015, Trump bashed Amazon for not paying "fair taxes."
Donald J. Trump Verified account [email protected]
If @amazon ever had to pay fair taxes, its stock would crash and it would crumble like a paper bag. The @washingtonpost scam is saving it!
~~
Original Story:
The New York Times has obtained documents that appear to be part of Donald Trump's 1995 tax returns which "suggest" that Trump could have paid no federal income taxes for up to 18 years.
According to the Times, Trump declared a $916 million loss on his 1995 income tax returns, "a tax deduction so substantial it could have allowed him to legally avoid paying any federal income taxes for up to 18 years."
The Times:
The 1995 tax records, never before disclosed, reveal the extraordinary tax benefits that Mr. Trump, the Republican presidential nominee, derived from the financial wreckage he left behind in the early 1990s through mismanagement of three Atlantic City casinos, his ill-fated foray into the airline business and his ill-timed purchase of the Plaza Hotel in Manhattan.
Three pages from what appear to be Trump's 1995 tax returns were received by mail by the Times last month "with a postmark indicating they had been sent from New York City. The return address claimed the envelope had been sent from Trump Tower."
According to the Times, Trump has declined to comment, but his campaign released "a statement that neither challenged nor confirmed the $916 million loss.":
"Mr. Trump is a highly-skilled businessman who has a fiduciary responsibility to his business, his family and his employees to pay no more tax than legally required," the statement said. "That being said, Mr. Trump has paid hundreds of millions of dollars in property taxes, sales and excise taxes, real estate taxes, city taxes, state taxes, employee taxes and federal taxes."

The statement continued: "Mr. Trump knows the tax code far better than anyone who has ever run for President and he is the only one that knows how to fix it."
Read the entire report here.
Edited to add: In the meantime those of us who are not as smart as Trump — the little people — continue to pay our taxes. Taxes that help fund our military, our schools, health system, infrastructure, etc.
Next thing we will find out is how smart Trump has been in (not) sharing some of his fortune with charitable causes.
Lead image: Donkeyhotey.com
The author is a retired U.S. Air Force officer and a writer.