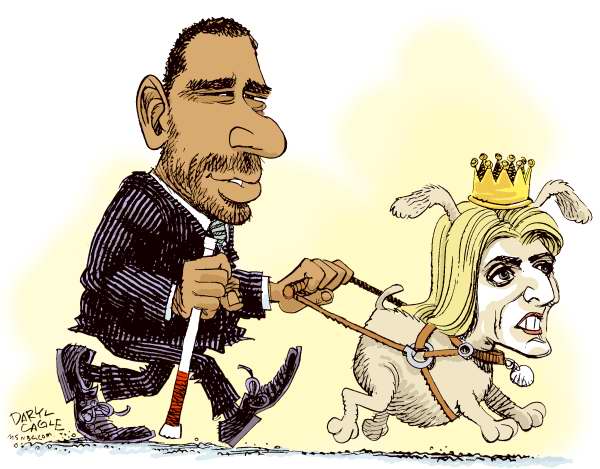 Is Caroline Kennedy on the fast track to be named to fill out Senator Hillary Clinton's Senate seat — or have the wheels come off the Royalty Express that's trying to speed down New York's political tracks?
Stories about Kennedy and Governor David Paterson continue to proliferate…one story suggesting she has a fast track…others suggesting that the Governor is irked that people consider her a front runner in a decision that he alone has the power to make.

Steve Clemons has a suggestion that he thinks could neatly resolve it: the new President Barack Obama should send Kennedy to be Ambassador to St. James Court:
Caroline Kennedy is having a rough time convincing fellow New York-based Dems that she's good for them. If she really, really wants to be in the rough and tough of hard scrabble politics — and show us all what she is made of — I wish she had decided to enter the political fray via election rather than appointment.

George W. Bush and Richard Cheney abused this democracy, built an imperial presidency, emasculated Congress, launched an illicit war, spied in massive proportions on American citizens, authorized torture as a tool in interrogations. They ruined what "democracy" means in the eyes of many American citizens — but also for many around the world who want to knock back their totalitarian governments and achieve some form of real democracy and self-determination.

To succeed the Bush era with a high profile appointment of the untested, iconic Caroline Kennedy does not bolster the Democratic Party's message that democracy at home needs to be rebuilt and revitalized.

Caroline Kennedy's first efforts to sell herself to New Yorkers — but also to make herself look like a compelling choice other than having a good "brand name" to Americans at large — has not gone well.

Barack Obama should stop this grilling and torment that is being prepared for Kennedy and all who helped push her candidacy for "appointment" by offering Kennedy the Court of St. James, the U.S. Ambassadorship to Great Britain.
Read his must-read post in its entirety.
Kennedy is considered American political royalty, so it would be fitting that royalty could go to royalty. Except for one fact: right now Kennedy is not being treated like political royalty.
There are other developments in the transition's biggest political saga (if you exclude the follically-empowered Illinois Governor who is alleged to have tried to sell Obama's old Senate seat). For one thing, JFK's beloved daughter is getting some seriously rocky reaction from the still-important press and some political elites:
–California Democratic powerhouse Willie Brown predicts Kennedy is in for one rough ride.
–-The New York Daily News' Michael Goodwin has a blunt column titled "Say goodnight, Caroline," that needs to be read in full. Here's a tiny taste of it:
Some top Democrats were certain Gov. Paterson, a close-to-the vest electorate of one, would find Kennedy irresistible now and as a running mate in two years. All others were chopped liver next to her sudden star power.

But a strange thing is happening on the way to the coronation. The wheels of the bandwagon are coming off. Fantasy is giving way to inescapable truth.

That truth is that Kennedy is not ready for the job and doesn't deserve it. Somebody who loves her should tell her.

Her quest is becoming a cringe-inducing experience, as painful to watch as it must be to endure. Because she is the only survivor of that dreamy time nearly 50 years ago, she remains an iconic figure. But in the last few days, her mini-campaign has proved she has little to offer New Yorkers except her name.

Her handlers and family enablers insist she feels no entitlement to the Senate job, yet there is no other possible reason to give it to her. Her name is the sole reason she even dares go for it. Camelot must be Gaelic for chutzpah.

New York can do better.

There is no denying the situation is odd. No one quite knows how to garner Paterson's approval or what his vetting process is. He hasn't even endorsed the sensible idea of public forums and debates, which would give voters a way to participate.

Kennedy apparently decided to go public to build support and scare off others, including Attorney General Andrew Cuomo, whose nasty divorce from her cousin still roils both clans. Kennedy also had to introduce herself to Democratic party leaders because, other than endorsing Obama, her politics were a mystery.

But the minute she faced the routine questions that help define a candidate for virtually any office, she had nothing to say. There was no "there" there.
–New York Times: As a candidate, Kennedy remains forceful but elusive.
–Polls suggest Caroline is no Hillary.
–Some suggest Kennedy did not exactly hit a home run in her interview with the New York Times. Here's the transcript, so you can make your own decision.
–Swampland: Kennedy "Unconventional"
–Washington Post: She's a Kennedy, But She's a Lot Like Us
–Boston Globe: Not so sweet on Caroline
—Caroline Kennedy is a Poor Speaker, You Know?
FOOTNOTE: Obama reportedly would like to see her appointed to the Senate seat. That may count for something in the end…
Joe Gandelman is a former fulltime journalist who freelanced in India, Spain, Bangladesh and Cypress writing for publications such as the Christian Science Monitor and Newsweek. He also did radio reports from Madrid for NPR's All Things Considered. He has worked on two U.S. newspapers and quit the news biz in 1990 to go into entertainment. He also has written for The Week and several online publications, did a column for Cagle Cartoons Syndicate and has appeared on CNN.