The bottom line? Trump just fired sessions. Is Mueller next?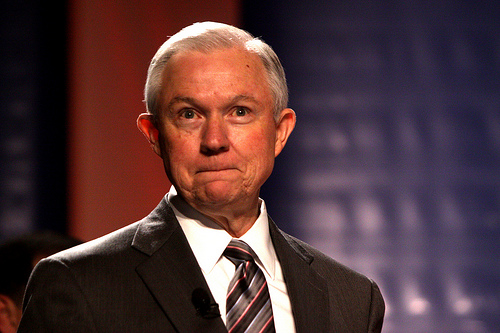 Has a political "purge" by Donald Trump started, as a headline on The Huffington Post suggests? Whether or not it is that, Trump today "asked for the resignation" of Attorney General Jeff sessions. The translation: you're fired. This Tweet by Connecticut Senator Chris Murphy sums it up:

Jeff Sessions did not resign. He was fired.

Jeff Sessions did not resign. He was fired.

Jeff Sessions did not resign. He was fired.

Say it with me.

— Chris Murphy (@ChrisMurphyCT) November 7, 2018
The New York Times:
President Trump forced out Attorney General Jeff Sessions on Wednesday and replaced him with a loyalist who will now take charge of the special counsel investigation into Russia's election interference, a defiant move just a day after a midterm election loss.

Mr. Sessions delivered his resignation letter to the White House at the request of the president and Mr. Trump tapped Matthew Whitaker, Mr. Sessions's chief of staff, as acting attorney general. In that capacity, Mr. Whitaker assumes control of the Russia investigation, raising questions about the future of the inquiry led by the special counsel, Robert S. Mueller III.

Mr. Whitaker has previously questioned the scope of the investigation. In a column for CNN last year, Mr. Whitaker wrote that Mr. Mueller would be going too far if he examined the Trump family's finances. "This would raise serious concerns that the special counsel's investigation was a mere witch hunt," Mr. Whitaker wrote, echoing the president's derisive description of the investigation. Mr. Mueller has subpoenaed the Trump Organization for documents related to Russia.

Until now, the investigation has been overseen by Rod J. Rosenstein, the deputy attorney general, because Mr. Sessions recused himself, citing his active role in Mr. Trump's 2016 campaign. Because Mr. Whitaker has expressed opinions about the investigation, Justice Department ethics advisers may be asked to weigh whether he should also recuse himself. If that were to happen, Mr. Rosenstein would continue to oversee the special counsel.

Mr. Whitaker had no plans to make any immediate public comments about Mr. Mueller, an administration official said.
President Donald Trump on Wednesday fired Attorney General Jeff Sessions.

"At your request I am submitting my resignation," Sessions wrote in a letter to White House chief of staff John Kelly.

Matthew Whitaker will take over as acting attorney general, the President said.
Whitaker is expected to take charge of the Russia investigation and special counsel Robert Mueller from Deputy Attorney General Rod Rosenstein. Whitaker has been openly critical of Mueller and the investigation and Democrats immediately called on him to recuse himself, just as Sessions had.

….The move is an abrupt end to what had been a tumultuous tenure for Sessions, originally one of Trump's earliest and most loyal surrogates as an Alabama Republican senator. He was a key figure in implementing Trump's vision for America and significantly rolled back Obama-era policies on immigration, police reform and civil rights.

Sessions was an enforcer of much of the Trump administration's hardline approach on immigration and regularly praised the President's tough words on crime. But even as he continued to carry out the Trump agenda, his relationship with the President remained strained and fraught for months due to the ongoing Mueller investigation.

Sessions received the request to resign from Kelly, not the President, on Wednesday morning, an administration official said. It is not clear whether Mueller was told ahead of time.
Justice Department employees were not officially notified of Sessions' ouster nor of Whitaker's appointment before the President's tweet and media reports announced the news, sources within the department say.
President Donald Trump has forced out Attorney General Jeff Sessions just one day after the midterm elections and after nearly a year of berating him for recusing himself from the Justice Department's Russia investigation. Sessions's temporary replacement—Matthew Whitaker, his chief of staff—is now effectively Special Counsel Robert Mueller's new boss. But he's expressed repeated skepticism over the scope of Mueller's inquiry in the past, raising immediate questions about whether he will try to limit it.

Trump, who has been unsparing in publicly castigating his own Cabinet official, had been hinting that he would ask for Sessions's resignation following the elections. Privately, Trump has reportedly called him an "idiot" and said that hiring him was a mistake. He first asked Sessions to resign following Mueller's appointment to lead the probe in May 2017, according to The New York Times, but then wouldn't accept his resignation.

Legal experts and political strategists who have either worked directly with the president or observed his behavior from afar attributed Trump's reluctance to fire Sessions to two major considerations: fears in the White House that the move would cost the president support among GOP voters and members of Congress, who generally like and support Sessions, and the risk of provoking further allegations of obstruction of justice—both of which could deepen the challenges already facing the administration.

Elie Honig, a former federal prosecutor in the Southern District of New York, told me that Trump's decision to oust Sessions and replace him with Whitaker probably wouldn't be considered an obstructive act in and of itself. But it could add to the "totality of the circumstances" surrounding a series of moves Trump has taken to try to stymie the Russia investigation since early last year, Honig said, including his firing of former FBI Director James Comey and his attacks on Sessions.

David Kris, a founder of Culper Partners who served as the assistant attorney general for the DOJ's National Security Division from 2009 to 2011, said it was "obvious" that Trump was motivated "by his well-expressed feelings of dislike toward the Mueller investigation. There can be no serious question about that." Kris, like Honig, said that ousting Sessions and appointing Whitaker "could be another element in a bill of particulars" used by prosecutors to specify the ways that Trump "has used the powers of the presidency toward a corrupt end."

With the midterms out of the way, however, Trump evidently feels freer to make changes to his Cabinet, regardless of how it may be perceived by investigators who have been closely examining his behavior for signs of corrupt intent with regard to the Russia investigation over the last 18 months.
Jeff Sessions has left the building. He exited to a crowd of at least 150 applauding DOJ employees. He shook hands with new acting AG Matt Whitaker, DAG Rod Rosenstein, SG Noel Francisco, and Civil Division head Jody Hunt. He gave a thumbs up and got into a waiting SUV pic.twitter.com/JOmVlAs2vz

— Zoe Tillman (@ZoeTillman) November 7, 2018
You see, Patriots. The firing of Sessions won't go the way Trump believes it will. https://t.co/WyA8vuIJYI

— Andrew C Laufer, Esq (@lauferlaw) November 7, 2018
Trump fired Sessions for 1 reason: his recusal from Mueller Investigation. He's obviously trying to undermine the investigation. This is one more chance for the Republican Senate to prove they are capable of doing the job of being a check and balance. Don't hold your breath…

— Ana Navarro (@ananavarro) November 7, 2018
President Trump just removed Jeff Sessions. He wants an Attorney General to serve his interest, not the public.

Mueller's investigation and the independence of the DOJ must be protected. Whitaker and any nominee must commit to doing both.

We will protect the rule of law.

— Adam Schiff (@RepAdamSchiff) November 7, 2018
The Vacancy Reform Act bars Trump's installation of the unconfirmed Matt Whitaker to act as attorney general to control Robert Mueller unless Sessions truly "resigned" rather than being fired. A federal district court could be asked to see through the ruse and hold he was fired.

— Laurence Tribe (@tribelaw) November 7, 2018
Trump lost the US House, key governorships, 333 legislative seats and local races across the country. So he fired Jeff Sessions to move the news beyond his humiliating losses. Tomorrow, Morning Joe will examine how Trumpism destroyed the GOP majority and why it will get worse. pic.twitter.com/MF8z3mviFC

— Joe Scarborough (@JoeNBC) November 7, 2018
Fox News legal analyst: Trump's ouster of Sessions looks "nefarious" https://t.co/USYdAGYMIM pic.twitter.com/eMl7PLPOP6

— The Hill (@thehill) November 7, 2018
Jeff Sessions is resigning to spend more time with his family separation policies.

— Stephen Colbert (@StephenAtHome) November 7, 2018
Rep. Jerry Nadler, ranking Dem on House Judiciary: "The firing of Jeff Sessions will be investigated and people will be held accountable. This must begin immediately, and if not, then a Democratic Congress will make this a priority in January." https://t.co/evvHskU4Yi pic.twitter.com/trA0F3x9wL

— ABC News Politics (@ABCPolitics) November 7, 2018
WATCH: Sessions leaves Justice Dept to round of applause after being fired https://t.co/UygJbKeKp4 pic.twitter.com/O6qg367Fiw

— The Hill (@thehill) November 7, 2018
Donald Trump chose to fire Jeff Sessions today to push his massive defeat in the midterms off the front pages and the top of news programs. It worked. #Wagthedog

— Tony Schwartz (@tonyschwartz) November 7, 2018
Odds for next attorney general list Giuliani, Kobach as favorites https://t.co/PTfe2xIEHc pic.twitter.com/fgjukq6AEq

— Newsweek (@Newsweek) November 8, 2018
photo credit: Gage Skidmore Jeff Sessions via photopin (license)