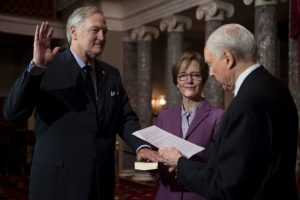 "Big Luther" Strange was appointed to the Senate seat recently vacated by Attorney General Jeff Sessions by Governor Robert Bentley, the same man he was investigating
Photo via Buzzfeed.com
This week, one of the most anticipated parlor-games in Washington DC and Alabama came to an end with Alabama Governor Robert Bentley's appointment of Republican Attorney General Luther Strange to succeed Jeff Sessions in the U.S. Senate. The three month suspense had been ongoing since then President-elect Trump announced Sessions was his choice to become Attorney General of the United States. His confirmation by the Senate earlier this week culminated the jockeying among Alabama Republicans to succeed him as Strange immediately got the nod. But in this instance, Strange may be more than just the new Senator's name, as at least some tertiary circumstances surrounding his appointment may follow him to Washington and dog his tenure, particularly as he seeks the remaining two years of Sessions' term in 2018. Indeed, Strange already is facing a primary threat from those who fear that his appointment was less than kosher. Put another way, in this case Strange is peculiar.
This isn't exactly a Lisa Murkowski situation. The Alaska Republican was selected to fill her father's seat – by her father himself after he had been elected Governor in 2002. It also bears mentioning that Alabama, culturally and geographically, are as far apart as can be. The situation may also not rise to Illinois Governor Rod Blagojevich's vow to "not just give the fu—i-g thing away" and appoint Barack Obama's Senate seat to the highest bidder, But that theory may be getting slightly warmer to the Alabama situation. But there are a couple of reasons to expect lingering distractions of the mechanics behind the appointment.
In Alabama, Strange cuts an unmistakable profile. "Big Luther," as he is known stands at 6'9 and was a star basketball player at Tulane. His stature was also strong in Alabama. The Daily Beast recently quoted a Birmingham attorney as calling Strange "very well respected and very well liked," calling him a "by-the-book kind of guy." But that has been tested lately amid the saga surrounding Governor Bentley. The saga began when Bentley's wife of 50 years filed for divorce following her discovery that he had been having an affair with an aide, Rebekah Mason, who was paid with campaign funds. But when another aide was fired, under what she now contends was wrongful termination, members of the Alabama legislature, guided the House Judiciary Committee, began an investigation into whether Bentley's conduct merited impeachment. The matter was still ongoing when Strange asked them to cease, contending he had 'necessary related work.'" Legislators obliged but no further developments took place. Except that shortly after Trump was elected president, Strange announced he was putting his name in the mix to succeed Sessions? Who would make the appointment? Bentley. And lo and behold, after a process that Bentley narrowed to six names, Strange got the job. And Strange going to Washington means a new Attorney General for Alabama? Who will fill that slot? Why Bentley of course?
Strange denied that his office was involved with an investigation. Many Republicans have been vocally uncomfortable with Strange getting the seat. State Auditor Jim Ziegler called it "grimly problematic that the attorney general who blocked the impeachment investigation and who has not gone forward with the Bentley criminal investigation is rewarded with the U.S. Senate appointment," More ominously, he vowed that Strange's "manipulation against any Bentley investigation will be an issue." Another Republican State Representative, Ed Henry called the air of corruption…thick."
An Alabama Republican political consultant said Bentley "wanted a winner," and said Strange could serve in the Senate "for the next 25 years." Given the fact that he has held statewide office for six years, I would say that Strange's chances of winning the election and completing the final 2 years of Sessions' term are strong Given the fact that he has held statewide office for six years, I would say that Strange's chances of winning the election and completing the final 2 years of Sessions' term are strong, though at the very least he should expect to be hard-pressed in the primary.
Ironically, Strange's appointment came as another Alabama Governor who faced ethical violations, Don Siegelman, was released after serving six years in a Louisiana prison for selling government positions for campaign contributions. Guess in Alabama, much like the rest of the nation, truth is "stranger" than fiction.