St. Valentine's Day Massacre
February 14, 2017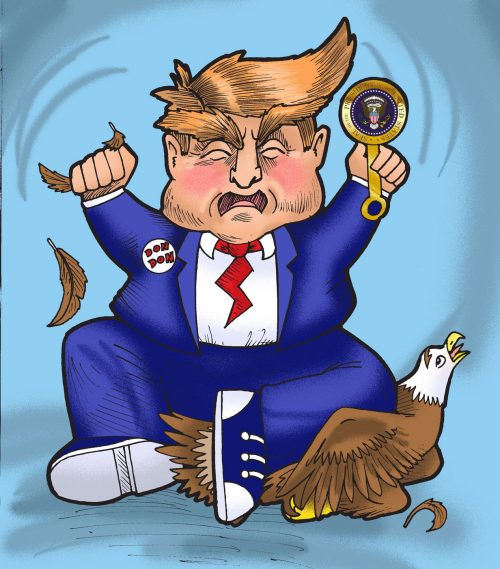 Note to readers: This is the latest entry in Super Baby DonDon's diary. The series imagines that President Donald Trump has the emotional make-up of a five-year-old and confides his deepest thoughts—such as they are—to Andrew Feinberg, and to readers, every day. In his private moments, he always thinks of himself as Super Baby DonDon.
The honeymoon is so over. No, I'm not referring to my presidency. I'm talking about life with the first lady. My wife, when she speaks to me at all, calls me "Da Pussygrabber." And not in a good way.
When I come back to New York for a weekend visit, she goes to Florida. When I go to Florida, she often heads back to New York. It's like her version of a two-state solution and it's working out about as well as the one in the Middle East.
People, I'm embarrassed to say this, but I think she's trying to avoid having sex with me. Me, Super Baby DonDon, catnip to women and possessor of such a manhood—well, I told you about that already. This no-sex policy led me to say, "Hey, I bought you breast enhancements, let Super Baby DonDon see them, you Slovenian witch! You showed them to everyone in GQ, what about me?"
So tonight I, the studmuffin of Pennsylvania Avenue, will be sitting at home eating a Big Mac and watching Hannity. At least I know he loves me.
Sad.
Andrew Feinberg is the author of Four Score and Seven (https://www.amazon.com/Four-Score-Seven-Andrew-Feinberg/dp/0692664009), a novel that imagines that Abe Lincoln comes back to life for two weeks during the 2016 campaign and encounters a candidate who, some say, resembles Donald Trump. He also writes an anti-Trump humor page at www.babydondon.com or https://www.facebook.com/MeBabyDonDon.