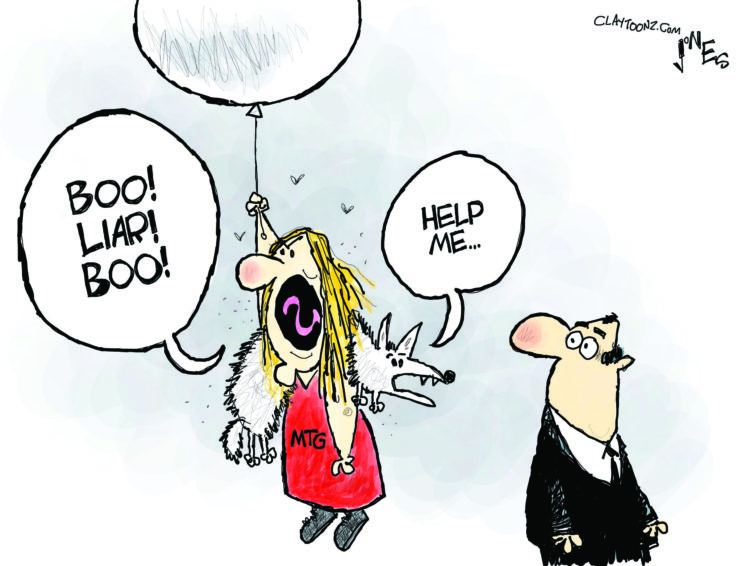 This year's State of the Union speech to Congress was interesting, to say the least. In fact, it may have even been exciting. What?
I wasn't looking forward to watching and considered skipping it and catching the highlights later. In fact, since my TV is on news 90% of the time, I just had it on mute when the speech started. I had already heard all the warmups and I was expecting a slow an methodical speech by the president. President Joe Biden is not the best speaker in politics and I really wasn't expecting much. I wasn't expecting Joe Biden to bring it.
He brought it.
Not only did he bring it, but he played rope-a-dope with the GOP and negotiated them into agreeing that cuts to Social Security and Medicare are "off the table."
President Biden stated that there were some who wanted those cuts, which is true. But Republicans booed and called him a liar. So, Biden said "we agree" and those cuts are "off the table." Damn! He got them. He got them good.
Rick Scott, the Republican senator who's led the charge to make those cuts, released an ad this morning calling for Biden to resign. Why? Because he shut you down? If anything from last night's speech, Biden should definitely run again.
Republicans want cuts but they don't know what to cut, especially after last night. What President Biden did last night was protect Social Security and Medicare for every American. Republicans hate that.
Sitting behind President Biden was, of course, Vice President Kamala Harris and the weakest Speaker in the history of the House, Kevin McCarthy, who seemed to keep sinking in his chair.
Before the speech, McCarthy told his caucus to behave. They didn't. Weakest Speaker ever.
Marjorie Taylor Green, who McCarthy has elevated in the House, heckled the president, which is what she did last year with Lauren HaveYouSeenMyHusband'sDick Bocbert. MTG heckled, screaming "liar" and booed while wearing some white varmint around her shoulders that I'm sure she shot herself while it was on a rack in a Sears. You gotta be tricky to sneak up on those things. Earlier, she was seen walking around holding a balloon, as if her looking like an idiot was owning the libs or something.
It was a shocking big deal when Representative Joe Wilson shouted "you lie" at President Obama during one of his State of the Union speeches. The House floor is supposed to be sacred and the office of the presidency is to be respected, even if you don't like the guy in it. Wilson apologized the next day. Now, after birtherism, four years of Trump, an insurrection, Matt Gaetz showing pics of his naked girlfriends on the House floor, and two years of antics by Lauren IfYouHaven'tSeenMyHusband'sDickYetIt'sProbablyOnlyBecauseYou'reNotHangingOutWithTeenageGirlInColoradoBowlingAlleys Boebert and Marjorie Taylor Frazzledrip Queen Greene, Republicans making asses out of themselves during a State of the Union speech isn't as big of a deal as it used to be.
Before the speech, Lying congressman George Santos arrived early so he could be in position to shake hands with the important people as they walked down the aisle…and possibly pick their pockets. Along came Senator Mitt Romney who told Santos, "You don't belong here." You could see Santos mouthing off to Romney after that as the distinguished senator walked away. Later, Santos tweeted at Mitt, "You will never be president." To that, I say to Santos, you will never be a two-term congressman.
What we saw last night was a president with plans to move this nation forward, to help Americans, to help build this nation, and to leave a better nation for those who will follow us. All we saw from Republicans was heckling, which they do year-round. Republicans don't know to legislate or negotiate. Add the weakest Speaker in American history, and the GOP is kinda screwed because President Biden does know how to govern. He also knows how to rope a dope.
And in his State of the Union address, President Biden roped the entire Republican Party. That's gonna leave a mark.
Watch me draw:

Visit Clay Jones' website and email him at [email protected]