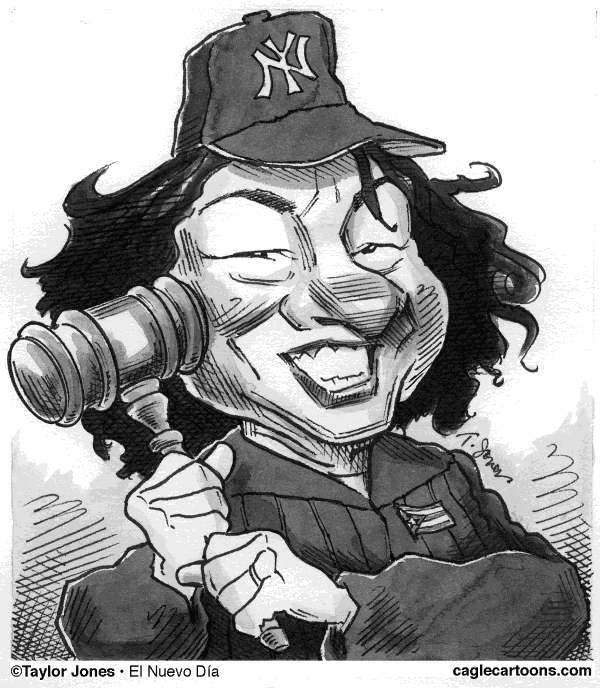 Sonia Sotomayor The Future of Affirmative Action
by Michael Reagan
Yesterday's nomination of Judge Sotomayor to the United States Supreme Court was a historic moment that all Americans should appreciate. Her life story represents the great promise of the American dream — Sotomayor has lived in both a public housing project in the Bronx and in the dorm rooms of Princeton and Yale.
Through hard work, education, and the support of her family, Judge Sotomayor has achieved so much, and she should be congratulated on her many successes.
Indeed, this week's vision of America's first African-American president standing next to its first Hispanic female nominee to the highest court tells us just how far we have come as a nation on matters of race and gender.
But on the other hand, we cannot deny how far we may still have to go, such as in the matter of Ricci v. DeStefano, a case which Judge Sotomayor helped decide in the lower courts and which is currently being weighed by the Supreme Court.
The case concerns a complaint of reverse discrimination brought by several firefighters, nineteen white and one Hispanic, who successfully passed the promotion test in New Haven, Conn. Their test results were tossed aside because none of the African-Americans who also took the test fared well enough to achieve promotion.
What is most shocking about the city's decision here is that the results were discarded even though this test was specifically designed to remove any racial bias in the testing process. The objections to the test are solely based on the results, not in any way on the process or the exam itself. This is simply not the American way.
The lead plaintiff, Frank Ricci, was rightly upset by the city of New Haven's decision not to promote anyone within the department, regardless of their performance in the testing process, rather than face criticism, and possible legal action, because no African-Americans would be promoted in that particular testing cycle.
As a member of the federal appeals court, Judge Sotomayor joined the majority opinion confirming that none of the firefighters who passed the test were to be promoted.
I will leave it to legal commentators and scholars to debate and decide whether Judge Sotomayor took an "activist" approach in the case, or whether she dutifully followed 2nd Circuit Court precedent pertaining to similar cases.
Rather, I believe that her nomination, coupled with the upcoming Supreme Court opinion on the case, should provide a national spotlight on the facts of that and similar cases, and more importantly jumpstart a dialogue as to the current role of affirmative action in our society and whether such cases are constitutionally and socially warranted.
We still have a journey of reconciliation and equality ahead of us, but we have made real progress as well. For the first time, the leader of our country, of the free world, is an African-American man. Our highest ranked member of Congress is a woman. For administration after administration, the Cabinet has become increasingly diverse, incorporating the brightest of our society regardless of their race or gender.
For my own kids, for our upcoming generations, overt racism is an increasingly distant memory. Our progress may be slow, but it is real. In the midst of our achievements, though, we must be careful not to go so far in trying that we self-destruct in the process.
In the case of Ricci v. DeStefano, we are not dealing with an unjust testing process or discrimination against minorities — which should of course be opposed — but whether the New Haven Fire Department should keep their word to those who passed the test, white and minority, and allow them to be promoted.
As we strive for true equality, we must be careful to do so effectively, justly, and strategically. It's time to consider fully the laws Judge Sotomayor is being asked to interpret and whether it is time to reduce or eliminate these legal mandates.
Just as Judge Sotomayor worked hard to achieve the American dream, so too did Fireman Ricci and his fellow New Haven firefighters. Whether it was studying for a constitutional law exam or the fundamentals of fire fighting, these Americans should be rewarded for their hard work ethic — not penalized for the color of their skin.

Mike Reagan, the elder son of the late President Ronald Reagan, is chairman and president of The Reagan Legacy Foundation (www.reaganlegacyfoundation.org). Look for Mike's newest book, "Twice Adopted" and other info at www.Reagan.com. ©2009 Mike Reagan. Mike's column is distributed exclusively by: Cagle Cartoons, Inc., newspaper syndicate. The above cartoon by Taylor Jones, El Nuevo Dia, Puerto Rico, is copyrighted and licensed to run on TMV. All Rights Reserved. Unauthorized reproduction prohibited.