UPDATE BY HOLLY IN CINCINNATI:
Grief, Shock After 'Outstanding' Guard Loses His Life in Line of Duty
Traces of Gunman's Online Life Begin to Vanish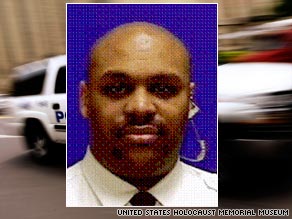 Officer Stephen Tyrone Johns
Holocaust Museum Shooter Had Close Ties to Prominent neo-Nazis
The U.S. Holocaust Memorial Museum issued the following statement on today's shootings:
"Officer Stephen Tyrone Johns died heroically in the line of duty today. There are no words to express our grief and shock over these events. He served on the Museum's security staff for six years. Our thoughts and prayers go out to Officer Johns' family.

We have made the decision to close the Museum tomorrow in honor of Officer Johns, and our flags will be flown at half mast in his memory."
NBC: Homegrown hate groups increase in number
Now I'm seeing reports that another person was shot or otherwise injured.
Live Blogging: Museum Shooting
Guard Reportedly Slain is Identified, AP Reports
The Holocaust Museum guard that reportedly died in today's shooting is Stephen Tyrone Johns, according to the Associated Press. He is African-American and worked at the museum for 6 years.
Police: Suspect Is a White Supremacist
Suspect is identified as 88-year-old James W. von Brunn, who decries Jews, blacks on rambling, racist and bitterly anti-Semitic website.
Michael Ruane | 2:50 ET
Two People Shot at U.S. Holocaust Museum
Security Guard And Gunman Shot
U.S. Park Police say man armed with a rifle opened fire on a security guard while other guards returned fire, wounding gunman.
William Branigin, Debbi Wilgoren | 4:04 ET
The details of this story are evolving. Ongoing, live coverage is available from the WaPo.
That paper's Debbi Wilgoren and William Branigin were among the first to report the following:
A law enforcement source identified the gunman as James W. von Brunn, who is known to authorities as a white supremacist.
There's more on von Brunn at London's Times Online. Memeorandum offers a detailed summary of links to related coverage as of approximately 3:30 pm ET. Check Memeorandum's home page for later updates.