Seeing Christmas from Jewish eyes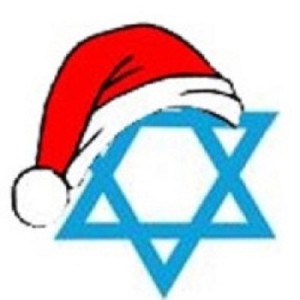 Even if we don't theologically celebrate Christmas, we in the Jewish community honor and venerate the true meaning and implication of this national holiday season. This year, there is a complete calendar intertwining; the first light of Hanukkah will be lit on Christmas Eve.
As a Jew, I favor the resiliency and real meaning of Christmas.
Though the December holiday season has been too often co-opted by commercial anxiety and undeniable stress, we recognize the feelings of hope and serenity that are realized this season in so many homes. Those of us who are not observing the religious Christmas join nonetheless in the sense of family reunion, thankfulness, and even divine hope that the day brings to our nation.
We who are Jews find it easy to offer our real feelings of blessing and respect to our Christian neighbors who know an exalted holiness this season.
Not a soul possibly could dispute the ultimate yuletide spirit, which focuses with love on a singular event of some 2,000 years ago. No one who ever has dreamed can be indifferent to the messianic exhilaration that this international festival brings to little children and adults, too.
While living as a teenager in the benevolent shadow of a fine, old Catholic church in Cincinnati, I had the happy experience of sharing the festival with some of my boyhood chums. They and their parents and grandparents drew from the motif of this peaceful holiday by inviting me close to their celebration, but not forcing me in.
Because of the December calendar coincidence, I sat with my friends under their tree and shared with them the Hanukkah legends of Judah the Maccabee. They came over to my house with their simple gifts and occasionally helped me to light our menorah candles. We managed to share an illuminating blend of blessing and reverence.
As a Jew, I favor the resiliency and real meaning of Christmas. The holiday is meant to arouse the power of a story and the treasure of memory. It is unusual these cyber-days for parents to have dinner with their children, renewing promises and restoring relationships. The holiday slows down a frenetic world. The little ones are not being driven by the carpool culture. They are breaking bread and exchanging gifts with the people who created them.
Whatever your religion, the Christmas season pulls you in by proxy. You cannot help but feel the excitement and the resplendent turnover of the calendar year as the streets are filled with people, expressed good wishes and at least the pledges of better behavior.
Christmas has a way of dressing up our civic centers and even our most mundane strip malls. The connection between this holiday and the economic prosperity of our nation is inseparable. There is deep division in America these days; the message of peace today is one thing that is unimpeachable.
Meanwhile, the most Jewish thing about Christmas is its gentle pull on the generations of human families. We all live in a civilization that is disseminated via electronic communication and through interfacing that is regulated by microchips. I am satisfied that my Christian friends are neither digital nor cellular at Noel; they are, hopefully, tender and prayerful. Knowing that people essentially have stopped writing letters to each other on parchment, I am delighted that this season requires people to at least still send holiday cards to one another.
Seeing Christmas through Jewish eyes, I get only satisfaction that a hyperactive world comes to a soft stop at the festival. The parents are giving to the children; the children are embracing the grandparents. "Peace on Earth" is much more than a neon billboard. It is a good aspiration that every single person who has a heart should endorse when the lights are lit symmetrically on the eve of December 24.
Order my new book, 'I DON'T KNOW WHAT TO BELIEVE: Making Spiritual Peace With Your Religion'