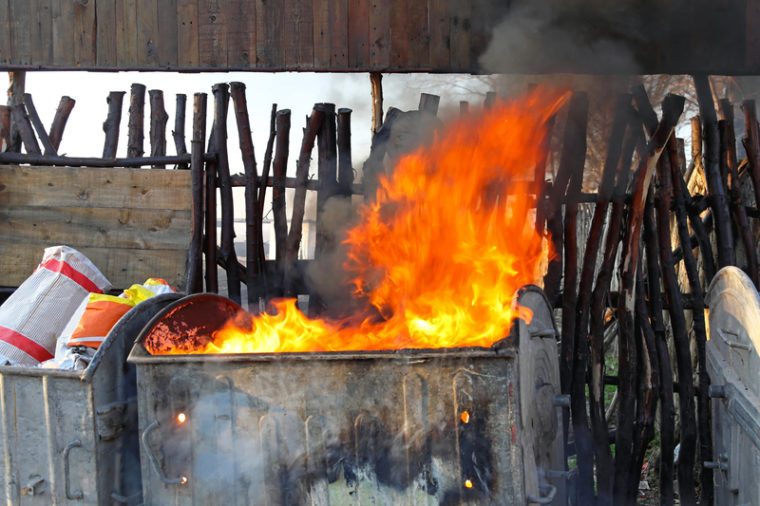 Quick: call the Fire Department, there's a massive dumpster fire…
Florida Gov. Ron "Woke Woke Woke Woke Woke Etc. Etc. Etc. Etc." DeSantis held his highly touted 2024 Republican Presidential nomination campaign launch announcement on Twitter, hosted by Twitter honcho Elon Musk, who has been dangling Twitter as a possible future alternative to Fox News for conservatives.
Let's simply say it was to a successful campaign launch and viable media what the movie Cats was to great cinema.
If DeSantis' rollout and Twitter's maiden performance as a social media campaign launch site were contestants on American Idol Simon Cowl would say: "That was pathetic."
Former CBS News anchorman Dan Rather posed this question: "Is Kendall Roy running the Ron DeSantis campaign?"
The Daily Beast's Jake Lahut summer up the campaign launch and Twitter launch aptly:
After nearly 30 minutes of embarrassing Twitter technical difficulties and ruthless mocking from both of his top rivals for the presidency, Florida Gov. Ron DeSantis finally managed to make his White House run official on Wednesday night.

"I am running for president of the United States," DeSantis said in a Twitter Spaces conversation, "to lead our great American comeback."

The audience was, as Rep. Alexandria Ocasio-Cortez (D-NY) gleefully pointed out, less than the peak number of people who watched her play a video game online in 2020.

Those who stuck around for the conversation between DeSantis, Twitter CEO Elon Musk, and billionaire David Sacks were treated to questions and non sequiturs from allied figures.

Rep. Thomas Massie (R-KY), for instance, spent much of his time on the floor praising Musk directly and telling him he was the first congressman to own a Tesla. It earned him a "thank you" from Musk.

Some 30 minutes into the event, Fox News went so far as to brand his launch a "disaster" on its homepage.

At the close of the event, Sacks felt compelled to paper over the botched launch with a familiar platitude. "It's not how you start," he said. "It's how you finish."
The National Review's Jeffrey Blehar offered a serious analysis of specifically why the rollout didn't work and so did others.
But reactions on Twitter were more pointed:
DeSaster. It was a #DeSaster https://t.co/kDGlemBKpK

— Joe Trippi (@JoeTrippi) May 25, 2023
It says a lot about DeSantis and Musk both. Neither is ready for the big leagues if they both botched something this simple. Musk just knifed DeSantis. It was glorious. https://t.co/63YcgTI2s0

— John Aravosis ???????? ex-verif'd (@aravosis) May 25, 2023
More people have seen and LIKED Joe Biden's trolling response to Ron DeSantis' failed presidential launch than have seen DeSantis' launch video.

Dark Brandon stays winning. pic.twitter.com/yxfRkyFQfV

— Jack Cocchiarella (@JDCocchiarella) May 25, 2023
DeSantis will survive this mess, but… hapless disasters like these really shake fickle high $ donors. They're quick to look for back ups, so it's a good day for Scott and potentially Kemp/Youngkin if they rethink. As well as for Nikki H who desperately needs to raise more $.

— Mike Murphy (@murphymike) May 25, 2023
DeSantimonious has become #desaster
What a difference a lousy launch makes.

— Larry Sabato (@LarrySabato) May 25, 2023
Twitter Spaces: where presidential campaign launch goes to die. https://t.co/aTIQaOUUix

— Ted Lieu (@tedlieu) May 25, 2023
Most striking to me about the DeSantis event on Twitter: the obscurantism of its culture war shortcuts. Like prolonged discussion of DEI (Diversity, Equity, and Inclusion) and ESG (Environmental, Social, and Governance) with zero regard for listeners who do not converse that way. pic.twitter.com/9S4xHUDTiq

— Jay Rosen (@jayrosen_nyu) May 25, 2023
"When the way in which you are making an announcement (and the technical difficulties that ensued) overshadows the announcement itself, you're in big trouble."#FailureToLaunch

I write for the @latimes @latimesopinion https://t.co/l3libRM368

— Kurt Bardella (@kurtbardella) May 25, 2023
look you can't blame DeSantis—apparently a large anthropomorphic animated mouse got into the control room and chewed up the feed wire

— George Conway ?? (@gtconway3d) May 24, 2023
Tonight's announcement of Presidential candidacy: pic.twitter.com/FkdMHyUY6p

— Michael Beschloss (@BeschlossDC) May 25, 2023
Possibly the worst campaign launch in history. https://t.co/FwuGthu2tu

— MeidasTouch (@MeidasTouch) May 25, 2023
This link works: https://t.co/9PzIJkseYI

— Joe Biden (@JoeBiden) May 24, 2023
The last two launches Elon Musk has been apart of have ended in disaster. pic.twitter.com/tr9YCnWEGQ

— Jack Cocchiarella (@JDCocchiarella) May 24, 2023
We heard that Elon and Ron had a hard time getting it up… pic.twitter.com/03FmzFsYyI

— Anonymous (@YourAnonNews) May 25, 2023
Oh yes. https://t.co/VbLueV51Nu

— Charlie Sykes (@SykesCharlie) May 25, 2023
Wow. Biden has already released a new ad making fun of Ron DeSantis for his disastrous campaign launch. pic.twitter.com/lNHA5Rspc6

— No Lie with Brian Tyler Cohen (@NoLieWithBTC) May 25, 2023
"You may laugh, but at least I got the ignition to work." pic.twitter.com/vbyDQA5vff

— David Frum (@davidfrum) May 24, 2023
Bigger than Trump's inaugural crowd! https://t.co/O3R0gP12LM

— Jeff Greenfield (@greenfield64) May 24, 2023
Russia, if you're listening, Ronnie would like a do-over.

— Dan Rather (@DanRather) May 24, 2023
On the other hand, to be fair, DeSantis' people did try to make him look better by having him appear with the one guy more odious than him who was not actually Trump or Putin.

— David Rothkopf (@djrothkopf) May 25, 2023
Ron DeSantis: Because really, don't you want him to do to America just what he's doing to Florida?

— Steven Beschloss (@StevenBeschloss) May 24, 2023
More people have seen and LIKED Joe Biden's trolling response to Ron DeSantis' failed presidential launch than have seen DeSantis' launch video.

Dark Brandon stays winning. pic.twitter.com/yxfRkyFQfV

— Jack Cocchiarella (@JDCocchiarella) May 25, 2023
Don't worry @RonDeSantis I'm sure it's not a sign for the rest of your campaign. #RonDeSantis #DeSantis #DeSantis2024 #TwitterSpaces pic.twitter.com/b0RAMZqxig

— Benjamin Slyngstad (@SlyngCartoons) May 25, 2023
"This was a ludicrous launch for a ludicrous campaign that no doubt will get worse by the day."

Watch my full reaction to Ron DeSantis's disastrous Twitter announcement: https://t.co/m9nWh4bOSp pic.twitter.com/bhx5MO0fkV

— Steve Schmidt (@SteveSchmidtSES) May 25, 2023
President Biden's ad made in rapid response to DeSantis' humiliating failure to launch is brilliant pic.twitter.com/VU0ZIs55Ug

— MeidasTouch (@MeidasTouch) May 25, 2023
This is such a terrible announcement. Smart presidential candidates try to reach out to all Americans. Everything DeSantis is saying is geared toward MAGA Americans.

— Michael A. Cohen (NOT TRUMP'S FORMER FIXER) (@speechboy71) May 24, 2023
-8″>
Fox News, which was snubbed for the announcement, is going after DeSantis aggressively: pic.twitter.com/roObJO8Ac1

— Jonathan Swan (@jonathanvswan) May 24, 2023
Wow, even Elon Musk's closest personal friend on Twitter is ripping him! pic.twitter.com/wsaVUSzixj

— Tom Watson (@tomwatson) May 24, 2023
You can be the richest person in the world, and the person who wants to be the most powerful person in the world, and still make complete fools of yourselves online.

It's amateur hour over at both Twitter HQ and the DeSantis campaign on their joint big night, it seems.

Lol.

— Mehdi Hasan (@mehdirhasan) May 24, 2023
I'm sorry, but that had to be the most pathetic, humiliating, embarrassing campaign launch ever. #FailureToLaunch

— Jon Cooper (@joncoopertweets) May 24, 2023
DESANTIS: "There has not been a single book banned in Florida."

MUSK: Oh, thanks informing me

FACT: There are hundreds of books banned in Florida schools and hundreds of thousands unavailable to students pending review

— Judd Legum (@JuddLegum) May 24, 2023
I've figured it out.

DeSantis has a public humiliation kink. There's no other explanation after his Disney fight and whatever the fuck that announcement just was.

— Angry Staffer ? (@Angry_Staffer) May 24, 2023
Donald Trump just released a video mocking Ron DeSantis' #FailureToLaunch pic.twitter.com/2OTy8MxS5f

— MeidasTouch (@MeidasTouch) May 24, 2023
Ok now @jonstewart is winner winner chicken dinner on this DeSantis debacle on Elon's Twitter. Enjoy this one going through the meme stage https://t.co/bHncfbO50I pic.twitter.com/QX7Qldc1bo

— Kara Swisher (@karaswisher) May 24, 2023
First observation: Gowdy is still creepy. Second observation: DeSantis is really bad at this.

— Andrew C Laufer, Esq (@lauferlaw) May 25, 2023
Everyone is trolling DeSantis because his Twitter announcement crashed & burned, but here's the real question: Will he:
1) falsely claim it was a huge success
2) prohibit people from watching it in the name of freedom OR
3) blame it on Soros?https://t.co/bPsjJy3zHC

— Andrew Warren (@AndrewWarrenFL) May 24, 2023
Bannon during Desantis event: "This is a clown show. I got Elon mumbling – he's on the spectrum. We got him mumbling. We got Desantis – who knows where Desantis is. I got David Sacks trying to tell me how historic this is. This is a historic screw-up." pic.twitter.com/4PDn3JfjHh

— Ron Filipkowski (@RonFilipkowski) May 25, 2023
Casey DeSantis: "I TOLD YOU NOT 2 TRUST THAT BASTARD MUSK" pic.twitter.com/T1fPjekKU0

— ??????_?????? (@SundaeDivine) May 25, 2023
#BreakingNews Here is a picture President Biden watching Governor DeSantis announce his run for President on Twitter. pic.twitter.com/4cl2koD0cb

— Ford News ? (@FordJohnathan5) May 25, 2023
Asked about the blown DeSantis announcement, Musk defended Twitter; "Yes, there was a glitch, but the servers didn't blow up like cars or rockets.

— Scott Shapiro (@scottjshapiro) May 25, 2023
Summary of Ron #DeSaster's big "announcement:" pic.twitter.com/JmzR0s2gch

— ? Scary Larry ? ??????? (@aintscarylarry) May 25, 2023
Photo 41426908 © Baloncici | Dreamstime.com
Joe Gandelman is a former fulltime journalist who freelanced in India, Spain, Bangladesh and Cypress writing for publications such as the Christian Science Monitor and Newsweek. He also did radio reports from Madrid for NPR's All Things Considered. He has worked on two U.S. newspapers and quit the news biz in 1990 to go into entertainment. He also has written for The Week and several online publications, did a column for Cagle Cartoons Syndicate and has appeared on CNN.