Right wing tries discrediting gun control advocate Parkland students with contempt and conspiracy theories (with videos)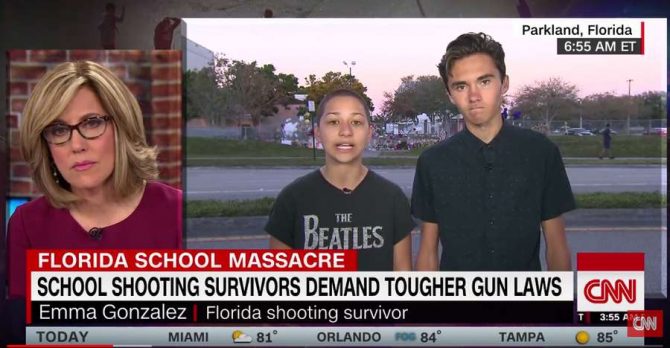 It was inevitable, wasn't it?
Surviving students at Marjory Stoneman Douglas High School in Parkland, Fla. dared to use the media focus on the massacre at their school to quickly, bluntly and thoughtfully press hard on the need for serious gun reform — reform N-O-W. Not mere "thoughts and prayers."
And, in the all-too-familiar style of 21st century politics, the right wing, particularly the right wing political entertainment media, is trying to discredit them.
But not with counter arguments about their points.
By attempting to demean and undercut them because they're teenagers (FYI that won't work) and by creating nutcase conspiracy theories peddled on the political-junk-food websites, twitter feeds and political shows on a certain cable network. And they seem oblivious to one teeny fact:
Soon these teenagers will be voting. And they know how to think. And debate. And address the news media.
They also seem to forget that other young people — not teenagers but not part of the generations that have fed and nurtured our now toxic politics where ideas don't matter as much as marketing rage, anger and name calling — are likely taking note, too.
The butchery at Parkland was a tragedy and a symptom of how corrupt politicians scared of losing their seats, being primaried and losing big bucks donations will try and rationalize nixing reforms that could save lives. The attempt to discredit these teens was expected and defines the demonizers and conspiracy theory spreaders rather than the kids. The New York Times:
The teenagers of Marjory Stoneman Douglas High School in Parkland, Fla., who a week ago lost 17 of their classmates and school staff members in a mass shooting, have emerged as passionate advocates for reform, speaking openly of their anger in the hope of forcing a reckoning on guns.

But in certain right-wing corners of the web — and, increasingly, from more mainstream voices like Rush Limbaugh and a commentator on CNN — the students are being portrayed not as grief-ridden survivors but as pawns and conspiracists intent on exploiting a tragedy to undermine the nation's laws.

In these baseless accounts, which by Tuesday had spread rapidly on social media, the students are described as "crisis actors," who travel to the sites of shootings to instigate fury against guns. Or they are called F.B.I. plants, defending the bureau for its failure to catch the shooter. They have been portrayed as puppets being coached and manipulated by the Democratic Party, gun control activists, the so-called antifa movement and the left-wing billionaire George Soros.

The theories are far-fetched. But they are finding a broad and prominent audience online. On Tuesday, the president's son Donald J. Trump Jr. liked a pair of tweets that accused David Hogg, a 17-year-old who is among the most outspoken of the Parkland students, of criticizing the Trump administration in an effort to protect his father, whom Mr. Hogg has described as a retired F.B.I. agent.
That speaks volumes, doesn't it? You Tube is now carrying a slew of videos attacking Hogg as being rehearsed by CNN in his interviews, a Democratic plant etc.
Which raises the question: where are the voices in the Republican Party soundly denouncing the attacks on these kids? Florida Sen. Marco Rubio did defend them on Twitter, but otherwise the GOP is as silent on the right wing campaign agains the kids as the party has overall on Russian meddling in the 2016 Presidential election.
Mr. Hogg, the high school's student news director, has become a sensation among many liberals for his polished and compelling television interviews, in which he has called on lawmakers to enact tougher restrictions on guns. Just as quickly, Mr. Hogg attracted the disdain of right-wing provocateurs like The Gateway Pundit, a fringe website that gained prominence in 2016 for pushing conspiracies about voter fraud and Hillary Clinton.

In written posts and YouTube videos — one of which had more than 100,000 views as of Tuesday night — Gateway Pundit has argued that Mr. Hogg had been coached on what to say during his interviews. The notion that Mr. Hogg is merely protecting his father dovetails with a broader right-wing trope, that liberal forces in the F.B.I. are trying to undermine President Trump and his pro-Second Amendment supporters.
Here's why what I call the Twilight Zoners (who unfortunately carry as much weight in the Republican Party as Rush Limbaugh does when he gets out of his chair) are so worked up about Hogg: he's a young person who knows how to calmly speak in front of the media, an aspiring journalist, a prominent journalist in his high school — and he makes sense. Here's a sampling of some of vides of interviews with Hogg and others:
And:
And:
Other students speak out:
And:
And:
And:
So what the Times reports is not shocking:
Others offered more sweeping condemnations. Alex Jones, the conspiracy theorist behind the site Infowars, suggested that the mass shooting was a "false flag" orchestrated by anti-gun groups. Mr. Limbaugh, on his radio program, said of the student activists on Monday: "Everything they're doing is right out of the Democrat Party's various playbooks. It has the same enemies: the N.R.A. and guns."

By Tuesday, that argument had migrated to CNN. In an on-air appearance, Jack Kingston, a former United States representative from Georgia and a regular CNN commentator, asked, "Do we really think — and I say this sincerely — do we really think 17-year-olds on their own are going to plan a nationwide rally?" (He was quickly rebuked by the anchor Alyson Camerota.)

Conspiracies, wild and raw online, are often pasteurized on their way into the mainstream. A subtler version of the theory appeared Tuesday on the website of Bill O'Reilly, the ousted Fox News host. Mr. O'Reilly stopped short of saying the students had been planted by anti-Trump forces. But, he wrote: "The national press believes it is their job to destroy the Trump administration by any means necessary. So if the media has to use kids to do that, they'll use kids."
And now, as the Times reports, a new conspiracy theory is being touted: why, it's that old standby. George Soros is somehow behind the kids and their upcoming March on Washington.
And the attacks keep coming. The Tampa Bay Times:
It bubbled up from the darkest online corners then began to take off: conspiracy theories about Parkland students who've spent the past week on TV demanding action on the gun violence that killed 17 and reawakened a national debate.

By late Tuesday afternoon, the conspiracy climbed to a new level when an aide to state Rep. Shawn Harrison, R-Tampa, was fired after emailing a Tampa Bay Times reporter with a stunning assertion: "Both kids in the picture are not students here but actors that travel to various crisis when they happen."

Benjamin Kelly referred to a picture attached to a Times story, posted online hours earlier, about how Marjory Stoneman Douglas High School students were drawing attacks for their outspokenness. The picture showed David Hogg and Emma Gonzalez speaking on CNN.

Asked for backup to his claim, Kelly sent another email — again from his official myfloridahouse.gov account — that included a link to a conspiracy video on YouTube. The video showed Hogg in a news clip from California over a dispute with a lifeguard involving a boogie board. Hogg had posted a video of the confrontation with the lifeguard on YouTube and it "went viral," a news reporter said. Now, conspiracy theorists have questioned what Hogg was doing in another state, some branding him a "crisis actor."

Wrote Kelly to the Times: "There is a clip on you tube that shows Mr. Hogg out in California. (I guess he transferred?)"

Reaction on social media was strident.

Jaclyn Corin, the school's 11th-grade class president, wrote: "We are KIDS — not actors. We are KIDS that have grown up in Parkland all of our lives. We are KIDS who feared for our lives while someone shot up our school. We are KIDS working to prevent this from happening again. WE ARE KIDS."
Kelly was soon fired. But who's going to fire Alex Jones, Rush Limbaugh — or the Republican Party (actually there is a clear answer on who can fire the GOP)?
Meanwhile, the students got an immediate taste of the "responsiveness of comfy politicians whose kids weren't at their school when the teenage murderer walked in.
Marjory Stoneman Douglas High School students arrived in Tallahassee on Monday night with an agenda.

In fact, they want more than what is on the table.

Specifically, the students want an outright ban on weapons such as the AR-15. That is not part of a gun control package being discussed by state Senate Republicans.

"My English classroom from last year, my club classroom, the doors are broken, the walls are broken. My friend was shot through the walls. Another friend was shot and killed, because he (the gunman) was able to shoot through the door and come into the classroom," Stoneman Douglas student Sheryl Acquaroli said. "With an AR-15, that is possible. With a handgun, that is not possible."

On Tuesday, the Florida House shot down a motion to take up a ban on weapons such as the AR-15. The motion failed 36-71, with almost every Republican voting no.
Change takes passion, organization and persistence.
I'm betting that these students, and other non-Baby-Boomer younger generations, will have all three — and will have good memories when they vote.
SOME TWEETS ON THIS DEVELOPING STORY:
Jack, us "students" are resilient, educated, and are making sure this never happens again. It's adults like you who the children and students have to make up for, because you aren't doing your job as an adult. It's us "students" who will make schools safe now. https://t.co/m1pv4AmQvf

— kyra (@longlivekcx) February 20, 2018
Jim – could you please return to attacking me (or really any grownup) instead of the courageous #Parkland students? Thank you. https://t.co/t8ngiLllS6

— Chelsea Clinton (@ChelseaClinton) February 20, 2018
George and Amal Clooney are donating $500,000 to help pay for the "March For Our Lives" event against gun violence, ABC News reports. https://t.co/9oUraS99Dd

— Kyle Griffin (@kylegriffin1) February 20, 2018
George and Amal, I couldn't agree with you more. I am joining forces with you and will match your $500,000 donation to 'March For Our Lives.' These inspiring young people remind me of the Freedom Riders of the 60s who also said we've had ENOUGH and our voices will be heard.

— Oprah Winfrey (@Oprah) February 20, 2018
UPDATE: Fake story smearing survivor of Parkland massacre as an FBI plant has been shared almost 11K times on Facebook. Has 37K total engagements (Likes, comments, shares) https://t.co/7VuGBOJXBA

— Judd Legum (@JuddLegum) February 20, 2018
In the REAL world, there were four funerals for victims of the Florida school shooting on Tuesday. In the virtual world, there were sickening attacks that tried to discredit the survivors… https://t.co/iAtoetjJBj

— Brian Stelter (@brianstelter) February 21, 2018
So depressing. And another result of Trump and Trumpism — the mainstreaming of conspiracy theories. https://t.co/vMRNzosIGp

— Chris Cillizza (@CillizzaCNN) February 21, 2018
If the GOP wants to regain credibility, it needs to shed the lunatics it has cultivated for a decade. No political party can survive long term relying on tin foil hat types. https://t.co/Oq7BXjRIDT

— Kurt Eichenwald (@kurteichenwald) February 21, 2018
People discounting what these young people from Parkland are capable of simply because they're kids have a deep & ahistorical understanding of how some of our most meaningful social movements have unfolded. Students have always been at the forefront & often are leading the way.

— Clint Smith (@ClintSmithIII) February 20, 2018
Convict and asshole https://t.co/EdCBua5F4P

— Preet Bharara (@PreetBharara) February 21, 2018
Claiming some of the students on tv after #Parkland are actors is the work of a disgusting group of idiots with no sense of decency

— Marco Rubio (@marcorubio) February 20, 2018
Alt-right are trying to discredit the students from Parkland shooting. For them it's guns over humans.

— LeeAnn (@LeeAnnTex) February 21, 2018
Despite the superintendent confirming the Parkland students are in fact students some are trying to discredit them by calling them "crisis actors". Shame. https://t.co/MMalLp4mDk

— Alex DiPrato 7News (@AlexDiPrato) February 21, 2018
'It's our job to lead, not theirs': Conservative pundits don't want Parkland survivors speaking out https://t.co/ppefhE0zD7 pic.twitter.com/grvDQGNyie

— ThinkProgress (@thinkprogress) February 21, 2018
The far-right smear campaign against students who survived the Parkland massacre https://t.co/Ryfw7QYc4t pic.twitter.com/Wqvck8xoOF

— ThinkProgress (@thinkprogress) February 21, 2018
Friendly reminder that most of the Parkland students will be able to vote in the 2020 election and Dinesh D'Souza will not because he is a convicted felon. pic.twitter.com/n34PqkwhHv

— Marie Connor (@thistallawkgirl) February 20, 2018
These Parkland students are doing SO MUCH and they still find the time to own Bill O'Reilly on Twitter pic.twitter.com/N2EwT9GFwR

— Caro (@socarolinesays) February 21, 2018
After a White House staffer calls the Parkland shooting a "reprieve," more profiles in courage attacking students by @BillOReilly @gatewaypundit @DineshDSouza pic.twitter.com/GZu7GDdc99

— Amy Siskind (@Amy_Siskind) February 21, 2018
Note to Parkland students. Politics has ugliness. Politics is a substitute for war. And Politics is the means of change if you keep at it https://t.co/OlgIf5FXXg

— Howard Dean (@GovHowardDean) February 21, 2018
Parkland students face new attack, this time from the political right on social media https://t.co/YrBLAHS0ES pic.twitter.com/v4dY0a9T2I

— Miami Herald (@MiamiHerald) February 20, 2018
Fox News mainstreams conspiracy theory about Parkland students, reports @mattwilstein: https://t.co/mC1sNrTibl

— The Daily Beast (@thedailybeast) February 21, 2018
Stephen Colbert praises Parkland students: 'The adults aren't cutting it anymore' https://t.co/gU8FIJb93d

— Entertainment Weekly (@EW) February 21, 2018
These people… https://t.co/37YGp7MPQt

— Charles M. Blow (@CharlesMBlow) February 21, 2018
Parkland Students=you are brave, we love you and the people attacking you are trashy trolls. Their nastiness is a sign you are under their skin. Keep it up

— Jen Psaki (@jrpsaki) February 20, 2018
Seeing ppl get tricked into believing some of the Parkland students are paid "crisis actors." These video/photo manipulations are done by the same ppl who claim Sandy Hook never happened. PLEASE do not further victimize these kids & families by believing & spreading these lies.

— Sarah Spain (@SarahSpain) February 20, 2018
Update: Oprah Winfrey, Steven Spielberg and Jeffrey Katzenberg have each matched the Clooneys $500,000 donation to the #MarchForOurLives rally organized by surviving students of the Stoneman Douglas shooting. https://t.co/vapN0hNWmh

— Twitter Moments (@TwitterMoments) February 21, 2018
Let us be VERY clear — these kids are showing more bravery, guts, and poise than @DonaldJTrumpJr has ever shown.

Weapons of war belong in war. These kids are not only right, but have paid more than enough of a price to be heard. So stand down, Junior.https://t.co/YsHNjjgQB2

— VoteVets (@votevets) February 20, 2018
Conservatives come for the Stoneman Douglas kids. Defend them. https://t.co/tqCsnWvp3i

— Oliver Willis (@owillis) February 20, 2018
You should be ashamed of yourself @JackKingston – https://t.co/6qbVyc8yS8

— Doug Mataconis (@dmataconis) February 20, 2018
As students begin to speak out against the #NRA they learn another valuable lesson. Lies and slander flow from the ultra right like water from a spring.

No history book shows Swiftboating so clearly.#ParklandWarriors#FloridaSchoolShootinghttps://t.co/08yxp3L63N

— John Moffitt (@JohnRMoffitt) February 20, 2018