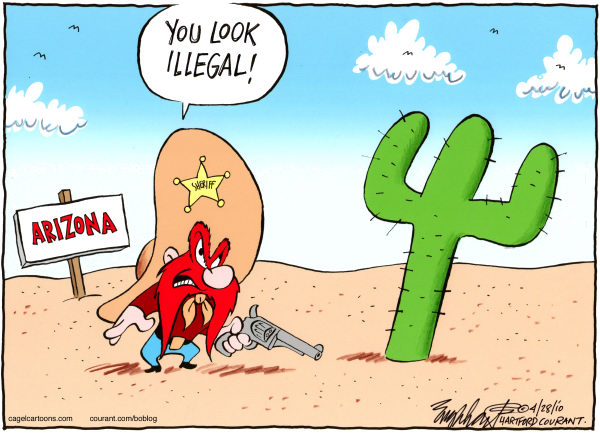 Three GOP heavy hitters have expressed reservations about Arizona's new draconian immigration law — a law that polls show is supported by a big majority of Arizona residents but threatens to undue more than a decade of Republican efforts to attract Hispanic voters.
And hand Democrats an issue they use to consolidate their own Latino base.
The raised eyebrows and voiced concerns reflect a significant split in the Republican party over this issue. That isn't to say that every single Democrat thinks the immigration law is a bad idea, but the Democratic party has made great inroads among Hispanic voters. And — if implimentation of the Arizona law leads to a slew of stories about abuses and lawsuits — it sounds as if these inroads could continue.
It doesn't bode well for the Arizona Republicans (even if John McCain's backing the law helps him win his tough primary contest) or the political wisdom of the national GOP being closely identified with this law that former Florida Gov. Jeb Bush, former Bush White House maven Karl Rove, and Florida conservative GOP darling Marco Rubio are expressing reservations about it. Unlike with some policies, the three are not saying they will hold their noses and endorse it.
States certainly have the right to enact policies to protect their citizens, but Arizona's policy shows the difficulty and limitations of states trying to act piecemeal to solve what is a serious federal problem. From what I have read in news reports, I do have concerns about this legislation. While I don't believe Arizona's policy was based on anything other than trying to get a handle on our broken borders, I think aspects of the law, especially that dealing with 'reasonable suspicion,' are going to put our law enforcement officers in an incredibly difficult position. It could also unreasonably single out people who are here legally, including many American citizens. Throughout American history and throughout this administration we have seen that when government is given an inch it takes a mile.

I hope Congress and the Obama Administration will use the Arizona legislation not as an excuse to try and jam through amnesty legislation, but to finally act on border states' requests for help with security and fix the things about our immigration system that can be fixed right now – securing the border, reforming the visa and entry process, and cracking down on employers who exploit illegal immigrants.
And Jeb Bush, whose brother's efforts to do something about immigration reform as President were thwarted, particularly by opposition within the GOP:
"I think it creates unintended consequences," he said in a telephone interview with POLITICO Tuesday. "It's difficult for me to imagine how you're going to enforce this law. It places a significant burden on local law enforcement and you have civil liberties issues that are significant as well."

The measure, signed into law last Friday, would require police to check the immigration status of any individuals they reasonably suspect are illegal immigrants and arrest them if they can't prove legal status.

Bush said he understood the anger that prompted the bill, but that immigration should remain a federal issue.

"I don't think this is the proper approach," he said.

The former governor recounted how, after he gave a speech Monday night in California, he was approached by a Hispanic man who was concerned about the measure leading to racial profiling and unfair targeting of Latinos.

"He said, 'My parents live here, my grandparents live here — I'm Mexican-American,'" Bush recalled, adding that the man said, "'I could be picked up.'"
And Bush is correct: each time someone who should really be detained under this law is detained it will provide fodder for print and broadcast media stories, a cause for demonstrations and provide lots of enjoyment for attorneys. The term "ambulence chaser" could be replaced by the term "Arizona police car chaser."
And Karl Rove — who had as part of his unrealized dream a strong Latino component to a long-lasting Republican majority:
Karl Rove, chief political strategist for former President George W. Bush, today questioned a controversial new Arizona law designed to cut down on illegal immigration by making it a crime to not produce proof of citizenship when a law enforcement officer demands it.

Rove, speaking to a crowd of about 500 at the mammoth senior community as part of a national book tour, said that while the law is understandable, it does present difficulties. The law has become the nation's toughest anti-immigration measure.

"I think there is going to be some constitutional problems with the bill," he said to the standing-room-only crowd at the Colony Cottage Recreation Center. "I wished they hadn't passed it, in a way."

Still, Rove, who was promoting his book Courage and Consequence: My Life as a Conservative in the Fight, objected to comments by critics including President Barack Obama that the law will lead to problems such as racial profiling by police.

"These are modern police forces that respect the rights of people in their communities," Rove said. "They're going to do it on the basis of reasonable suspicion that these people are here illegally, like they're driving a car with a Mexican license plate or they can't speak English or they don't have a drivers license."

However, Rove said there may be other ways to tackle the issue.

"At the end of the day … I think there are better tools," he said. "But I understand where it's coming from."
What are the common threads in all statements?
Clear and strong messages that they think the law may have gone to far and may not be entirely constitutional.
The lingering fact that Hispanics are indeed the country's fastest growing ethnic group and they make up a potent swing vote force in many states. TRANSLATION: We need those votes.
Another clear message that people need to understand where Arizona is coming from on this and that those who support the measure aren't bad people or ill intentioned. TRANSLATION: We need those votes.
So it's that old horrible trait called "nuance" at work here.
There will also be divisions within divisions on this bill within the GOP.
All three of the GOpers above are darlings of conservative talk show hosts and the GOP's talk radio political culture — but most talk show hosts are cheering this bill on.
But, then, the hosts only have to worry about ratings and demographics — not a long term loss of what promises to be the country's biggest voting block.

The copyrighted cartoon by Bob Englehart, The Hartford Courant, is licensed to run on TMV. Unauthorized reproduction prohibited. All rights reserved.
Now you can follow Joe Gandelman on Twitter.
Joe Gandelman is a former fulltime journalist who freelanced in India, Spain, Bangladesh and Cypress writing for publications such as the Christian Science Monitor and Newsweek. He also did radio reports from Madrid for NPR's All Things Considered. He has worked on two U.S. newspapers and quit the news biz in 1990 to go into entertainment. He also has written for The Week and several online publications, did a column for Cagle Cartoons Syndicate and has appeared on CNN.