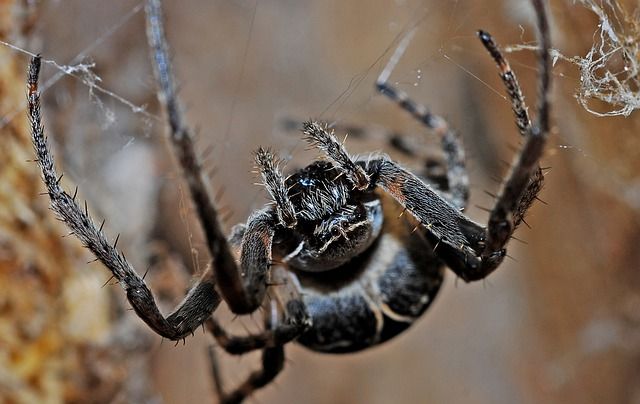 Here's a story with REAL legs.
The Washington Post's Wonkblog reports that spiders could theoretically eat every human on Earth in one year:
Spiders are quite literally all around us. A recent entomological survey of North Carolina homes turned up spiders in 100 percent of them, including 68 percent of bathrooms and more than three-quarters of bedrooms. There's a good chance at least one spider is staring at you right now, sizing you up from a darkened corner of the room, eight eyes glistening in the shadows.

Spiders mostly eat insects, although some of the larger species have been known to snack on lizards, birds and even small mammals. Given their abundance and the voraciousness of their appetites, two European biologists recently wondered: If you were to tally up all the food eaten by the world's entire spider population in a single year, how much would it be?

Martin Nyffeler and Klaus Birkhofer published their estimate in the journal the Science of Nature earlier this month, and the number they arrived at is frankly shocking: The world's spiders consume somewhere between 400 million and 800 million tons of prey in any given year. That means that spiders eat at least as much meat as all 7 billion humans on the planet combined, who the authors note consume about 400 million tons of meat and fish each year.

Or, for a slightly more disturbing comparison: The total biomass of all adult humans on Earth is estimated to be 287 million tons. Even if you tack on another 70 million-ish tons to account for the weight of kids, it's still not equal to the total amount of food eaten by spiders in a given year, exceeding the total weight of humanity.

In other words, spiders could eat all of us and still be hungry.
I'd think that some of the spiders who ate Americans would be bloated, due to eating people who are saturated with junk food.
And if they ate fierce partisans, they might feel ill due to the bile.
If they ate spokespeople for the Trump administration, they'd be eating unhealthy amounts of baloney and this.
But they can also be chic in fashion. Eight years ago this story was on the web (and about some webs):
A rare textile made from the silk of more than a million wild spiders goes on display today at the American Museum of Natural History in New York City.

To produce this unique golden cloth, 70 people spent four years collecting golden orb spiders from telephone poles in Madagascar, while another dozen workers carefully extracted about 80 feet of silk filament from each of the arachnids. The resulting 11-foot by 4-foot textile is the only large piece of cloth made from natural spider silk existing in the world today.

"Spider silk is very elastic, and it has a tensile strength that is incredibly strong compared to steel or Kevlar," said textile expert Simon Peers, who co-led the project. "There's scientific research going on all over the world right now trying to replicate the tensile properties of spider silk and apply it to all sorts of areas in medicine and industry, but no one up until now has succeeded in replicating 100 percent of the properties of natural spider silk."

Peers came up with the idea of weaving spider silk after learning about the French missionary Jacob Paul Camboué, who worked with spiders in Madagascar during the 1880s and 1890s. Camboué built a small, hand-driven machine to extract silk from up to 24 spiders at once, without harming them.

"Simon managed to build a replica of this 24-spider-silking machine that was used at the turn of the century," said Nicholas Godley, who co-led the project with Peers. As an experiment, the pair collected an initial batch of about 20 spiders. "When we stuck them in the machine and started turning it, lo and behold, this beautiful gold-colored silk started coming out," Godley said.

Father Comboué, who one historical text erroneously calls Father Comboné, had a partner in designing his machine, M. Nogué. Together, they got quite a spider silk fabric industry going in Madagascar and even exhibited "a complete set of bed hangings" at the Paris Exposition of 1898. That fabric has since been lost, but the exhibition brought them some attention.

…But to make a textile of any significant size, the silk experts had to drastically scale up their project. "Fourteen thousand spiders yields about an ounce of silk," Godley said, "and the textile weighs about 2.6 pounds. The numbers are crazy."
But if spiders did decide to eat humans, it'd only be fair.
After all, some humans eat spiders:
Joe Gandelman is a former fulltime journalist who freelanced in India, Spain, Bangladesh and Cypress writing for publications such as the Christian Science Monitor and Newsweek. He also did radio reports from Madrid for NPR's All Things Considered. He has worked on two U.S. newspapers and quit the news biz in 1990 to go into entertainment. He also has written for The Week and several online publications, did a column for Cagle Cartoons Syndicate and has appeared on CNN.