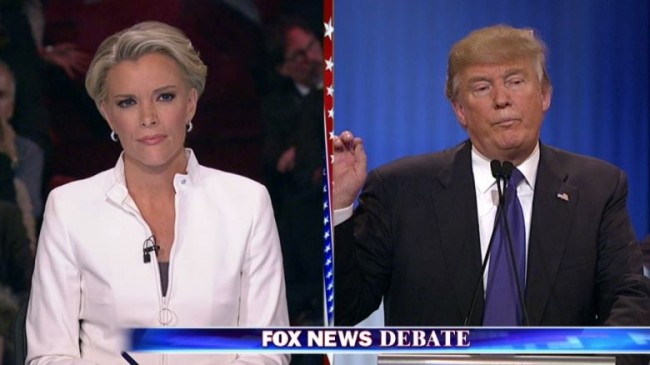 There is a larger, troubling — increasingly scary — pattern with Donald Trump, who is poised to win the Republican Presidential nomination and, yes, has chance of winning the general election.
He believes norms don't apply to him. He'll say and do what he wants. This really should be the issue with thoughtful voters in November — not party, not ideology, not power. The latest report via CNN is that Trump and his campaign broke Fox News' agreed-upon-in-advance rules, refused to abide by them and so the moderators had to make sure others in the debate had the chance to break the rules as well.
Take that in again: 1)he broke agreed upon rules willfully b)he and his campaign refused to abide by them when called out on it.
Donald Trump consulted with his campaign manager during the first commercial break at Thursday night's Republican debate, violating ground rules from Fox News stating that candidates would not be allowed to have contact with their campaigns, rival campaign sources told CNNMoney.
Trump supporters, defenders and enablers (the politicians who don't have the guts to overtly oppose him) will counter with a predictable: "Well, this is coming from people running against Donald." But CNN follows traditional reporting standards which means you get a report and then you seek confirmation from one or two other sources. You don't just run with a short phone call from someone making an allegation. So they are quoting "sources."
While that exchange was the clearest violation of debate rules to date, the sources said, it followed a pattern: At multiple debates, Trump has consulted with his campaign manager Corey Lewandowski backstage even though it was expressly forbidden by the networks.
Here's where it is truly shocking if this country is to have actual rules that ALL are expected to obey. Take this in:
Thursday night's debate in Detroit marked a new extreme, however, as Lewandowski went directly onto the stage to meet with Trump during the commercial break. As in previous debates, Fox News had explicitly informed the campaigns that candidates were not allowed to communicate with their campaign staff during commercial breaks, the sources said.
When Lewandowski was asked by Fox News staff to leave the stage, he refused to do so, according to a source at Fox News.
HE REFUSED TO DO SO even though those were the rules.
Will Mr. Trump REFUSE to do something in the White House even its the law, or REFUSE to do something mandated by Congress, or REFUSE to do something mandated by the Supreme Court? Will he take actions that violate the law and REFUSE to rectify it?
Now note this:
Lewandowski and Trump campaign spokesperson Hope Hicks did not respond to requests for comment.
I've always noted here for readers who aren't in journalism that when there's a controversial story and the subject of that story or his associates don't respond it almost always means a)the allegation is true b)the subject boneheadedly thinks that somehow not responding will make the story go away. People who are outraged by an allegation don't not return phone calls or not comment.
So Fox News — which ran this debate using solid journalistic preparation and tough follow up questions and received well-deserved praise from journalists of all political leanings — decided it could not allow Trump and his campaign to violate the rules and get an advantage:
Unable to get Lewandowski off the stage, Fox News representatives informed the other three campaigns that, because the Trump campaign had broken the rules, they too could consult with their candidates. Representatives from the Ted Cruz and John Kasich campaigns immediately made the trek to the backstage wings, while a senior adviser to Marco Rubio did so later.

The Cruz and Kasich aides were on hand backstage to advise their candidates for all of the remaining commercial breaks, while Rubio's adviser was on hand for the last half of the debate. However, the aides spent little time interacting with their candidates, the sources said. The one exception was Rubio aide Todd Harris, who consulted with his candidate during the final commercial break.
This is the larger motif underlying Mr. Trump's candidacy.. The rules of decorum, respect, providing details if you're running for office, not sweaering in public, not just insulting the explaining positions, without hesitation repudiating racism and hatred, urging supporters at rallies not to get violent — nothing applies to him.
So precisely what do voters think is likely to happen if he gets into the White House?
Joe Gandelman is a former fulltime journalist who freelanced in India, Spain, Bangladesh and Cypress writing for publications such as the Christian Science Monitor and Newsweek. He also did radio reports from Madrid for NPR's All Things Considered. He has worked on two U.S. newspapers and quit the news biz in 1990 to go into entertainment. He also has written for The Week and several online publications, did a column for Cagle Cartoons Syndicate and has appeared on CNN.