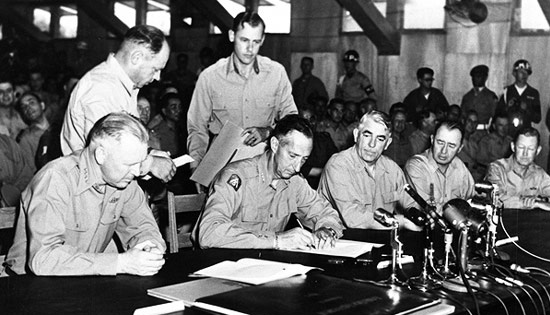 It has been 60 years since the end of a war that many Americans call "The Forgotten War."
While the Korean War may be for many "a conflict fought in a far-off country and so painful that even survivors have tried to erase their memories of it," the North Koreans have not forgotten. "Sixty years after the end of the Korean War, [North Korea] is marking the milestone anniversary with a massive celebration Saturday for a holiday they call 'Victory Day' – even though the two sides only signed a truce, and have yet to negotiate a peace treaty," according to the Kansas City Star. Thus, technically, 60 years after the Armistice, the US and South Korea are still legally at war with North Korea, reflected by the fact that, to this day, 28,500 U.S. forces are still serving in South Korea, "standing shoulder-to-shoulder with their South Korean counterparts to provide security on the peninsula."
The fact that, after so many years, there is still no peace treaty between the warring parties is only one of several sad reminders of a war in which 36,574 U.S. troops died and another 103,284 were wounded.
It was also a war where the signing of the Armistice (lead image) marked the end of the longest negotiated armistice in history. Negotiations that included 158 meetings spread over two years and 17 days, according to the Department of Defense, and "negotiations" during which half of the heavy casualties of the war occurred as those talks languished.
It is an "Armistice" during which North Korean attacks have killed 100 U.S. and more than 450 South Korean troops during several skirmishes and ambushes that have taken place since the Armistice was signed and during which tensions among all three major parties continue to this day.
It is an "Armistice" with constant reminders that real peace between the two Koreas and between North Korea and the United States is still an elusive dream, a dream that is shattered periodically by provocations that bring the three countries involved perilously close to war once again.
Perhaps the starkest reminder is the so-called Demilitarized Zone, or DMZ, a grim, desolate, 160-mile stretch of territory running along the 38th parallel, probably the world's most heavily militarized border separating hundreds of thousands battle-ready South Korean troops — backed up by the previously mentioned 285,000 U.S. troops in the South — from one of the largest standing armies in the world: The Korean People's Army with an estimated 1.1 million military personnel under arms and a massive 8.2 million in reserve.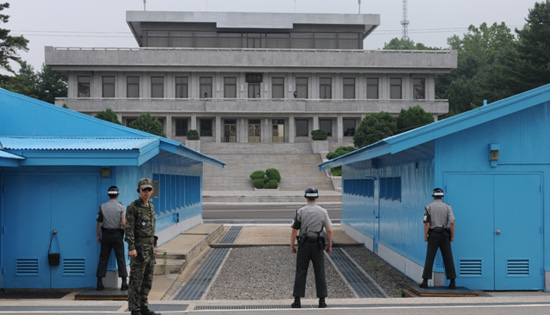 Yet, even though there is no peace between the Korean War parties, even though there were no victors, North Korea has been celebrating its "Victory Day" with military parades, fireworks, aerial acrobatics, even with battle reenactments and, of course, with lots of propaganda.
The commemoration of this 60th anniversary in our nation has been much more muted, yet dignified and proper, including several ceremonies around the country honoring those who made the ultimate sacrifice and also those still with us.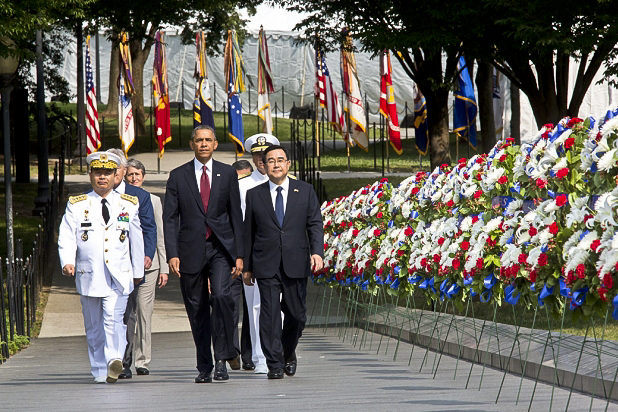 President Barack Obama arrives for a wreath-laying ceremony at the Korean War Memorial in Washington, D.C., July 27, 2013, to commemorate the 60th anniversary of the signing of the armistice that ended the Korean War. (White House photo)
The photo below shows retired Army Sgt. 1st Class Ron Rosser, far left seated, and Cpl. Rodolfo "Rudy" Hernandez, both Korean War Medal of Honor recipients, being honored at a Twilight Tattoo, with Joseph W. Westphal, undersecretary of the U.S. Army, present at Joint Base Myer-Henderson Hall, Va. (DOD photo by U.S. Army Staff Sgt. Sun L. Vega)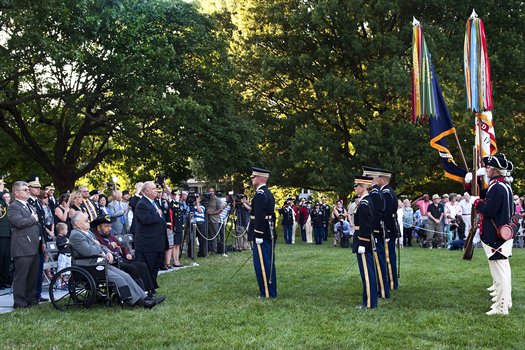 President Obama has issued a solemn proclamation marking National Korean War Veterans Armistice Day. It says, in part: the President's proclamation:
We remember the troops who hit the beaches when Communist forces were pressing south; who pushed back, and fought their way north through hard mountains and bitter cold. We remember ordinary men and women who showed extraordinary courage through three long years of war, fighting far from home to defend a country they never knew and a people they never met.

Most of all, we remember those brave Americans who gave until they had nothing left to give.
One of those the President was certainly referring to is now-retired Army Col. William Webber, 87, (below) who as a young lieutenant lost an arm and leg during that war. You can read his story here.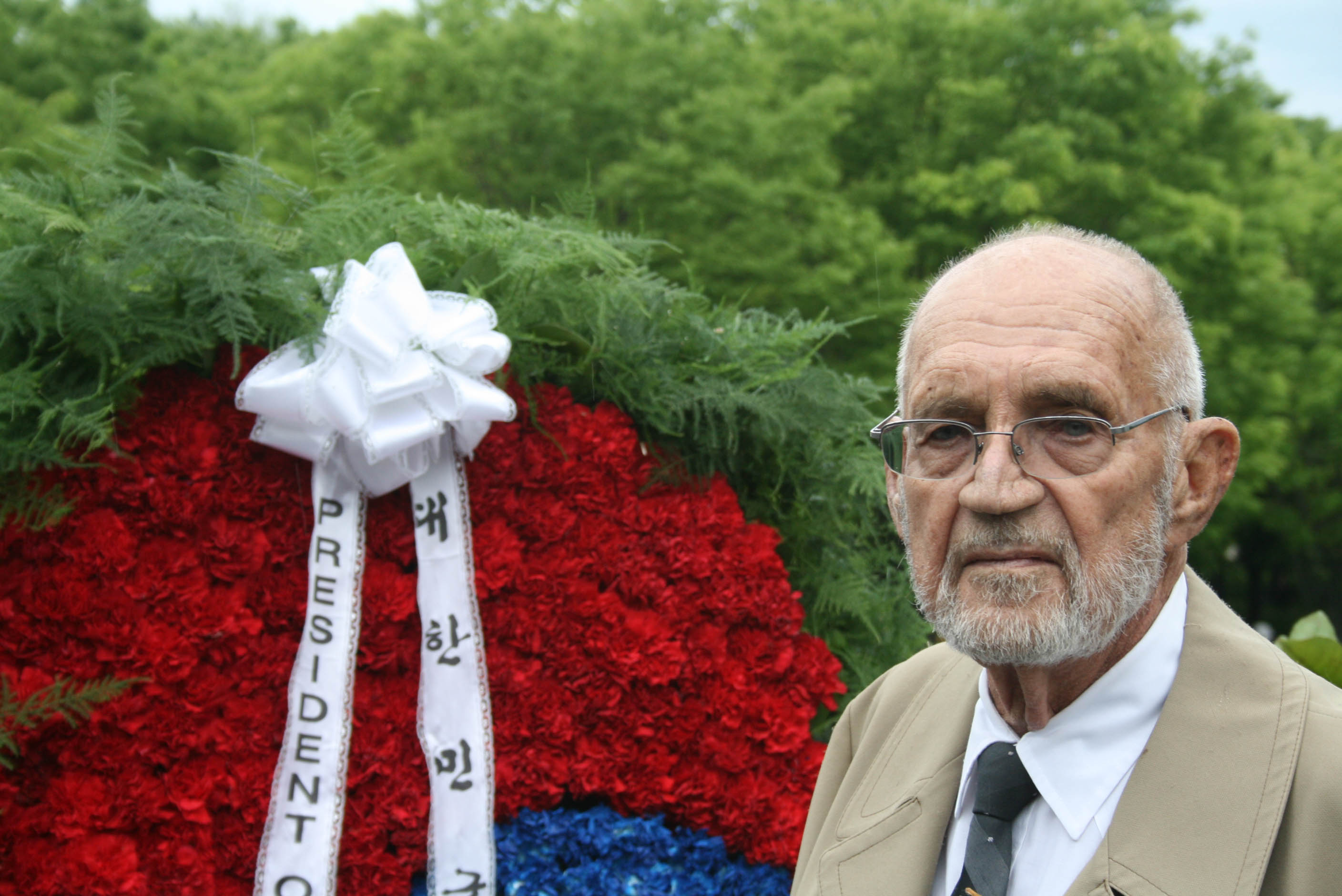 And he most certainly was inlcuding Medal of Honor recipient Hector A. Cafferata, Jr., a modest man who will tell you that "he was no hero; he was just saving his backside when he killed over 100 enemy soldiers in the battle for 'Fox Hill. during the early months of the Korean War."
But his Medal of Honor citation tells a different story. It tells us that the Medal of Honor was awarded to him "For conspicuous gallantry and intrepidity at the risk of his life above and beyond the call of duty while serving as a rifleman with Company F, in action against enemy aggressor forces." And that…
When all the other members of his fire team became casualties, creating a gap in the lines…Pvt. Cafferata waged a lone battle with grenades and rifle fire as the attack gained momentum and the enemy threatened penetration through the gap and endangered the integrity of the entire defensive perimeter. Making a target of himself under the devastating fire from automatic weapons, rifles, grenades, and mortars, he maneuvered up and down the line and delivered accurate and effective fire against the onrushing force, killing 15, wounding many more, and forcing the others to withdraw so that reinforcements could move up and consolidate the position…later that same morning when a hostile grenade landed in a shallow entrenchment occupied by wounded marines, Pvt. Cafferata rushed into the gully under heavy fire, seized the deadly missile in his right hand and hurled it free of his comrades before it detonated, severing part of 1 finger and seriously wounding him in the right hand and arm. Courageously ignoring the intense pain, he staunchly fought on until he was struck by a sniper's bullet and forced to submit to evacuation for medical treatment…
Please read more about this hero, one of the many we are honoring on this 60th Anniversary, one of 136 Medals of Honor recipients, 98 posthumously,here.
All photos, unless otherwise noted: DOD
CODA:
1. President Obama, speaking today at the Korean War Memorial, praised veterans of that war, saying their sacrifices ensured that millions of Koreans could live safely in a democracy and argued "That war was no tie. Korea was a victory…When 50 million South Koreans live in freedom, a vibrant democracy…a stark contrast to the repression and poverty of the North, that is a victory and that is your legacy," according to The Hill.
Two Korean War veterans pose with the U.S. wreath after President Barack Obama and Defense Secretary Chuck Hagel spoke at a ceremony to mark the 60th anniversary of the armistice ending the Korean War at the Korean War Memorial in Washington, D.C.
2. My thanks to TMV reader "Willwright" for bringing to my attention the unbelievably heroic actions during the Korean War of Medal of Honor recipient Hector A. Cafferata, Jr., his wife's nephew.
Cross-posted — with minor edits — from the Huffington Post
The author is a retired U.S. Air Force officer and a writer.