Remembering and Honoring Our Heroes at a Roadside in France (UPDATE)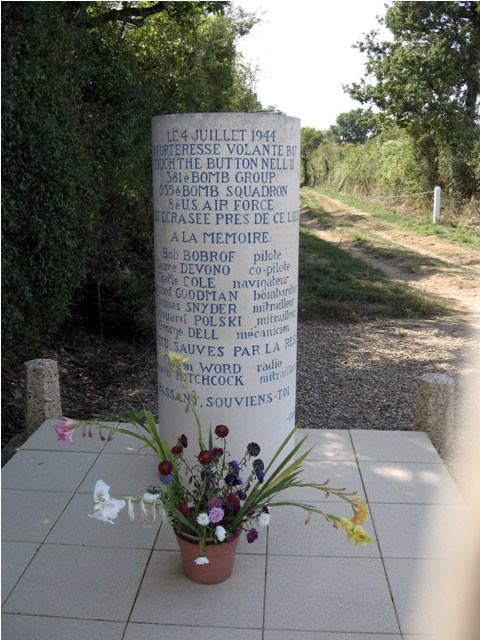 UPDATE:
Not only do the French people remember, honor and thank our fallen heroes on French soil, but also at Arlington National Cemetery.
While the president of the United States failed to continue the presidential tradition this past Veterans Day, our ally, France – through its Embassy in Washington – took part in a wreath laying ceremony at Arlington National Cemetery.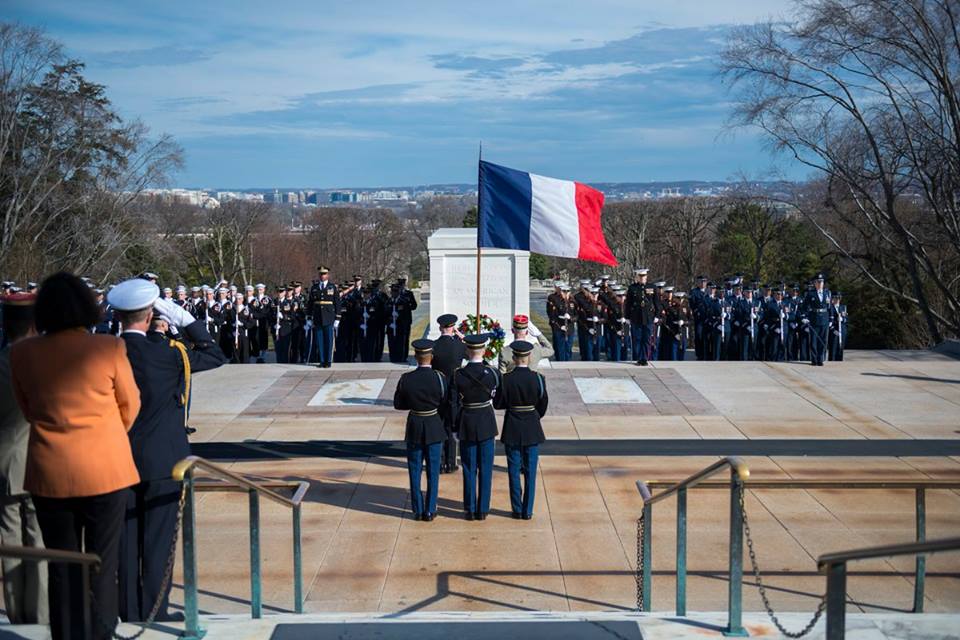 The French Embassy, in a post on the Embassy's FaceBook page:
Today we gather at Arlington National Cemetery to lay a wreath on the tomb of the #UnknownSoldier. France will never forget those, including the millions of American troops, who fought in France during#WWI. Today we honor their sacrifices.
This disjunction was so embarrassing and implausible that snopes.com felt compelled to do a fact-check.
Original Post:
It is not one of the dozens of large, beautiful, haunting cemeteries dotting the European country side, where thousands upon thousands of our War heroes (World War I and World War II) rest.
It was not visited by heads of state and dignitaries on Armistice Day, or Remembrance Day or "Poppy Day" — as far as I know no bands played, no wreaths were laid.
It is just a simple but touching monument on the side of a narrow, winding road in rural France, near the charming, little "commune" of Persac, in the equally charming and peaceful Vienne Departement, western France.
It is a plain, beautiful cylindrical column with nine names and duty titles etched on its white stone: the names, ranks and final duties of nine young American aviators who were aboard a B-17G "Flying Fortresses" on their way to take out a strategic target in German-occupied France during the closing days of World War II.
Of the nine crew members, only two survived the tragedy in the skies over Vienne, one early morning of a Fourth of July 70 years ago.
Very early on the morning of July 4, 1944, 26 B-17G "Flying Fortresses" from the U.S. 381st Bomber Group, took off from an air base north of London. One of their targets: a strategic bridge over the Loire River close to Tours in German-occupied France.
A few minutes before the bombing run, something went awfully wrong aboard "Touch The Button Nell II," a B-17 belonging to the 535th Bomber Squadron.
At about 25,000 feet, Nell II lost one of its engines. In quick succession the B-17 lost two more engines and started losing altitude very rapidly. Despite heroic efforts by its crew, Nell II crashed in a field between L'Isle-Jourdain and Persac.
Two of the nine crew members survived by parachuting out of the crippled B-17—one at approximately 3,000 feet and another, miraculously, at a few hundred feet of altitude. They were both rescued by the French Resistance.
Three other crew members met tragic deaths while parachuting from the doomed aircraft. The other four, including the pilot and co-pilot, died in the aircraft as it crashed in the fields of Vienne.
In 1998, in memory and in honor of these young heroes, the people of Persac and of the Vienne region erected the "simple but touching" monument.
We first visited that monument eight years ago and have returned to pay our respects every time we visit British relatives in nearby L'Isle-Jourdain.
Each time we visit, we find a pot of fresh flowers in front of the memorial — courtesy, remembrance and gratitude of and by the local French people.
We could not visit this year — and not because of rain.
However, our relatives did and, yes, there was a pot of fresh flowers there.
They wrote us this morning:
We went down to the square yesterday for the memorial service. When we left, we went over to the "memorial for your bomber crew" that came down outside of the village of Persac that I took you to. I have attached a photo as you can see it is still being looked after with fresh flowers and kept clean and tidy. As are all of the war memorials over here.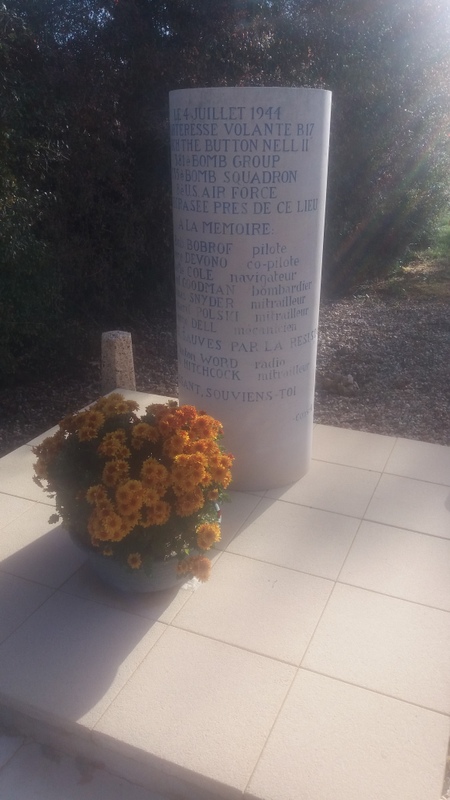 Thank you, Jean and Tom, and our heartfelt thanks to all the people in France and in Europe who cared enough to visit our fallen heroes, come rain or shine.