Reflections of "A Nation of Immigrants" – Part 5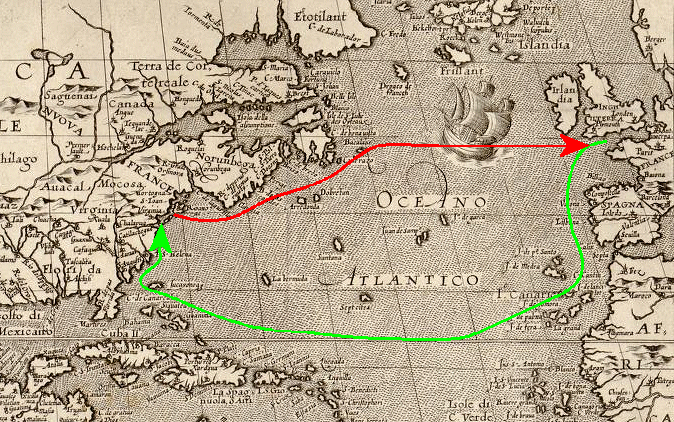 No discussion of America being a "melting pot" would be complete without mentioning the significant contributions made by descendants of the African men and women who were brought to America as slaves.
We would have loved to include in this series about "A Nation of Immigrants," the stories of African American readers and authors and their ancestors who have helped make this country great – and we will publish them if we receive such inputs in the future.
We end this "series," for now, with the immigration story of one of our readers and how her ancestors came to this country not necessarily as "immigrants," not necessarily of their complete free will and not from Africa, but from the British Isles, some as "indentured servants."
Before proceeding, a note is in order.
Whether slaves or "indentured servants" or others – such as prisoners — who were brought to this country involuntarily can be called "immigrants" or not is a controversial subject.
An article and comments on remarks made by HUD Secretary Ben Carson in March of this year and, in December 2015, by President Barack Obama at a naturalization ceremony, where both men refer to slaves as "immigrants," evoked a great deal of discussion.
Carson said, in part:
"That's what America is about. A land of dreams and opportunity…There were other immigrants who came here in the bottom of slave ships, worked even longer, even harder for less."
President Obama said, in part:
"So, life in America was not always easy. It wasn't always easy for new immigrants. Certainly, it wasn't easy for those of African heritage who had not come here voluntarily, and yet in their own way were immigrants themselves. There was discrimination and hardship and poverty…"
We will not relitigate those statements here. Suffice to quote the rest of President Obama's words following the paragraph above: "But, like you, they no doubt found inspiration in all those who had come before them. And they were able to muster faith that, here in America, they might build a better life and give their children something more."
Here is ordinarysparrow's ("OS") immigration story:
On the maternal side, OS can trace her family line back to William Lawson of Montrose, Scotland, known to many as "The Scottish Rebel".
Born in 1731, Lawson went on to be part of the Scottish uprising against the British Crown and participated in the final confrontation of the "Jacobite Rising."
In 1746, at the age of 15 or 16, he was part of the famous, and bloody, battle of Culloden that pitched the followers of Prince Charles Edward Stuart, "the Pretender" to the throne of Great Britain, against the British Army under the Duke of Cumberland.
One thousand of the 5,000 Scottish troops were killed "in less than an hour." Lawson was captured and imprisoned in Northern England.
Just a few months later, as the Scottish rebels once again became a threat to the Crown, "one Richard Gildart of Liverpool signed an agreement with the English Treasury to transport these prisoners to the plantations (American Colonies) at the rate of 5 pounds per head."
In August 1747, Lawson was among approximately 80 prisoners aboard the "Gildart" who arrived at Port North Potomac, Maryland, where Lawson was "bound out" as an indentured (slave) to a Virginia planter and joined the "[b]etween one-half and two-thirds of white immigrants to the American colonies between the 1630s and [the] American Revolution [who]had come under indentures."
At this point, OS says, "I ask myself, what is the proper term to call my ancestor who was transported in a slave ship by the British and sold for a 'goodly sum of tobacco'?"
Similar questions about what to call others who came to America involuntarily or under extreme duress to meet the new colonies' insatiable demand for labor, are still being asked today.
OS' ancestor – William Lawson — escaped his "enslavement" a year later (with a price on his head) and sought refuge in the Colonies. After being granted freedom with the signing of the Declaration of Independence, Lawson joined the Virginia Militia and went on to fight in the 1780 Battle of Kings Mountain during the Southern Campaign of the American Revolutionary War.
OS:
"It would not be many years till the family moved to Kentucky and then to Missouri where the men in the family were all killed in the Border Wars, which were battles that were fought between Free-State advocates and pro-slavery men…The only ones left in the family was a mother and a small son."
It is at this time period when the family changed the spelling of the name from Lawson to Losson and when the family left Missouri by foot and walked to Indian Territory.
There, the Losson mother married a U.S. Marshal. Their son, OS' great grandfather, also became a U.S. Marshal on Indian territory — "a wild place where many outlaws hid from the law" — before it became the State of Oklahoma.

U.S. Marshals in Indian territory. OS' Grandfather in the back row, fourth from the left, with black pointed hat and thick, black mustache.
OS describes how her great grandfather took prisoners across the territory to Arkansas to be tried by Judge Parker, known as the "hanging judge," and how he eventually took a bullet "that he lived with until his death."
The family went on to experience the Dust Bowl and, as a result, became refugees in Texas and California.
Children of those refugees fought in World Wars I and II and in the Vietnam War.
Equally patriotic are OS' ancestors on the paternal side. Her recollection of this side of the family is somewhat sketchy. But she knows that her early ancestors were Irish and that one of their descendants carried the name of Patrick Henry Longan, who – like her maternal great-great grandfather, William Lawson — also served in the Virginia Militia during the Revolutionary War.
Longan's father and grandfather came to the Colonies in the 1600s, also as political prisoners, choosing banishment rather than accepting British rule. The younger Longan, Patrick Henry, married the daughter of Captain John W. Bowles, owner of several steamships operating up and down the Mississippi River and along the colonies' coast.
Capt. Bowles is famous for helping Oney "Ona" Judge, a fugitive slave from George Washington's plantation, escape to freedom.
Members of this side of OS' family also served the nation in its wars, "all the way from the Revolutionary War." Below, left photo, sitting down, is Grandfather Losson who served in World War I. Right photo, JJ Losson during World War II.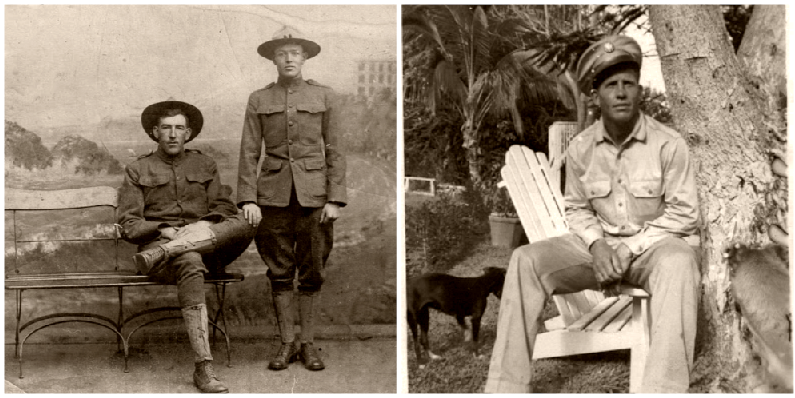 Eventually, the paternal side of the family settled in Texas on land obtained through the Homestead Act. In 1908, both of OS' grandparents perished from cholera, leaving five siblings orphaned.
OS herself was raised in the Texas panhandle, five miles from the original homestead, the youngest of eight children.
OS:
"I spent my youth in the fields of cotton and on the back of horses. We were dirt poor but I was horse rich and to this day maintain that my greatest life teachers were horses, and a woman that knows horses will go where she wants to go.
I worked two jobs while getting a BA and spent two long summers volunteering at a Children's Home in rural Mexico. Those children were my teachers of what is the most essential.
After graduating, I was accepted in a two-year program that was set up like the Peace Corps, called 'Journeyman.' I spent two years in in Rhodesia, Africa, as it was violently transiting to Zimbabwe.
Came back to the States and got a Masters in Counseling Psychology and worked with PTSD patients, gathered mitigation for Capital Murder cases for a number of years. I am currently working in the alternative healing field and volunteer for hospice and social justice causes."
It is appropriate to close this "series" with the kind of inspiring words we have grown so accustomed at The Moderate Voice to see written by OS:
"One day on vacation in South Africa, I was sitting on a large boulder overlooking the ocean with Cape Town Table Mountain behind. I sat acutely engaged in an internal war of Rhodesia knowing the story of both sides and the heart hurt with all its division.
Looking out at the ocean there was a small ship caught in a storm and lightning was raining down, tossing the ship to and fro, yet there was open sky not far away were the sun was shining bright.
On the beach to the left was a small naked boy child running with a dog, his mother chasing him. To the right an elderly couple lay in embrace. In a silent 'ocean' moment there was a knowing that it all belonged and that we are all in it together as I glimpsed the one in the many and there was no division.
Those few seconds were a powerful teaching and at that time the question changed from what divides us to what brings us together. Perhaps that is when the liberal pacific came forth."
Reflecting on today's divisions, ordinarysparrow concludes, "Yet, I am old enough and have enough DNA memory that knows progress moves slowly forward because love and endurance walk hand in hand, and we are all in this together."
CODA:
Ordinarysparrow explains she took on that moniker name because of her grandfather, who served in World War I:
"When I was a little girl, he told me that his mother's family had the sparrow as its tribal bird symbol. He said they could have chosen the mighty eagle for they were a powerful tribe. But they chose the sparrow because the sparrow is the most plentiful of song birds. He said the meaning of 'ordinary' for his people meant we are to stand equal with all other people; no one is to stand above us and we are to stand above no one."
Source: In addition to ordinarysparrow, "Mini Biographies of Scots and Scots Descendants."
Lead image: "Rough approximation of initial sailing routes between England and Virginia" by Arnoldo di Arnoldi – Library of Congress
For Parts 1 through 4 of this "series," please click HERE, HERE, HERE and HERE, respectively.