Reflections of 'A Nation of Immigrants' – Part 3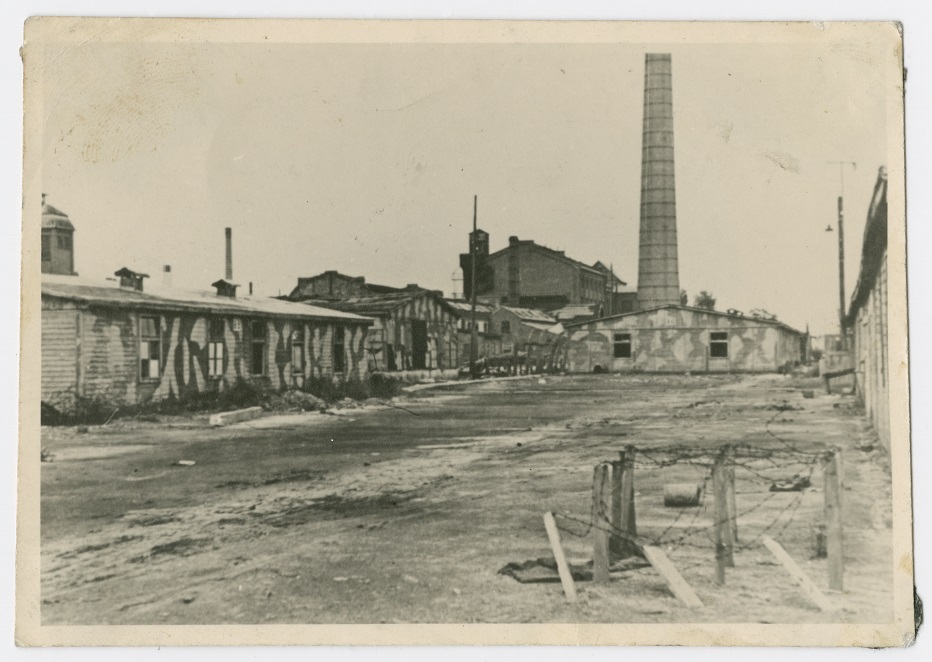 In the previous two stories about the immigration experiences of parents and grandparents of readers of and contributors to The Moderate Voice, we learned about the hardships and persecution many of them experienced in their "old country."
The following moving story by one of our readers is about how his parents endured the full weight of the Nazi boot in World War II Poland, survived the Holocaust and how, after their eventual immigration to America, they and their offspring became the successes "we," immigrants, like to point to with pride.
"Markus" in his own words:
In late August 1956, a family of four, my parents, my brother, and I peered out of the windows of an airliner carrying us to New York City. We gazed at the Statue of Liberty. I was ten years old and airsick and hoping we'd be landing soon. I can only guess what my parents were feeling. They had been born in Poland. My father was from Czestochowa in southern Poland, and my mother came from Lodz in western Poland.
In 1939-40 they were herded into confined areas of their home towns where Jews were concentrated. The machineries of murder took a year or two to set up, but eventually there was a "resettlement" in both cities which moved the Jews into the death camps for more efficiency in their destruction. A tiny percent was selected out to be slave laborers to create war materiel.
My mother and her sister were separated from their mother and three siblings and put on a cattle car to a factory complex just outside Czestochowa. My father did not have to endure a cattle car ride, but he was separated from his parents, his siblings, his first wife, and a son with the same first name that I carry. They worked for HASAG, the Hugo Schneider Aktiengesellschaft, a metal fabricating corporation. (Lead photo) The slave laborers got 300-700 calories of food per day. The plan was Vernichtung durch Arbeit — Destruction by Labor. They survived this.
In the winter of 1944, the Nazis were retreating and tried to take the surviving slaves with them. My parents hid in a basement for three days with some carrots as their sole source of food and water. Finally, a Soviet T-34 tank crewed by some drunk teenagers rumbled near their hiding place and rescued them.
After the storm of battle passed, they decided to seek the protection of western nations and joined the huge rush of refugees. They found their way to Landsberg in Bavaria. If you saw "Band of Brothers," near the end of the series they liberate a camp in Bavaria. That was the refuge that my parents found. I was born there under the aegis of the US Army.
After the refugee camp, they tried to make a life in Berlin. My childhood was spent there. Berlin was cosmopolitan and considered the least "Nazified" city in Germany.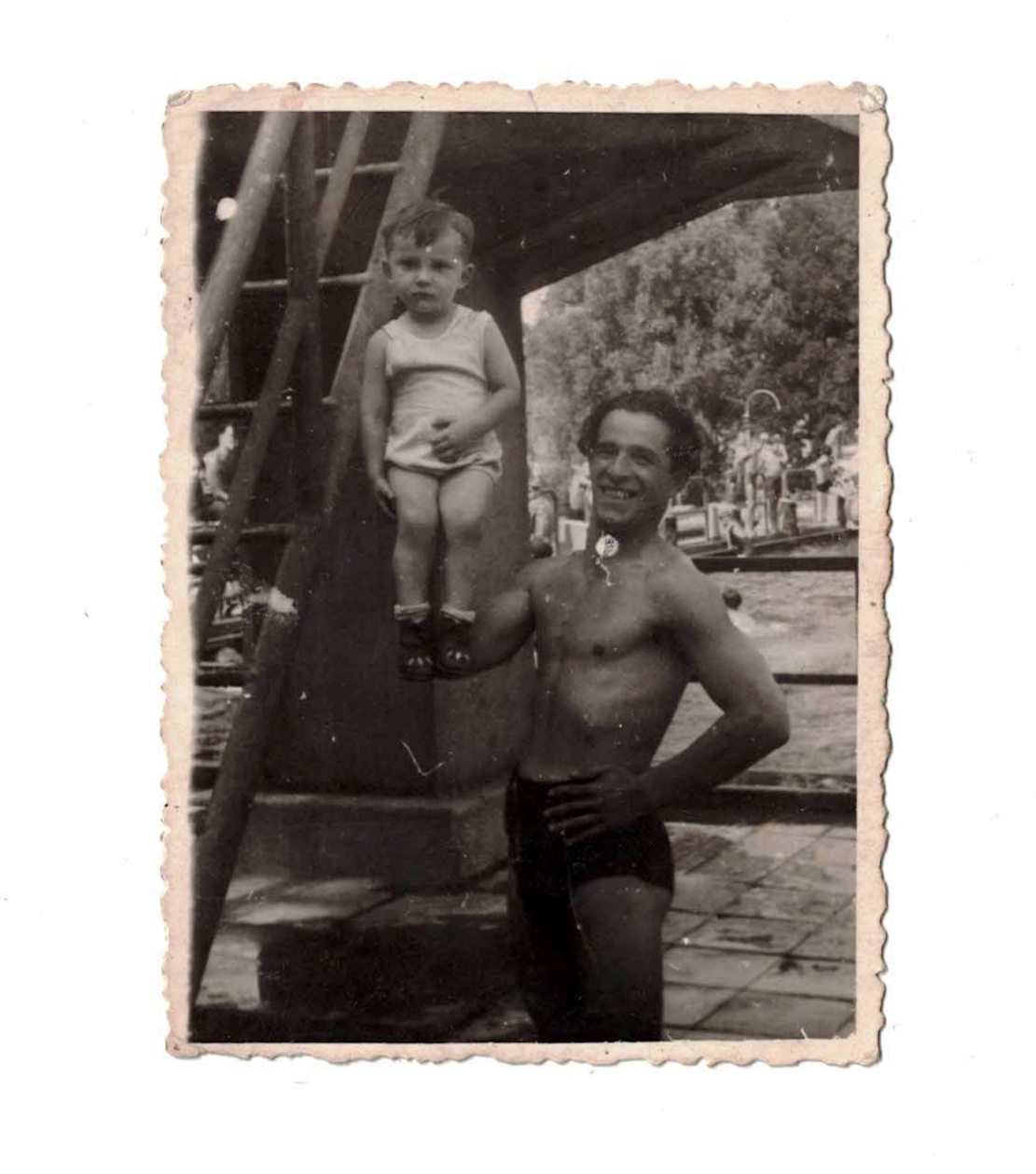 Markus with his father in the summer of 1947 at a refugee camp run by the US Army in Landsberg/Lech in Bavaria, Germany. Markus: "I like to remember my father as strong and vigorous as in this photo."
This did not work out for them, and they tried to emigrate. At that time, US laws had quotas for immigration and required the potential immigrant to have a sponsor that guaranteed employment. Luckily for us, my dad's uncle had the smarts to come to the US before the war. However, there was a lot of paperwork with interviews at the embassy that delayed the process. Finally, the day came, and we came to America.
When we landed, my dad spoke only a few words of English and had no skills other than a willingness to work. The qualities that led the Nazis to select him to be a laborer came through. Over the years, he worked his way from minimum wage (85 cents an hour) laborer to manager.
In 1962, my parents passed their citizenship test. At the little swearing in ceremony, I saw my dad weep. That was the only time I ever saw tears on his face. The little flags that they were given remained with them the rest of their lives.
CODA:
1. Markus describes how, in "Ghetto Lodz," people were "selected": "They passed for review in the square by the railroad station and a few were chosen to go right, to the trains to HASAG, and most went left, to Treblinka and Chelmo."
2. Earlier, the author mentioned the success of Markus' family in their new homeland. The following mental picture painted by Markus says it all:
"I am a retired medical oncologist who sits at the head of the table at Thanksgiving and looks at his wife, sister, and brother in law and sees a MS, a JD, and a PhD in addition to my MD; the next generation at the lower end of the table has a teacher of troubled children, a firefighter, and three college students."
Lead image: The HASAG labor camp. With permission from and credit to the United States Holocaust Memorial Museum, courtesy of Lola Tanzer.
The following is part of the description of the HASAG camps provided by the Museum:
"HASAG (Hugo Schneider Aktiengesellschaft-Metalwarenfabrik, Leipzig) was the third largest German armaments manufacturer during the Second World War.
During the war, HASAG operated eight plants in Germany and six in Poland…In Poland, HASAG established a network of factories in the Radom district and soon became the main supplier of ammunition to the Generalgouvernement.
To provide a steady labor supply, forced labor camps were set up at each plant in 1942 and 1943 and Jews from Poland, Austria, Czechoslovakia, Germany and Hungary were put to work…In June 1943 the HASAG camps held 17,000 Jewish prisoners.
Beginning in July 1944, HASAG transferred its Polish operations, along with some of the slave laborers, to the Reich, and on January 16, 1945 all the camps in Poland were officially closed."
~.~
The author, Dorian de Wind.
As Markus, above, I also peered at the Statue of Liberty out of the windows of a KLM airliner about to land at what was then known as Idlewild Airport.
That was in April 1957, eight months after Markus and his family arrived.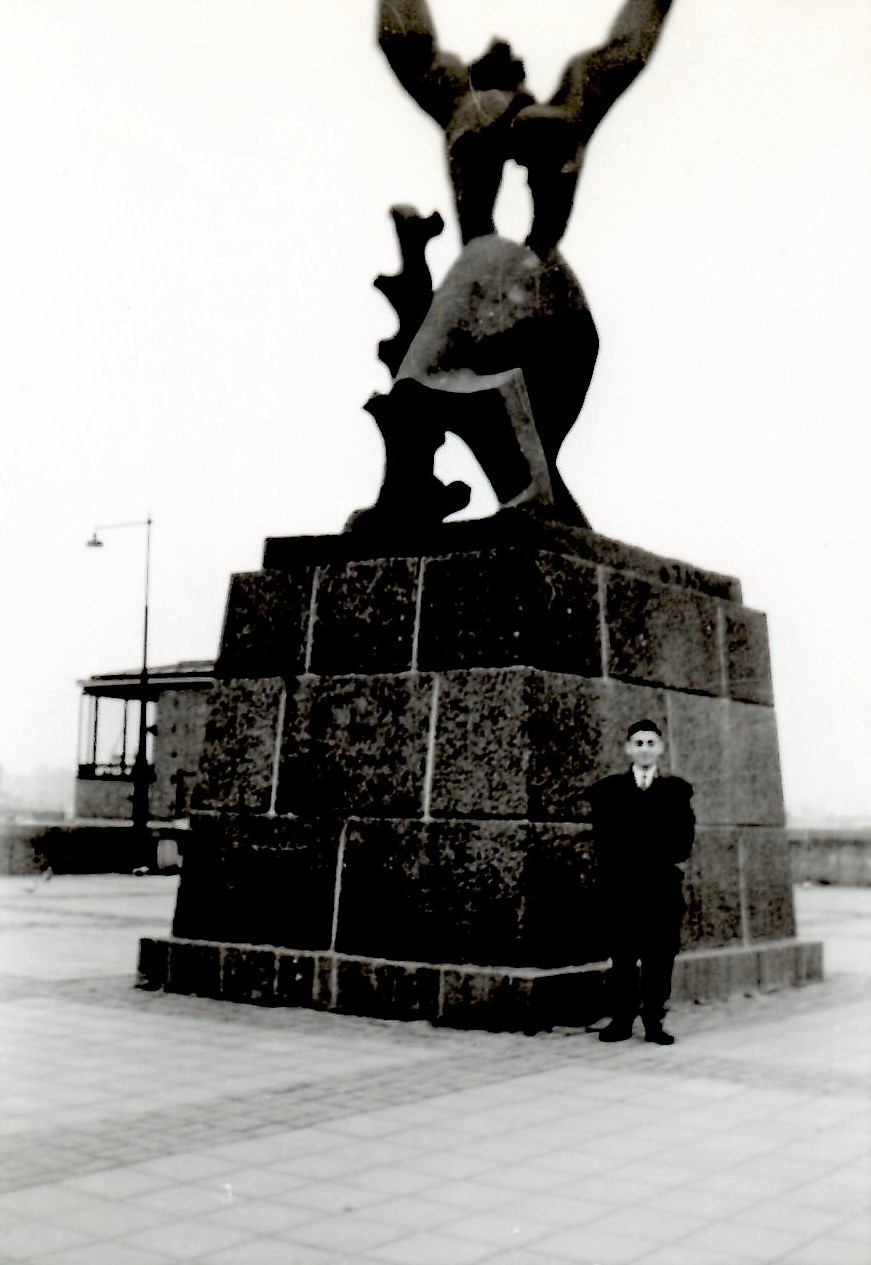 The author, a few days before immigrating to the U.S., in front of "De Verwoeste Stad," ("The Destroyed City"), a statue in Rotterdam, the Netherlands, symbolizing the brutal destruction of the city's heart by Nazi bombardment at the beginning of World War II.
It had been a long journey that started in my native Ecuador. My maternal grandparents were Hispanic. My paternal grandfather was Dutch and Jewish and had himself immigrated to Ecuador from Belgium.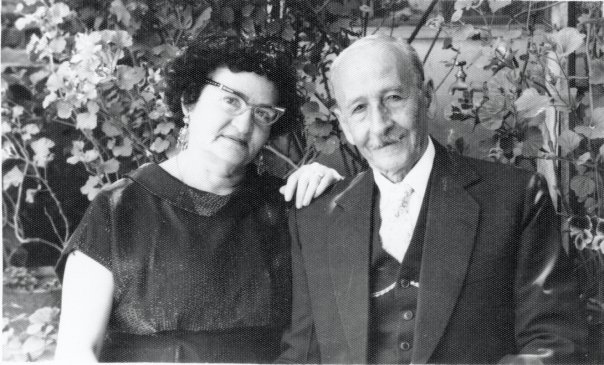 The author's "abuelitos" in Ecuador, circa 1960.
When I was 10, our family, with a new father – also Dutch – departed for the Netherlands Antilles and eventually settled in the Netherlands.
So, here I was, finally in America, a young 17-year-old, full of hope, dreams, awe, expectations and, yes, some anxiety.
Perhaps the anxiety was because I was traveling alone and had left my father, mother and younger sister in the Netherlands.
But I would not be alone for long. My older sister and my aunt and uncle — the latter had immigrated from Ecuador a few years before — would soon embrace me as I arrived at what would be my next home for a year, Kansas City, Mo.
Almost immediately, I went to work for a company that made pharmaceuticals for poultry. My job: helping translate labels from English to Spanish on poultry medicines destined for export, and printing them. My hope is that I translated accurately and that none of the eventual patients suffered any ill effects.
A year later, I realized my second dream: becoming part of the United States Air Force, serving my adopted country. Soon I became an American citizen and was immensely proud to receive my commission in the same Service.
Eventually, my parents and younger sister also came to America.
As a young serviceman stationed in England, I met and married a beautiful, young English woman, just to stir the melting pot a little more.
Today, I have a beautiful family, all proud Americans, by birth and by naturalization.
Sometimes I am asked what I would do differently if I had the opportunity. The steadfast answer from this "miniature melting pot" (of Dutch, Hispanic, Jewish heritage) is, "Nothing!"
The U.S. military, the American people and this great country have given that 17-year-old boy from 60 years ago every opportunity and have helped him achieve every one of his dreams.
My only hope is that our country will continue to welcome those who, like some of our readers and their ancestors, want to come to America looking for a better, safer life…
==
Born in Ecuador and educated in the Netherlands, the author served his adopted country for 20 years in the U.S. Air Force. One of the highlights of his Air Force career was having had the responsibility and the honor for the reception, welfare and resettlement of over 400 South Vietnamese refugees at the end of the Vietnam War.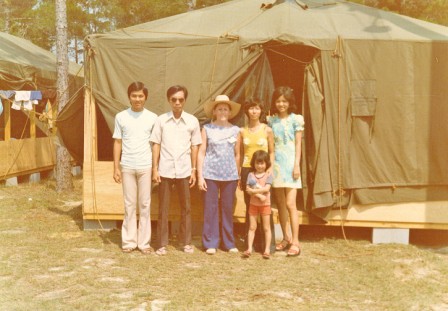 Author's wife (middle) helping out at the Eglin Air Force Base, Florida, Vietnamese Refugee Camp in 1975
After his retirement from the U.S. Air Force, he worked for Lockheed Martin for another 17 years, including five years in Saudi Arabia and another five years in Brussels and London.
Dorian now lives in Texas, and is the proud father of two and grandfather of one.