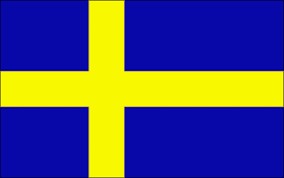 Update:
After having falsely suggested that Sweden had witnessed a terror attack on Friday night — and received worldwide ridicule and condemnation — Trump offered the lame excuse that he was referring to a Fox News report on immigration and crime in Sweden.
The report "on Fox News's 'Tucker Carlson Tonight' featured documentary filmmaker Ami Horowitz, who links an influx of refugees into Sweden to rising crime rates," says The Hill and adds:
However, Reuters reported crime rates in Sweden have fallen since 2005 even with the addition of hundreds of thousands of refugees.
Subsequently, the Swedish Embassy in Washington, D.C. "offered to teach President Trump's administration about the country's immigration policies," with a tweet offering to inform the US administration about Swedish immigration and integration policies." (Below – Courtesy The Hill via Screengrab)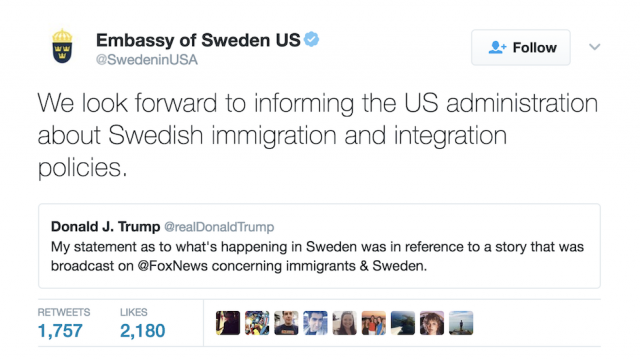 Original Post:
During the most recent rally in his never-ending campaign and speaking without the filter of the fake news, Trump surprised the world — in particular the Swedes — by revealing that Sweden (a country that has a long history of taking in refugees) had been the target of some horrific event the night before.
"We've got to keep our country safe. You look at what's happening in Germany. You look at what's happening last night in Sweden. Sweden, who would believe this?" Trump said in a shrill, alarming voice.
Watch the video above, courtesy the Washington Post.
The Swedish people were flabbergasted and so were the Swedish Foreign Ministry and the Swedish Embassy in Washington.
A spokeswoman for the Swedish Foreign Ministry told the Associated Press on Sunday that authorities were not aware of any "terror-linked major incidents" that occurred Friday night in Sweden. According to the spokeswoman, the Swedish Embassy in Washington has asked the State Department to clarify Trump's remarks.
Swedes reacted with confusion, anger and ridicule on Sunday to a vague remark by President Trump that suggested that something terrible had occurred in their country.

:

Nothing particularly nefarious happened in Sweden on Friday — or Saturday, for that matter — and Swedes were left baffled.

"Sweden? Terror attack? What has he been smoking? Questions abound," Carl Bildt, a former prime minister and foreign minister, wrote on Twitter.
The Swedish "AftonBladet" found it necessary to tell Trump, in English, what happened in Sweden on Friday night:
• 3:24 PM (local time): A man set himself on fire at Sergels torg, a plaza in central Stockholm. He was taken to the hospital with severe burns. There is so far no information on his motives but the intelligence service is not part of the investigation.
• 6:42 PM: The famous singer Owe Thörnqvist had some technical problems during rehearsal for the singing competition "Melodifestivalen". (However, the 87 year old singer still managed to secure the victory the very next day.)
• 8:23 PM: A man died in hospital, after an accident in the workplace earlier that day in the city of Borås.
• 8:46 PM: Due to harsh weather in the northern parts of Sweden the road E10 was closed between Katterjåkk and Riksgränsen. Due to strong winds and snow in the region the Met office also issued an avalanche warning.
• 12:17 AM: Police officers initiated a chase for a fleeing Peugeot through central parts of the Swedish capital of Stockholm. The pursuit ended in police officers ramming the suspect at Engelbrektsgatan. The driver is now accused of driving under the influence, traffic violation and car theft.
Unless Trump was referring to the 3:24 PM (Sweden time) incident which happened Friday afternoon in Sweden — 9:24 AM Friday morning EST — this has to be classified as just another bit of hysteric fake news by the perpetual campaigner-in-chief.
Please view below a previous response by Sweden to Trump.
The author is a retired U.S. Air Force officer and a writer.