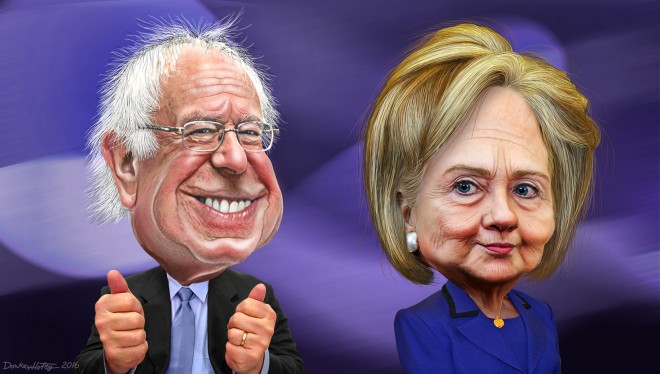 So who "won" CNN's Democratic Party Presidential nomination debate from Michigan. Let's guess without visiting the website or look at names: supporters of Vermont Sen. Bernie Sanders will insist he won and obliterated former Secretary of State Hillary Clinton. And supports of Clinton will say she obliterated Sanders. Each side will cherry pick their tribe's side's best moment and downplay or try to change the subject about the weakest.
But it's the hardening of conventional wisdom — now including new media as well as old — that will determine who "won." Even so, many pundits say barring a major development, Clinton seems on track win the nomination.
Here's a sampling of reaction to the debate so far.
The Washington Post:
Hillary Clinton and Bernie Sanders clashed fiercely Sunday over jobs, trade and Wall Street while agreeing that much more must be one to address a two-year-old water-contamination crisis that has paralyzed this majority-black city.

The session included the sharpest exchange yet between the Democratic presidential candidates over their economic plans and records. It included a heated argument over the auto industry bailout, which is of keen interest in Michigan, where both Democrats and Republics will hold presidential primaries Tuesday.

Clinton emphasized the "hard choices" that lawmakers and President Obama made in 2009, facing the prospect of a collapse in the auto industry, and she noted that Sanders, a senator from Vermont, voted against a bailout measure.

Sanders said he voted against forcing "hard-working" Americans to bail out "the crooks of Wall Street."

"If everybody had voted the way he did, I believe the auto industry would have collapsed," Clinton said.

Sanders angrily hushed Clinton as she sought to interject. "Excuse me, I'm talking," he said, drawing gasps from the audience.

"If you're going to talk, tell the whole story," Clinton replied.

"You'll get your turn," he snapped.
NOTE: This has already sparked a mini firestorm on Twitter — and it seems to go beyond Clinton supporters.
Senator Bernie Sanders, anxious that the Democratic nomination is slipping away from him, launched a series of cutting and sarcastic attacks against Hillary Clinton over trade, Wall Street, welfare reform and other issues at Sunday's debate that at times felt like a war over the legacy of Bill Clinton and moderate Democratic policies of the 1990s.

Even Mrs. Clinton joined in the repudiation of some of her husband's accomplishments, such as the 1994 crime bill and the 1996 welfare law, which both disproportionately harmed a part of the electorate — African-Americans — that the two Democrats are now aggressively courting in Michigan, Ohio and other racially diverse states that hold primaries over the next nine days.

The subtext for much of the debate was Mr. Sanders's urgent need to cut into Mrs. Clinton's support among African-Americans, while also courting working-class white voters and union members who have lost jobs, pay raises and benefits in part as a result of free trade deals.

Mr. Sanders, who has fallen far behind Mrs. Clinton in their all-important race to accumulate delegates to clinch the party's nomination, has rarely been so aggressive. He portrayed Mrs. Clinton as an unapologetic champion of free trade for much of her career, in hopes of hurting her with Rust Belt Democrats. He tied her aggressively to the North American Free Trade Agreement, Mr. Clinton's signature trade policy, and to the Trans-Pacific Partnership, President Obama's 12-nation trade pact, which she supported as secretary of state but then denounced as a presidential candidate.

Mr. Sanders also attacked Mrs. Clinton's support of the federal Export-Import Bank, the 82-year-old export credit agency that antigovernment populists on both sides have derided as "corporate welfare," and feigned amazement when she expressed criticism of some trade deals.
CNN:
Hillary Clinton and Bernie Sanders angrily clashed over auto industry bailouts, guns and ties to Wall Street on Sunday, as underlying tensions in the Democratic presidential race burst into the open at an impassioned CNN debate in Flint, Michigan.

The forum quickly turned into a heated philosophical argument about an economy that Sanders said is weighted against the middle and working classes and is abetted, he said, by close ties between politicians, such as Clinton, and Wall Street financiers.

Sanders accused Clinton of supporting "disastrous" trade policies that contributed to corporate America's decision to move manufacturing from cities like Flint to low-wage economies in Central America and Asia. But she in turn said that Sanders had refused to vote for a bailout for the auto industry that was included in the outgoing Bush administration's attempts to stave off the financial crisis.

"If everybody had voted the way he did, I believe the auto industry would have collapsed, taking 4 million jobs with it," Clinton said.

Clinton also pressed Sanders on guns and accused him of being too close to the National Rifle Association.

"You talk about corporate greed. The gun manufacturers sell guns to make as much money as they can make," Clinton said.

Sanders replied by responding that Clinton's arguments, effectively, would amount to a ban on the manufacture of guns.

At one point, both candidates talked over one another in their determination to make their points about the economy.

"Excuse me, I am talking," Sanders said.

Sanders repeatedly knocked Clinton for her ties to the finance industry and demanded that she release transcripts of her paid speeches to Wall Street firms. Clinton said she will do so when other candidates, including Republicans, agree to do the same.

While the exchanges were intense and revealed clear schisms between Clinton and Sanders, they were largely confined to policy differences, and lacked the personal — and even vulgar — tone that characterized the last two Republican debates.

Both candidates billed themselves as the best possible person to take on the Republicans, particularly Donald Trump, in a general election. Clinton slammed what she said was the "bigotry, bullying and bluster" of the GOP front-runner, while her rival pointed to polls indicating he was more likely to beat the billionaire.

Clinton and Sanders opened the debate agreeing on one point: that Michigan Gov. Rick Snyder should step down over his response to the toxic water crisis in Flint.
The Huffington Post notes the YUGE difference between the Democratic and Republican debates with a big headline: "DETAILS, NOT DICKS":
The campaign for the Democratic presidential nomination is supposedly over, with former Secretary of State Hillary Clinton clearly ahead of Vermont Sen. Bernie Sanders and on her way to capturing a majority of delegates.

But for two hours on Sunday night, Clinton and Sanders debated as if the outcome was very much in doubt — sparring over everything from trade and corporate welfare to health care and guns.

The debate, held in Flint, Michigan, was feisty and even cantankerous. Clinton and Sanders had several exchanges where they tried to talk over one another; Sanders, as always, brought his full array of facial expressions.

But the debate was also deeply substantive — an argument between two seasoned politicians who have obviously given a lot of thought to the problems facing America, and what they would do about them.

The contrast to the Republican debate from last week, with its juvenile insults, could not have been more stark. Instead of discussing penis length, Clinton and Sanders argued over the sizes of their respective infrastructure programs.

In short, both Clinton and Sanders looked ready for prime time.

The debate began, appropriately, with an extended discussion of Flint's water crisis — and what the candidates would do, both to help the people of Flint who suffered because of lead in the water and to prevent future tragedies. And it was one of the few discussions of the night when Clinton and Sanders were more or less saying the same thing. Both called for setting up programs for Flint families, both demanded the resignation of Michigan Gov. Rick Snyder (R), and both called for testing of lead in pipes across the country.

…..Clinton and Sanders got into it over trade, guns and pretty much everything else on the domestic agenda.
A series of contentious exchanges followed. Clinton attacked Sanders for voting against gun control measures, while Sanders attacked Clinton for going soft on Wall Street. They fought over the Export-Import Bank, the controversial government program that is supposed to help American companies that sell their wares overseas. Clinton supports it, saying it provides critical support for American jobs; Sanders opposes it, calling it a form of corporate welfare reform.

Clinton at one point attacked Sanders for opposing President Barack Obama's rescue of the auto industry, saying that Sanders had voted against it. It's an argument she hadn't made before, and the Sanders campaign pointed out that the senator had taken other votes to support the rescue — and had defended it publicly on a radio show.

But, as debates go, this one had relatively few instances of campaigns challenging each other on the basic facts. Instead, the sharp debate offered Democratic Party voters a clear sense of the choice they face in this primary campaign. Stylistically, Clinton measures her words carefully, while Sanders relishes every chance to say something blunt or bold. Clinton talks about programs, while Sanders likes to invoke big themes. Clinton talks about what she can do, while Sanders talks about what he'd like to do.
In its long article on the debate, the LA Times writes:
Sanders advisors say the Rust Belt, where the middle class has been ravaged as American jobs moved overseas, is fertile territory for the insurgent's populist agenda. They called Michigan a "critical showdown state" in a recent conference call with reporters, and they spent heavily on television advertising here.

The Clinton campaign is confident the showdown has already come and gone, after Clinton emerged with a commanding lead in the race following Super Tuesday.

The two more often than not agreed in broad strokes on issues, particularly as it relates to the water crisis that brought Flint into the national spotlight.
Hillary Clinton lashed out against Bernie Sanders' vote against the auto bailout for the first time on Sunday, charging at a debate here that "if everybody voted the way he did, I believe the auto industry would have collapsed, taking four million jobs with it."
Sanders hit back by repeatedly mentioning Clinton's past support for multinational trade deals, a topic he's been using against her in Michigan over recent weeks in an attempt to appeal to blue-collar voters in the state.

"I am very glad, Anderson, that Secretary Clinton has discovered religion on this issue," he told moderator Anderson Cooper, referring to trade. "We've lost 60,000 factories since 2001, they're going to start having to — if I'm president — invest in this country, not in China, not in Mexico."
Those were a few of the contentious moments in a series of disagreements that have driven the race in recent months and were on display Sunday — from fracking to gun control to the controversial crime bill that Bill Clinton spearheaded in the 1990s. The candidates also sparred over the Export-Import Bank, which Clinton said is a critical job producer and Sanders called a giveaway to big corporations like Boeing.
The feisty two-hour showdown accentuated the stylistic and substantive differences between the two candidates — when Clinton offered nuance, Sanders often responded with denunciation. But it appeared to do little, on the face, to alter the basic dynamics of the race. Both candidates had their moments, and neither stumbled.
But the tension between the two was palpable. Clinton dropped a fact she'd been waiting to use: Sanders' opposition to the auto bailout — a stance President Barack Obama used to devastating effect against Republican nominee Mitt Romney in 2012.
Sanders started to respond: "If you are talking about the Wall Street bailout where some of your friends destroyed this economy —" before Clinton interrupted. "Excuse me, I'm talking," Sanders snapped.

"If you're going to talk, tell the whole story, Senator Sanders," she replied.
"Let me tell my story, you tell yours," he shot back.
The Washington Post's Chris Cillizza listed winners and losers. His winners included Clinton:
* Hillary Clinton: The former secretary of state came ready to fight on Sunday night. She kept her hit on Sanders's opposition to the automobile-industry bailout well hidden in the run-up to the debate to get maximum impact when she dropped it on his head. Ditto her attack on him being the lone Democratic-voting senator to vote against the Export-Import Bank. She is still not great when it comes to answering questions she doesn't want to answer. Her I'll-release-my-Wall-Street-speeches-when-everyone-else-does answer to a question about her high-paid speaking gigs was not very good. And she remains overly cautious as a candidate; when pressed on whether people at the Environmental Protection Agency should lose their jobs because of what happened in Flint, Clinton was unwilling to say they should — a swing and a miss at a hanging curveball. Still, overall, this was a very solid showing by Clinton. On guns, on failing schools and on Flint, she was confident and effective.
He list Sanders as the loser:
* Bernie Sanders: The senator from Vermont had effectively walked a fine line in the previous six debates when it came to attacking Clinton without coming across as bullying or condescending. He tripped and fell while trying to execute that delicate dance on Sunday night. Sanders's "excuse me, I'm talking" rebuttal to Clinton hinted at the fact that he was losing his temper with her. His "Can I finish, please?" retort ensured that his tone and his approach to someone trying to become the first female presidential nominee in either party would be THE story of the night.
Put aside the fact that Sanders misstepped on tone, he also did nothing to change the underlying dynamics of the race. If you think Wall Street is the problem for much of what ails the country, you were for Sanders before this debate and certainly for him after it, too. But, as we know from the first 40 percent or so of states that have voted, there aren't enough of those people to make him the nominee. Sanders didn't knock Clinton off her game in any meaningful way, making the debate a loss for him. (Sidebar: His answer about white people not knowing what it is like to live in a ghetto or be poor would have been a massive gaffe if he was not as far behind in the delegate chase as he is.)
Sunday night's Democratic presidential debate in Flint, a city where manufacturing jobs have been replaced by poisoned water, should have been on Bernie Sanders' turf: a discussion of trade policies, corporate greed and government spending cuts that have led to horrible consequences.

Sanders fought as if his life depended on it – and it just might be, as he has fallen dangerously behind Hillary Clinton in the delegate count.

But Clinton came prepared to the CNN debate and more than held her own, preventing Sanders from the clear victory he needs to change the trajectory of the race ahead of Michigan's primary on Tuesday.

While the debate is unlikely to dramatically alter the outcome of the Michigan primary or the even more important set of contests on March 15, it nonetheless revealed new details about the candidates and the differences between them.
A CROSS SECTION OF TWEETS:

My debate report card grades: Hillary Clinton B+, Bernie Sanders B. See full report cards here: https://t.co/7irUKgnCmR

— Mark Halperin (@MarkHalperin) March 7, 2016
This is a lovely piece on the #DemDebate https://t.co/s4Xul9Lacu

— EJ Dionne (@EJDionne) March 7, 2016
the democratic debates and the republican debates are like night and day. The republican debates are a joke compared the the democratic.

— ashley (@ddlfranco) March 7, 2016
Who Won the Debate? Hillary Clinton Is Given the Edge https://t.co/zSHRwZWITg

— The New York Times (@nytimes) March 7, 2016
I thought both Hillary Clinton and Bernie Sanders did well in tonight's debate in Flint, Michigan, but Bernie… https://t.co/VuVYfGNlXA

— Robert Reich (@RBReich) March 7, 2016
What I find unforgivable: progressives speaking for Sanders in such a way that treats Hilary Clinton as some "dumb chick"

— Jason Evan Mihalko (@jaypsyd) March 3, 2016
Bernie when HRC interrupts: "Excuse me, I'm talking!"

Bernie when Don Lemon interrupts: "Oh I'm sorry, go ahead."

Noted. #DemDebate

— Emmy Bengtson (@EmmyA2) March 7, 2016
Im biased but I do believe Clinton team won the after debate spin battle quite handily. Auto bailout gun man immunity testy Bernie.

— Armando (@armandodkos) March 7, 2016
Every woman watching the #DemDebate cringed when Bernie shushed Hillary this way: https://t.co/56KbfRl2Nj pic.twitter.com/sdse9H3ePC

— Mic (@micnews) March 7, 2016
Imagine the ratings if CNN got Larry David and Kate McKinnon to do simultaneous translation of Hill & Bern in little boxes on the TV screen.

— Larry Sabato (@LarrySabato) March 7, 2016
#DemDebate tonight's debate made me feel the bern and vote for @BernieSanders and not for @HillaryClinton @TheDemocrats @DWStweets

— coop (@coople) March 7, 2016
.@HillaryClinton campaign says @BernieSanders' tone at the #DemDebate bordered on "disrespectful" @CNNgo https://t.co/IB7IM7d5jt

— OutFrontCNN (@OutFrontCNN) March 7, 2016
Bernie won this debate. Resolute and compassionate. He's leading the party & his opponent w/ his vision. @nwarikoo @AC360 @BernieSanders

— Justin Wedes (@justinwedes) March 7, 2016
@BostonGlobe @WayneEdH @nhdogmom Hillary Clinton won this debate completely

— Gordon G. Forbes (@ggforbes) March 7, 2016
Cartoon by DonkeyHotey via Flickr
Joe Gandelman is a former fulltime journalist who freelanced in India, Spain, Bangladesh and Cypress writing for publications such as the Christian Science Monitor and Newsweek. He also did radio reports from Madrid for NPR's All Things Considered. He has worked on two U.S. newspapers and quit the news biz in 1990 to go into entertainment. He also has written for The Week and several online publications, did a column for Cagle Cartoons Syndicate and has appeared on CNN.