A "Radio-Active" Life In The Ether (Guest Voice)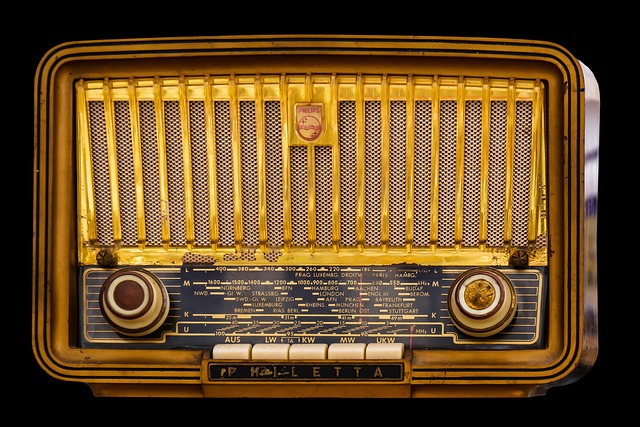 By: Abe Stavsky
An ambiguous luxury of reaching one's 70s is being able to look back and reflect on the idiosyncrasies of one's life. One of these, for me, is my enduring fascination with radios.
As a young boy I recall listening to radio programs all the time. There was something transcendent about the voices emanating from the wooden box with the soft dial light and glowing tubes inside. And I was totally mesmerized by a huge pre-WW II wooden Zenith radio console belonging to my late aunt. Its dial showed all kinds of strange combinations of letters and numbers, only some of which I could read. It had push buttons to change the stations, and it took center stage in my aunt's living room for many years.
TV came in, of course, and landed in our house when I was around seven. It was fascinating but troublesome: programs would fade in and out with the peculiarities of the weather, the antenna or the wind, or the picture needed constant adjustment for vertical and horizontal hold. But radio was simple: it either played or it didn't.
In junior high school I visited a friend who had a new, fascinating toy: a shortwave radio with which one could hear voices coming from all over the world! All that was needed was a long strand of bare copper wire and another wire attached to a steam pipe for grounding. I begged and pleaded for a shortwave for my next birthday, and my parents bought me a Hallicrafters S-120. It was a tabletop radio with 5 vacuum tubes. Once I had it set up (stringing a long wire down from our 13-story rooftop to my 10th floor window!), I marveled at the crackly, hissing audio which came in from the far reaches of the globe. And though I didn't know it then, I actually listened to history. One day in 1963, fiddling with the dial I heard a ship, "The Marine Sulphur Queen," a 1944 cargo vessel steaming to the Caribbean. It reported its position and promptly went off the air. A few days later, the newspapers reported that the ship had "vanished without a trace," possibly in the murky depths of what became famous as The Bermuda Triangle. The ship has not been found to this day.
?
Later, as a young man, I lived in South Africa, a place which proved to me that a modern industrial society could function perfectly well without TV. The-then apartheid government had decided to delay implementing TV broadcasting "until adequate funding would be available to produce programming suitable for all races." Landing in Johannesburg at the end of 1970, I saw a city's horizon dotted with high FM radio transmission towers, some of which were also bona fide tourist attractions with restaurants at the top. Radio was highly developed in South Africa and the airwaves, both AM and FM, as well as the shortwave bands, spouted dozens of programs and radio shows in English, Afrikaans and many local languages. Those fortunate enough to live close to the Rhodesia (Zimbabwe) or Mozambique borders could watch "foreign" programs on their TVs if they had any. The TV barrier finally cracked in 1976, with the advent of all-color broadcasting.
Seeing the radio world change as I grew older,?(?first with transistors taking the place of slower and less reliable vacuum tubes and stereophonic, later digital, broadcasting?)? generated an impulse in me to collect the old sound boxes. From thrift shops, antique stores, flea markets and garage sales, I garnered a clutch of vintage tube radios, many in fine working condition. Others needed repair or replacement of those little glass tubes. As the new century turned they became harder to source. Names long since forgotten by even people my age appeared on them: Stromberg-Carlson, ?Crosley, ?Admiral, Rogers Majestic, Air-Line and Pilot to name a few. I found that old radio repair, while tricky – and potentially deadly if you weren't grounded (!) – was not insurmountable. A pair of pliers, several screwdrivers and a soldering iron were my tools of the trade.
The German-designed Grundig and its many clones, with their full range of longwave, shortwave, medium (AM) and FM bands, beautiful wooden cabinetry and "electric eye" digital tuning were prizes usually out of my reach. They spawned a whole gamut of East European and later Chinese imitations, but the sound quality of the inferior models were evident once ears were attuned to the Grundig or Telefunken sound.
?S?uddenly, in 1994, I went from radio-passive to radio-active. In January of that year, Los Angeles experienced a major earthquake. One result was the fact that the multinational food company I then worked for were dismayed when they could not reach their European headquarters or most of their plants and distribution centers in the U.S. This prompted a search for volunteers to learn ham radio operation, as amateurs were known to possess the skills and equipment to communicate where others could not. Five of us said "yes", and within less than a year, had studied for and passed the FCC Amateur Radio License exam.
While it was not brain science, it did require a study of electricity fundamentals, FCC safety and licensing laws and more than a modicum of common sense. This was just before the internet age, remember, and in many ways radio was the internet, only in the ether. Once having been licensed, we were given a small stipend to purchase our individual "handy-talkies" as the hand-held 5 watt radios were called. Mine was a no-frills Radio Shack 2-meter job, capable of connecting with the many "repeaters", or mini transponders which dotted the surrounding mountains above Los Angeles.
The LA "ham" community seemingly largely comprised of older engineering types like myself and I found it more enjoyable when using my radios while traveling in Israel? or Canada?. Reciprocal licensing agreements allow most radio amateurs to use their rigs on their travels; your only restrictions are distance from your fellow ham and the ability to converse in their language.
The closely allied world of radio scanners easily hooked me, plus being able to tune in to fire, police and airport traffic. When the LA Police Department changed their system to digital encrypted, I was momentarily perturbed. That said, I found adequate coverage in the still-obtainable transmissions from the LA County Sheriff and Beverly Hills Police Departments.
Today there are radios all over our humble dwelling, not the least of which are in preparation for a possible "big one", something always at the back of the mind in long-resident Angelinos.
This legacy technology still has its applications, not the least of which is to provide hours of happy entertainment for old "radio-actives" like myself.
Abe Stavsky is a retired Los Angelino with a career in librarianship and ?computer graphics. He has traveled extensively, including residences in South Africa and Israel and has close ties to Canada. He likes to tinker ?with radios?.
David Anderson of NYC contributed to this article.