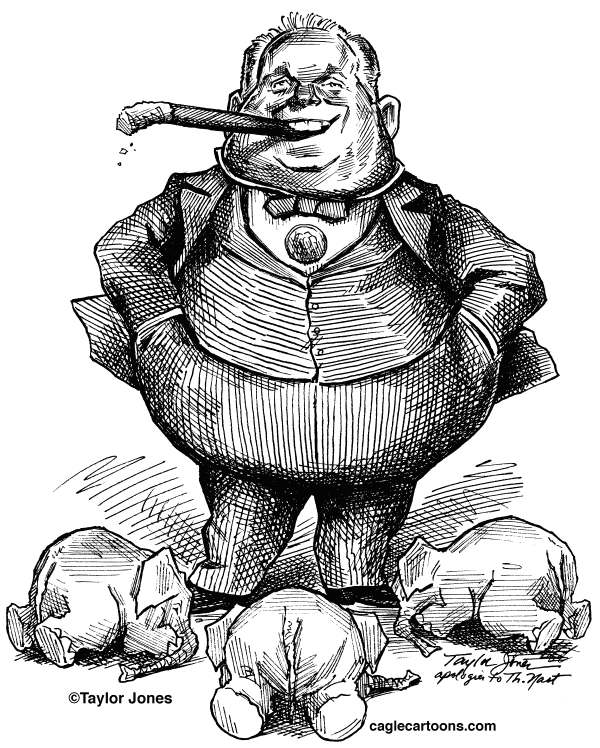 Our Quote of the Day comes from conservative David Frum who says he stirred up a hornet's nest criticising conservative talk show host Rush Limbaugh in the recent controversy over whether Lmbaugh is the party's leader or RNC Chair Michael Steels. Frum argues that this is not a minor battle but entails party identity — and the party's electoral future:
What we are arguing about is the kind of party the GOP will be. Over just the past couple of weeks, Limbaugh has compelled apologies first from a Republican congressman, then from the chairman of the Republican National Committee, for criticizing him. He has extracted tributes praising him as a—if not "the"—leader of the party from the RNC chairman and the governor of Louisiana, Bobby Jindal. Not since the Republican wilderness years of 1993-1994 has Rush held such uncontested sway. But back then, Rush was content to play a supporting part. Now he has assumed—or been conceded—the starring role.

Back in the 1970s, on the eve of the great Republican victories of the 1980s and 1990s, we on the right aspired to displace America's liberal governing elite with an elite of our own—"a counter-establishment" as journalist Sidney Blumenthal aptly described it. But our last experience of government was a disappointing one to say the least, and the whole problem of government seems to interest us less and less. Increasingly, we are vexed and motivated only by what we call "the culture." It's never quite clear what precisely we mean by that: maybe only the sum of all things that annoy conservative-minded people.

We are gradually shrinking from our former ambition—to govern—and taking our pleasure instead in alienation and complaint. Those journalists who cover the conservative world are surprised by how relieved and happy conservatives seem to be about having lost the 2008 election. No more irritating compromises, no more boring policy debates! We can recline into the pure assertion of conservative dogma, a job nobody does better than Rush Limbaugh himself. As Limbaugh told the CPAC crowd: We need no new policy ideas. Conservatism, he said, cannot be reshaped or reformed, and those who suggest otherwise must be "stamped out." And who knows? That view may prevail among Republicans for some long time to come. But if it does, watch out. Just as the American left retreated from politics into the universities in the 1980s, so—if Rush has his way—will the American right retreat from politics into the airwaves in the 2000s.

For my part, I'll adopt the justly famous philosophy of that anonymous American soldier who, upon reaching the front line at the Argonne just as the French giving way, exclaimed: "Retreat hell! We just got here."
More proof that there are conservatives – most notably, younger, non-baby boomer conservatives — who want and seek a different approach. In several senses, the party's future will eventually be theirs. Limbaugh's campaign to exclude, browbeat and stereotype those who disagree with him just may make having a stronger party with a bigger umbrella containing overwhelmingly large numbers of voters who agree with affirmative policies rather than hate or fear others just a bit longer in coming. But in the end it may becoming.
The cartoon by Taylor Jones, Politicalcartoons.com. is copyrighted and licensed to run on TMV. All Rights Reserved. Unauthorized reproduction prohibited.
Joe Gandelman is a former fulltime journalist who freelanced in India, Spain, Bangladesh and Cypress writing for publications such as the Christian Science Monitor and Newsweek. He also did radio reports from Madrid for NPR's All Things Considered. He has worked on two U.S. newspapers and quit the news biz in 1990 to go into entertainment. He also has written for The Week and several online publications, did a column for Cagle Cartoons Syndicate and has appeared on CNN.