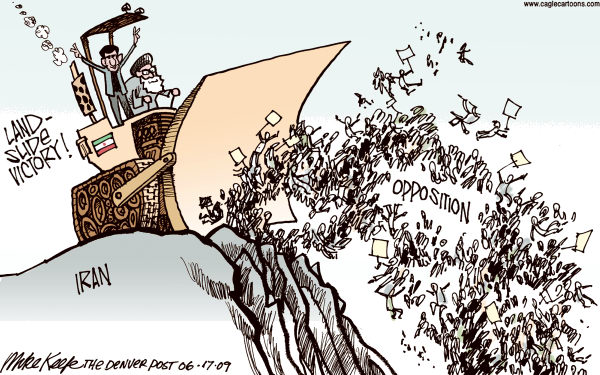 Our Quote of the Day comes from a MUST READ Christian Science Monitor piece titled:"Was Iran's election rigged? Here's what is known so far."
Farideh Farhi of the University of Hawaii, whose decades of studying Iran has included poring over data from Iranian elections, says the result was "pulled out of a hat." Here's why.

Ms. Farhi: My personal feeling is that Ahmadinejad could not have gotten anything more than 10 million. And I really do have the data from previous elections, each district, how they voted, each province, to make comparisons with these numbers that the Ministry of Interior have come out.

I am convinced that they just pulled it out of their hats. They certainly didn't pull it out of ballot [boxes] or even stuffed ballots, they just made up numbers and are putting it out. It just doesn't make sense.

I do take the numbers of the Interior Ministry very seriously. I pore over them every election. I did it last time in the parliamentary election, to determine the orientations and what they mean. I always do that.

In this election, I am not even going to spend time on this, because of all the [problems].
Read it in its entirety.
How large and significant is the growing protest against the election results and the government that is insisting the results are for real (a limited recount notwithstanding)? You know the government faces a crisis when you see stories such as this:
TEHRAN, Iran (CNN) — Members of Iran's national soccer team wore green arm and wrist bands Wednesday during their World Cup qualifying match against South Korea.

The team does not normally wear green bands.

Many Iranians are viewing the team's bands as a sign of support for Iranian opposition leader Mir Hossein Moussavi, although that has not been confirmed.

Green is the campaign color of Moussavi and has been widely worn by his supporters who have staged massive rallies in Tehran before and after last week's presidential election.
They took the bands off in the second half. God knows what they were told in the half-time. But for those who still don't believe this is a genuinely national movement, open your eyes.

The cartoon by Keefe, The Denver Post, is copyrighted and licensed to appear on TMV. All Rights Reserved. Unauthorized reproduction prohibited.
Joe Gandelman is a former fulltime journalist who freelanced in India, Spain, Bangladesh and Cypress writing for publications such as the Christian Science Monitor and Newsweek. He also did radio reports from Madrid for NPR's All Things Considered. He has worked on two U.S. newspapers and quit the news biz in 1990 to go into entertainment. He also has written for The Week and several online publications, did a column for Cagle Cartoons Syndicate and has appeared on CNN.