Puncturing Twitter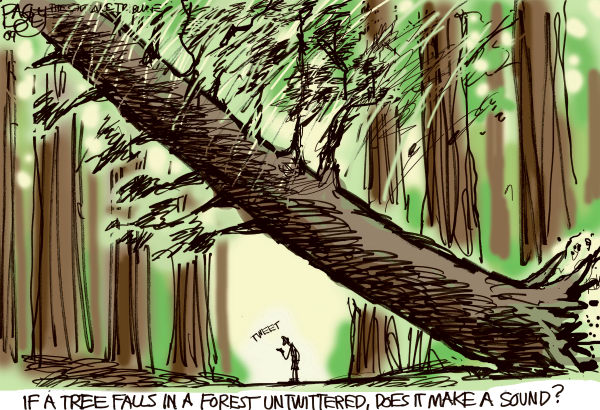 Twitter hype punctured by study:
Just 10% of Twitter users generate more than 90% of the content, a Harvard study of 300,000 users found.

Estimates suggest it now has more than 10 million users and is growing faster than any other social network.

However, the Harvard team found that more than half of all people using Twitter updated their page less than once every 74 days.

And most people only ever "tweet" once during their lifetime, the researchers found.
The Chronicle's Wired Campus blog said the Study Suggests Twitter Users Are Self-Obsessed.
Senator Grassly are you listening?
In other Twitter news, the AP warns that Twittering about your vacation may not be such a good idea. And have you heard of The Twitpocalypse?
Every tweet in Twitter's system is uniquely identified by an integer value. For example, the system's very first public tweet, "just setting up my twttr," by Twitter founder Jack Dorsey, is tweet number 20 (presumably tweets 0 through 19 were used for testing). The maximum signed 32-bit integer value for most database applications is 2,147,483,648. This is a huge value, but the accelerating popularity of Twitter means has the amount of tweets is rapidly approaching this limit. If third party application developers haven't designed their Twitter clients to store tweet IDs using something like the less restrictive unsigned 64-bit integer data structure, users might start seeing strange errors, such as tweets listed in the wrong order – or worse, applications not working at all.
The day in traffic — Impressive: YouTube Video Streams Top 1 Billion/Day. Comptete shows Facebook traffic is nearing Google's, "while Twitter growth seems to have flattened all of the sudden."
An anomyly? Or has that fad possibly peaked?

Copyrighted cartoon by Pat Bagley, Salt Lake Tribune. All Rights Reserved. Unauthorized reproduction prohibited.