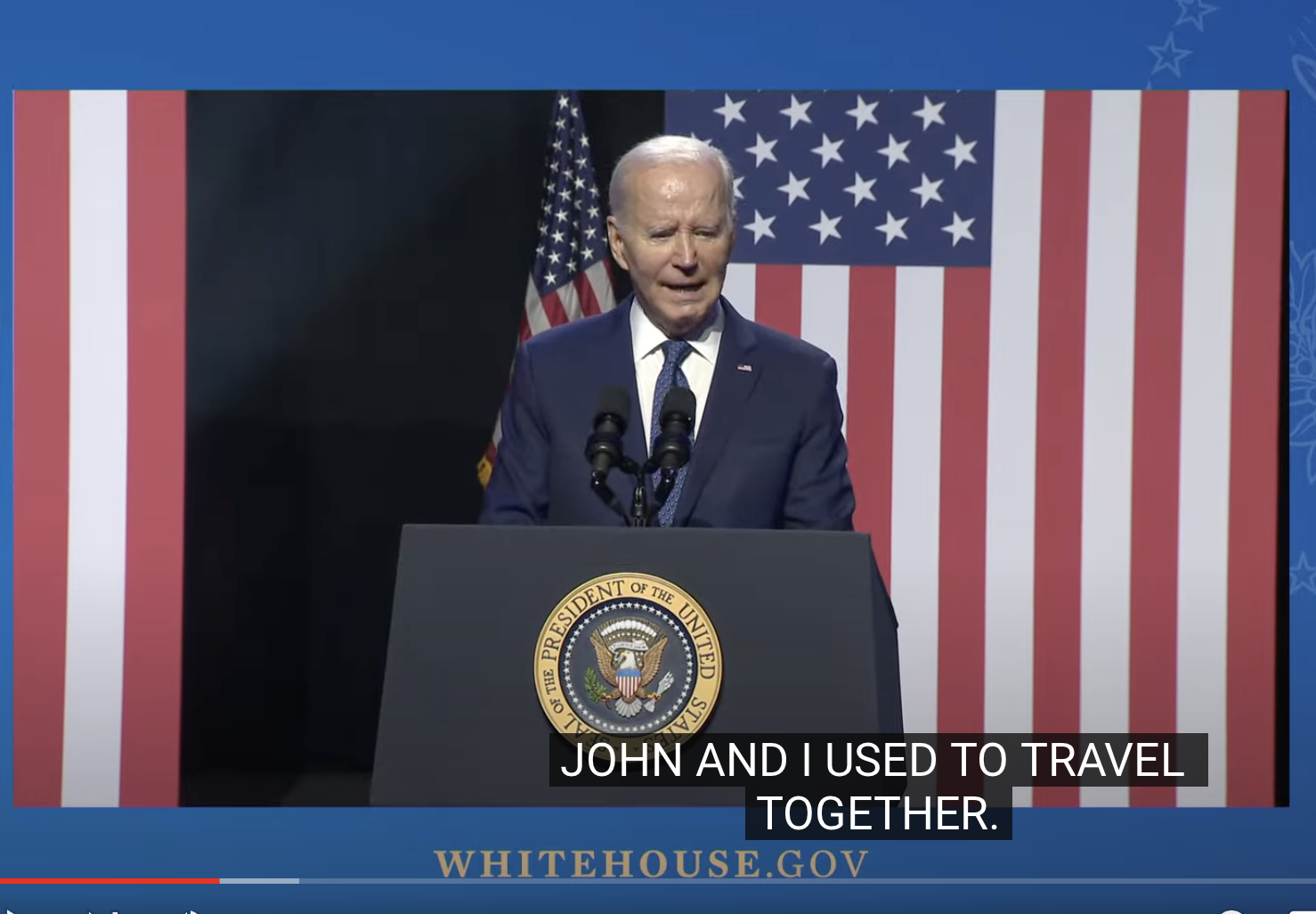 Let me begin with the core principles. Democracy means rule of the people, not rule of monarchs, not rule of the monied, not rule of the mighty. Regardless of party, that means respecting free and fair elections; accepting the outcome, win or lose. (Applause.) It means you can't love your country only when you win. (Applause.)
Last week, President Joe Biden (D) traveled to Tempe, Arizona, to honor his friend, former Senator and presidential candidate, John McCain (R).
You may not know anything about that speech, except, perhaps, that early in the speech, an audience member interrupted him.
But you should know about this speech.
I finally visited YouTube after reading several suggestions that I do so. If you'd rather read than listen, here's the transcript.

While announcing a new McCain library, President Biden explicitly addressed the "institutional damage" that is the result of "an extremist movement that does not share the basic beliefs in our democracy: the MAGA Movement."
Institutions like the McCain Institute and the new McCain Library that will be built at Arizona State University with the funding from the American Rescue Plan, which I signed into law when I came to office. (Applause.) A library that's going to house John's archives, host dialogue and debate, inspire future leaders around the world, to serve tens of thousands underserved Arizonans as a reminder of our obligation to one another…

Today, in America [Arizona], to honor an institution devoted to the defense of democracy, named in honor of a true patriot, I'm here to speak about another threat to our democracy that we all too often ignore: the threat to our political institutions, to our Constitution itself, and the very character of our nation…

Think about this: The first meeting I attended of the G7 — the seven wealthiest nations in the world — in Europe, the NATO meeting, I sat down — it was in Feb- — Feb- — January, after being elected — so, late Janu- — early February — and it was in England. And I sat down, and I said, "America is back." And Macron looked at me, and he said, "Mr. President, for how long — for how long?"

And then, the Chancellor of Germany said, "Mr. President, what would you think if you picked up the paper tomorrow — tomorrow, the London Times — and it said a thousand people broke down the doors of Parliament, marched, and killed two bobbies in order to overthrow an election of the new prime minister? What would you think then? What would America think?"

…there is no question that today's Republican Party is driven and intimidated by MAGA Republican extremists. Their extreme agenda, if carried out, would fundamentally alter the institutions of American democracy as we know it.

My friends, they're not hiding their attacks. They're openly promoting them — attacking the free press as the enemy of the people, attacking the rule of law as an impediment, fomenting voter suppression and election subversion…

Trump says the Constitution gave him, quote, "the right to do whatever he wants as President," end of quote. I've never even heard a president say that in jest. Not guided by the Constitution or by common service and decency toward our fellow Americans but by vengeance and vindictiveness…

Did you ever think you'd hear leaders of political parties in the United States of America speak like that? Seizing power, concentrating power, attempting to abuse power, purging and packing key institutions, spewing conspiracy theories, spreading lies for profit and power to divide America in every way, inciting violence against those who risk their lives to keep America safe, weaponizing against the very soul of who we are as Americans.

This MAGA threat is the threat to the brick and mortar of our democratic institutions. But it's also a threat to the character of our nation and gives our — that gives our Constitution life, that binds us together as Americans in common cause…

MAGA extremists claim support of our troops, but they are harming military readiness, leadership, troop morale, freezing pay, freezing military families in limbo.

Just as they looked the other way when the defeated former President refused to pay respects at an American cemetery near Paris, referring to the American servicemen buried there — and I've been to this cemetery — as "suckers" and "losers," quotes.

I'm not making this up. I know we all tried not to remember it, but that's what he said. He called servicemen "suckers" and "losers."

Was John a sucker? Was my son, Beau, who lived next to a burn pit for a year, came home, and died — was he a sucker for volunteering to serve his country?

The same guy who denigrates the heroism of John McCain. It's not only wrong, it's un-American. But it never changes.

The MAGA extremists across the country have made it clear where they stand. So, the challenge for the rest of America — for the majority of Americans is to make clear where we stand.

Do we still believe in the Constitution? Do we believe in the basic decency and respect? The whole country should honestly ask itself — and I mean this sincerely — what it wants and understand the threats to our democracy…

I believe there is no place in America — none, none, none — for political violence. We have to denounce hate, not embolden it.

Across the aisle, across the country, I see fellow Americans, not mortal enemies. We're a great nation because we're a good people who believe in honor, decency, and respect.

I was able to get the infrastructure bill passed. It's over a trillion dollars. The majority of it so far has gone to red states who didn't vote for me. Because I represent all — no, I'm serious. I represent all Americans. (Applause.) Wherever the need is.

And I believe every president should be a president for all Americans. To use the Office of the President to unite the nation, uphold the duty to care for all Americans…

We should all remember: Democracies don't have to die at the end of a rifle (emphasis added).
Give President Biden your attention. Share this speech.
Which set of headlines is more important to the future of this nation, the one above or the one below? Demand that your local news organizations stop privileging MAGA Repubicans over democratic institutions.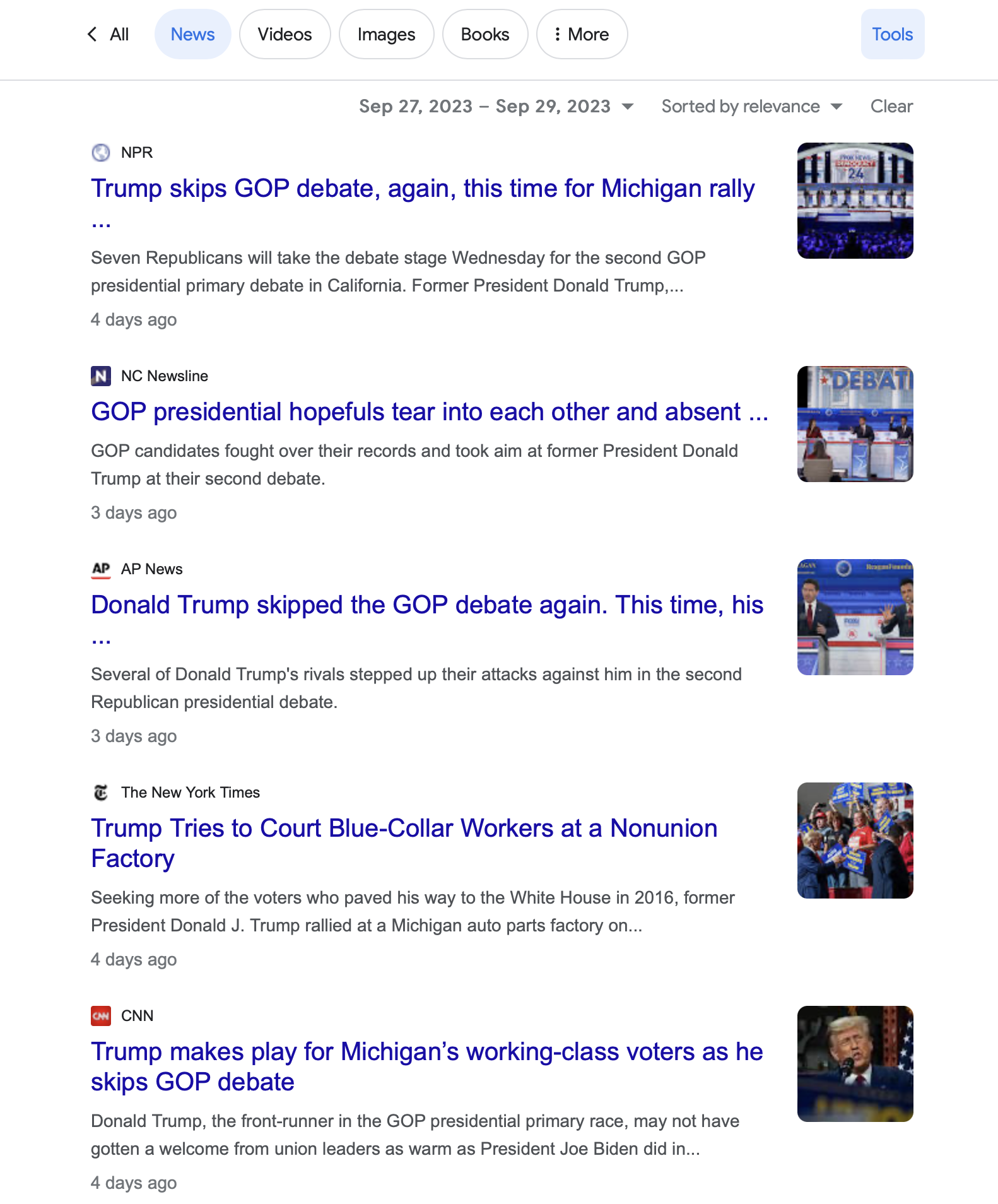 Notice that none of those headlines even suggest that (a) Trump was invited to Michigan by the management of a non-union facility, (b) that his framing was at odds with his record or (c) that news media spread his framing that he was meeting with United Auto Workers, implying that he was supporting union workers (he wasn't).
~
Talk to me: Facebook | Mastodon | Twitter
Known for gnawing at complex questions like a terrier with a bone. Digital evangelist, writer, teacher. Transplanted Southerner; teach newbies to ride motorcycles. @kegill (Twitter and Mastodon.social); wiredpen.com