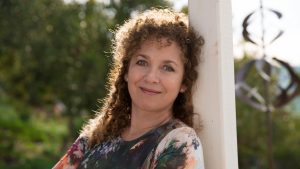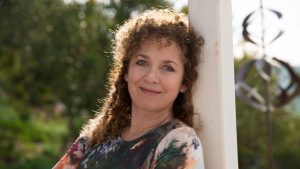 By: Patricia Bossano
In general English, Matriarchy is a form of social organization in which descent and relationship are reckoned through the female line. It is also a social system in which females hold primary power, predominate in roles of leadership, moral authority, social privilege and control of property.
This definition couldn't be more applicable to my family, where women with a penchant for nurturing and commanding are ever ready to call the shots, in every aspect of the blood network's activity, by the simple fact that they (we) outnumber the men.
Present-day matriarchal societies, organized and operating as such, are uncommon, they are low profile and lost in a world of men, but they do exist. In case you are wondering and to name a few, there are the Mosuo (in China, near the Tibetan border), the Minangkabau of Indonesia, the Akan people of Ghana, the Bribri in Costa Rica, plus a handful more—equally far removed and inconspicuous. In sharp contrast to them, there are thousands of smaller, unofficial matriarchies, like my own brood, who feel a subconscious pull, regardless of where on the planet we might be, toward the emergence of the Divine Feminine. That pull is what compels us to boldly acknowledge and honor the genetic memory of scores of early feminists, of legendary role models like the Amazons themselves, and of mythological sisterhoods the world over.
Intrigued by notions that I consider genetic memories in my composition and recognizing that a family unit is the smallest structure representative of a community—a city, a country, and ultimately the planet, it follows that as a Fiction writer, wishing to explore my origins, I must look to my own family if I am to understand my nature and find my place in the world.
The exploration of my matriarchal unit began over 20 years ago with the sole intention of entertaining the tribe with my epic observations. Little did I suspect then that a Fantasy Saga had been born, or that the coming out of my Faerie Legacy series would fall in line with the global scale shift of the Feminine, which is bringing about the decline of Alpha Masculine1 energy as the planet's driving force.
It must be noted, I am not talking about women replacing or eliminating men from the landscape; rather humankind's feminine energies, driven by a universal consciousness, are surging to challenge the old. The current political climate, I think, is sufficient evidence that the long ruling masculine force is in its death throes to make way for a socio-political renaissance.
Aware of this imminent evolution, we press on toward the horizon, where glimmers the promise of harmony, and when the thrashing storm blows itself out, we will fully embrace the beauty and strength that comes from mastering the dual forces we all carry inside.
Until balance is attained at the individual level and across genders, it is natural that women who have come furthest in attuning their feminine and masculine driving forces will be the ones leading our next steps. With a clear vision to transmute the prevailing Patriarchy and latent Matriarchy into a healthy global alliance, they will strive toward a greater good, enabling collaboration and nurturing diplomacy to render government and economy, as we know them, obsolete.
I joined ranks with the balance seekers of the world, over two decades ago, when I set out to explore my origins—the resulting three books in the Faerie Legacy series issued straight from the heart of my matriarchal clan.
The spirit and beauty of the women in my family, their experiences, and the paradoxical traits embedded in our DNA, inspired the fictionalized narrative of the struggles, victories, and relationships described in Faery Sight, Cradle Gift, and Nahia. They also influenced my selection of Faerie—a superlative matriarchal society of elementals, as the magical setting for my books. Through them, you'll share in the life-journey of characters who celebrate the mystical bond between mothers, daughters and sisters, and the onward, dynamic spirit of a family—a community, a city, a country, and ultimately the planet.
I hope you'll forgive the slight tangent here, but did you know that each community of troop faeries is ruled by a Faery Queen? The first of them originated in Italy—where the sun is said to shine at its loveliest. From there they spread to different parts of the world during the expansion of the Roman Empire, seeking remote locations to set up their underground realms, learning the language of their host countries and adopting the more intriguing customs practiced there, as an act of silent diplomacy.
I absolutely love the fact that they are immigrants by nature!
By now I'm sure you have noticed my language reveals a blurred, maybe even a non-existent line between fantasy and reality. You might be tempted to pass judgment here and now, but won't you read on a little bit longer?
"Fiction can shape a culture and breed a new reality." Would you say this is a true statement?
I say, yes.
I believe the Realm of Faerie is the place where our mundane abilities become magnified through perspective and attitude. True, the faculties of a full-fledged faery include flying, channeling energy, and shape-shifting at will, among others.
Meanwhile, with our limited skills we have failed so far to rival or even emulate them—our comparable pseudoscientific efforts yield disappointing parlor tricks at best; levitation, pshychokinesis, weight loss or gain, make up artistry, etc.
We mustn't be discouraged by seeming hindrances though, instead we should consider that there is no less magic in the human dimension. If only we shift our perspective toward the reality that here our spirits can soar, and here we may reinvent ourselves as we navigate each day.
Buoyed by confidence, we can tackle ordinary feats and transform them into astonishing ones. For instance, to raise my vibration, to create a bright, positive mood for the day ahead, I could whisper a word of gratitude to the cosmos when I wake up, even before I open my eyes.
I can smile to myself, for the obvious pleasure of causing my brain to release endorphins. Because we all know how life-altering those little neurotransmitters are—who doesn't want to tap into that as often as possible? And bonus! What if I share a smile with people I encounter throughout the day—how many will mirror it and benefit from the same effect?
Feeling frazzled at work? Sit back, take a deep breath and then unclutter your desk—I don't know about you, but that clears up my mind in a snap—seriously, Feng Shui is practical magic at its best! Tidy drawers and surfaces make for zippy thoughts, everyone should know this!
Whenever I feel discouraged, like I'm a rookie at life, I choose to see the ordinary as extraordinary and I focus on the brightest aspect of any given situation. That seemingly trivial shift in attitude has a fourfold effect: it empowers me, it gives me the satisfaction of having mastered something, which in turn makes me smile (see above for the upshots of smiling), and optimism bubbles up inside of me.
In short, and according to this Philosophical Fiction writer, Faerie is an achievable state of being we can aspire to. And it is not some random, lone aspiration by an escapist sitting at her keyboard, it is a tangible goal already being pursued by hundreds of rogue matriarchs, with legions of followers. These women have been surfacing all over the planet as nurturing forces of creation, activists, writers, entrepreneurs, life coaches, actors, politicians, doctors, all of them living out their calling transparently and with passion. They are the fictional heroines we love and the inspiring women who produced them. They lead the way for us by example, they do what needs doing to restore balance to a polarized world. These fearless women wield their convictions, their hard-earned wisdom, like a magic wand that inspires and empowers the rest of us on our journey toward harmony.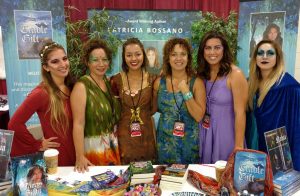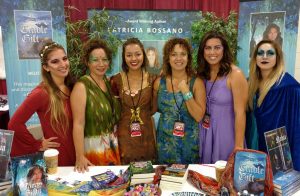 As countless others do, who've become conscious of the ongoing cosmic shift, I pluck the rogue matriarchs' messages from the ether and style a wand of my own, fit to serve my chosen purpose as I brandish it, believing that;
"We do not need magic to transform our world. We carry all of the power we need inside ourselves already." –J.K. Rowling
"If you don't like something, change it. If you can't change it, change your attitude." –Maya Angelou
". . .The world is in crisis. I wanted to tell a story about a hero who believes in love, who is filled with love, who believes in change and the betterment of humankind. I believe in it." –Patty Jenkins, Director of Wonder Woman
"It is our sacred duty to defend the world and it is what I am going to do." –Diana Prince, Wonder Woman
"Speaking our truth is the most powerful tool we all have." –Oprah Winfrey
"The great gift of human beings is that we have the power of empathy." –Meryl Streep
These and many others are my evolving mantras, they are the filters through which this Fiction writer, who tinkers with schemes to change herself and make her world a better place, sorts through daily tasks. I'm convinced that if I succeed at the individual level, there is hope I might influence a larger scale change.
Connections with like-minded individuals are key to any quest, I think we can all agree there isn't a more satisfying experience than joining other visionaries, if only for a short time, to inspire and be inspired, to learn, and of course, to see how we're progressing in our efforts to change the world by changing our thoughts.
I confess that getting out there with my Merry Faeries and docking with the Fantasy Fandom is easily the aspect I enjoy most about my journey, and lucky for me, opportunities for this type of summit are readily available across the nation and throughout the year.
A quick search for upcoming Comic Conventions2 near me kicks off the preparations for an epic adventure. Me and my troop might take in the convention as cosplayers in full faery garb and make up, or we might show up as exhibitors. In either capacity, we'll be caught up in the three-day circus fever, booth, books, faery energy and all, at a venue guaranteed to hold the converging galaxy of believers of the axiom; Fiction Creates Reality.
There we'll immerse ourselves in all aspects of the popular arts through hands-on workshops, educational and academic programming, film screenings and festival, games, awards, costume competitions, art show, portfolio reviews, and loads of opportunities for aspiring artists, sci-fi and fantasy authors to connect with major companies, directors and producers.
Above all, we'll be there to do a live check on the progress of the planet's creative energy shift, take advantage of photo ops with the heroines that inspire us most, like Hermione Granger, Belle, Maleficent, Wonder Woman, Mary Poppins, Katniss Everdeen, Mulan—What a thrill to detect in them even a glimmer of the genetic memory we share! What a welcome feeling to understand and be understood.
Me and my troop of full-blooded and hybrid fairies are thrilled to be a part of this worldwide movement to explore the new, unlearn some of the old, and carry on with heightened awareness while contributing to the impending renaissance.
This year, the Merry Faeries and I attended Comic Con International: San Diego (July 19, 2018 – July 22, 2018) and we're feverishly preparing for FanX Salt Lake 2018 (September 6, 2018 – September 8, 2018). I dearly hope you'll treat yourself to some cosplay fun, and how spectacular would it be if we got to meet you there!
I'm already looking forward to it!
Patricia Bossano is the award-winning author of the Faerie Legacy series and other supernatural tales. She lives in Southern California with her family.
www.PatriciaBossano.com
https://twitter.com/merryfaery (@MerryFaery)
https://www.instagram.com/merryfaery/?hl=en (@MerryFaery)
https://www.facebook.com/patriciabossanoauthor/ (@PatriciaBossanoAuthor)
1 https://goodmenproject.com/featured-content/the-emergence-of-the-feminine-and-decline-of-the-alpha-masculine/