Poll: Support for Trump Nosedives as Clinton opens up double digit lead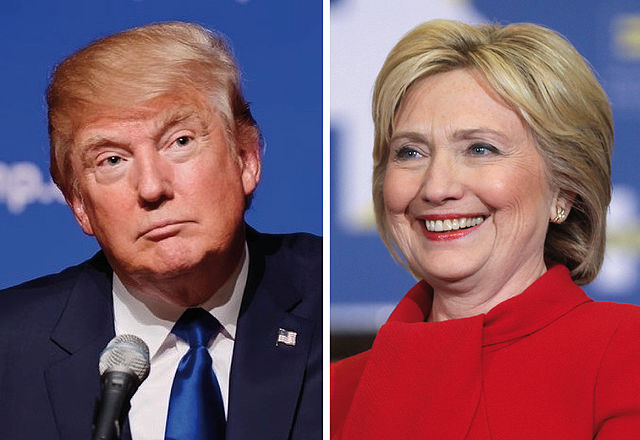 Some new polls are out and one of them presents bad news for Republican presumptive Presidential nominee Donald Trump. It shows his support plummeting. The other shows a smaller loss of support and a look at overall polling trends don't look good for Trump or the rebranding of the Republican Party as the Trumpublican Party.Yet another poll shows major battles between Trump and presumptive Democratic Party nominee Hillary Clinton.
The ABC News/Washington Post poll is dramatic:
Hillary Clinton surged to a broad advantage against Donald Trump in the latest ABC News/Washington Post poll, capitalizing on Trump's recent campaign missteps. Two-thirds of Americans see him as biased against groups such as women, minorities or Muslims, and a new high, 64 percent, call Trump unqualified to serve as president.

These and other doubts about Trump have produced a sharp 14-point swing in preferences among registered voters, from +2 points for Trump in mid-May, after he clinched the GOP nomination, to +12 points for Clinton now, 51-39 percent. That snaps the race essentially back to where it was in March.
This could explain Trump's sudden shift on banning Muslims where he now insists it means banning the entry of Muslims from terrorist countries — which had not been his previous position.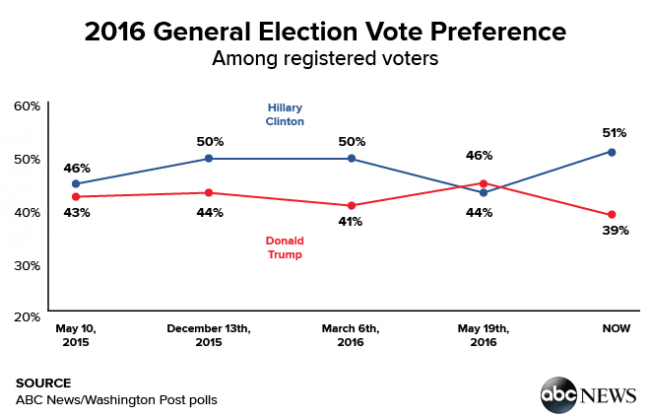 And to those — Republicans who don't like Trump, Democrats who don't like Trump, and hard-core Bernie Sanders supporters who hate Clinton — who thought third party candidates could impact the election, they may wish to (at this point) think again:
Adding third-party candidates Gary Johnson (Libertarian) and Jill Stein (Green) to the mix makes no substantive difference: a 10-point Clinton advantage, 47-37-7-3 percent among registered voters. Looking at those who say they're certain to vote in November likewise produces a very similar result: +11 Clinton in the two-way matchup, +9 in the four-way.

The national poll, produced for ABC by Langer Research Associates, finds another apparent impact of Trump's problems: Perhaps benefitting from comparison, Barack Obama's job approval rating has gained 5 points, to 56 percent, matching its high since the early days of his presidency. That includes 55 percent approval specifically on handling the economy.
Neither Clinton nor Trump seem to be beloved by voters, but Trump has a lot of ground to pave over to build a voters' Trump Tower:
Trial heats are hypothetical; they ask which candidate people would support if the election were today – which it isn't. At least as important are the underlying sentiments informing current preferences, and they show the extent of Trump's troubles given his recent controversial comments. Among them:

• The public by 66-29 percent think he's unfairly biased against groups such as women, minorities or Muslims.

• Americans by 68-28 percent think his comment about Judge Gonzalo Curiel was racist. Regardless of whether or not it was racist, 85 percent say it was inappropriate.

• While most Americans disapprove of Clinton's handling of her email while secretary of state (34-56 percent, approve-disapprove), they're equally disenchanted with Trump's handling of questions about Trump University (19-59 percent, with more undecided).

• Most generally, the public by 56-36 percent, a 20-point margin, says Trump is standing against their beliefs as opposed to standing up for their beliefs.
And Clinton and the shocking Brexit vote?
Clinton, further, receives substantially better marks than Trump's for her response to the lone-wolf terrorist attack June 12 in Orlando, Florida: Americans by an 18-point margin, 46-28 percent, say Clinton did a better job than Trump overall in responding to the attack.

Another result marks a rebuke to Trump in his own party. On June 15, referring to Republican leaders, he said, "Just please be quiet. Don't talk." In this survey, however, Republicans and GOP-leaning independents by a wide 62-35 percent say party leaders should speak out when they disagree with Trump, rather than avoid criticizing their likely nominee.

Indeed, Trump is supported by just 77 percent of Republican registered voters in the two-way test in this survey, compared with 85 percent in this group last month and, again, essentially back to his in-party support in March. In the four-way trial he's at 74 percent among Republicans.

Results of this poll temper the notion that last week's Brexit vote in the United Kingdom marks a broader dissatisfaction with the status quo that advantages Trump on this side of the Atlantic. On one hand, nativist sentiment, populism and economic anxiety clearly benefitted Trump in the race for the Republican nomination. On the other, his general election campaign requires broader support – and he's had a dreadful few weeks.
There's a whopping difference in the numbers when asked who's more qualified to be President as well: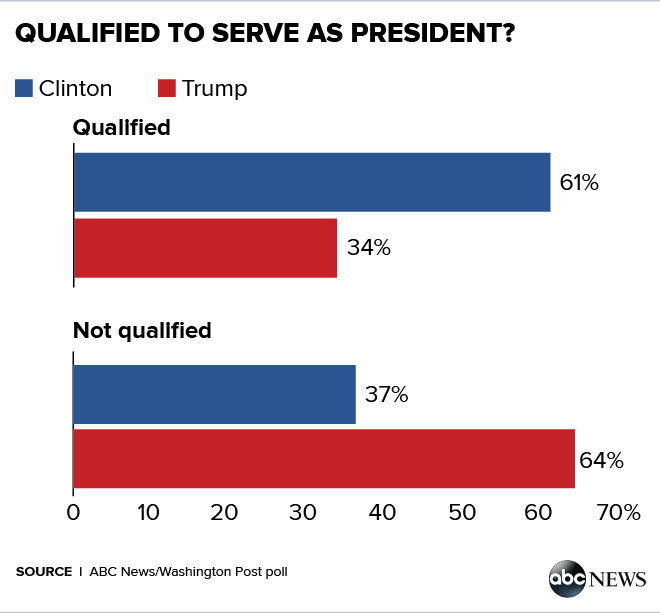 A NBC/WSJ Poll shows a tighter race and bigger impact by third parties, with the race essentially unchanged:
Democrat Hillary Clinton holds a five-point advantage over Republican Donald Trump after becoming her party's presumptive presidential nominee, according to the latest national NBC News/Wall Street Journal poll.

Forty-six percent of registered voters back Clinton, versus 41 percent who support Trump – slightly up from Clinton's three-point lead in May, 46 percent to 43 percent.

When the horserace is expanded to four candidates – including Libertarian Gary Johnson and the Green Party's Jill Stein – Clinton gets support from 39 percent of voters, Trump gets 38 percent, Johnson 10 percent and Stein 6 percent.

The NBC/WSJ poll – conducted June 19-23 – comes after Clinton clinched the number of delegates needed to become the Democratic Party's presumptive nominee; after the tragic June 12 Orlando, Fla., shootings; and after a rough three-week stretch for Trump's campaign.

Despite these events and changes, the Clinton-vs.-Trump horserace remains relatively consistent.
And the Washington Post reports that the numbers contain bad news for Trump: there is no sign that Democratic Presidential nomination hopeful Vermont Senator Bernie Sander's supporters plan to vote in big number for him. They are turning to Clinton:
Sanders supporters aren't just rallying around Clinton; they're doing it rather quickly. And it's a big reason Clinton just extended her lead over Trump into the double digits, 51 percent to 39 percent.

A new Washington Post-ABC News poll shows that Sanders backers, who polls have shown were reluctant to jump over to Clinton and even flirted with supporting Trump, are coming home faster than we might have expected.

Last month, 20 percent of Sanders supporters said they would back Trump over Clinton in the general election. This month, that figure is down to 8 percent.
CBS News finds a tight battle in the aptly-named "battleground" states:
Hillary Clinton holds narrow leads over Donald Trump across a number of key states of Florida (up three points, 44 to 41 percent); Colorado (Clinton 40 percent, Trump 39 percent); Wisconsin (Clinton up 41 percent to 36 percent) and North Carolina, which has flipped back and forth between the parties in the last two elections, where it's Clinton 44 percent and Trump 42 percent.

In the wake of the Brexit referendum in the United Kingdom this week, many wondered if the same sentiments that drove voters to leave the UK, such as voter unease about the economic and cultural effects of globalization, were at work in the U.S. presidential election, too.

Similar sentiments underpin Donald Trump's general election vote, though there is not yet enough for him to surpass Clinton. Trump is also competitive in large part because of partisanship, as rank-and file Republicans continue to get behind him, even as Republican leaders have been more lukewarm toward the way Trump is running his campaign.

About one-third of voters in these states feel the U.S. has done too much in trying to become part of the global economy; too much to make changes to its culture and values, and encouraged too much diversity of people from different backgrounds. Those sentiments are especially pronounced among Republicans and conservatives in these battleground states, majorities of whom feel that way. And those voters are overwhelmingly supporting Donald Trump over Hillary Clinton.

Partisanship is driving much of these horse races too. Despite the hard-fought primary contests on both sides, Democrats in these states are now lining up behind Hillary Clinton and Republicans behind Trump–each garnering around eight in ten from their respective camps.

And much of the vote appears locked in already: the bulk of those not voting for Clinton say they will not consider her, and the bulk of those not voting for Trump say they will not consider him. In Florida, sizable numbers of voters are voting in opposition to a candidate they don't like: Forty-eight percent of Trump's voters are backing him mainly to oppose Hillary Clinton, and 32 percent of Clinton's voters are with Clinton in order to oppose Trump. That opposition effect works for both candidates, but voters say each party may have lost opportunities. Fifty percent of those not backing Clinton say they might have considered a Democrat this year had the party not been selecting Clinton as its nominee, and 47 percent of those not for Trump say they might have considered a Republican, but won't support Trump.
However, as noted here often, one or two polls do not a likely election victory make. What is more useful is to look at the trend and average of polls. Here's Pollster's graph that shows what combined polling now has on the race:
This poll will only add to growing anxieties of many @GOPers headed into their convention and promote rebel schemes. https://t.co/PWMFImPxFw

— David Axelrod (@davidaxelrod) June 26, 2016
Just to be clear, todays poll results r on trend. ABC a bit high, NBC a bit low. Right now, relative to recent cycles, Trump losing badly.

— Josh Marshall (@joshtpm) June 26, 2016
The bad news for Trump is that a poll showing him 5 points down is considered good news for Trump.

— Nate Silver (@NateSilver538) June 26, 2016
Trump blasts "dishonest" poll showing Clinton with a 12-point lead https://t.co/kr39YpT7HN pic.twitter.com/xnB3MKglG9

— The Hill (@thehill) June 26, 2016
ABC News/WaPo poll: 2/3 of Americans think Trump biased against women, minorities or Muslims https://t.co/uWVt6eaPbI pic.twitter.com/uMC2Qk947F

— ABC News (@ABC) June 26, 2016
The "good" poll for Trump has him down by more than Romney lost to Obama. Good news for John McCain.

— Oliver Willis (@owillis) June 26, 2016
Breaking: Trump weathers stormy month on campaign trail, loses only 2 points versus Clinton — WSJ/NBC poll https://t.co/xEHyH0kgjt

— Wall Street Journal (@WSJ) June 26, 2016
American Idiots: Poll Proves Trump Supporters Are The Stupidest People In The US – the ones I know are, just sayin' https://t.co/V5WamVOTMZ

— Brasilmagic (@Brasilmagic) June 26, 2016
ABC/WaPo's new national poll is first survey since Trump wrapped up nomination with Clinton above 50%. And Trump is under 40%—yet again.

— Taniel (@Taniel) June 26, 2016
To put Clinton's +5 lead in the new NBC/WSJ into perspective, Obama was ahead of Romney by +3 in June '12 poll pic.twitter.com/jJocgAWst6

— Mark Murray (@mmurraypolitics) June 26, 2016
PHOTOS: By Donald Trump August 19, 2015 (cropped).jpg: BU Rob13 Hillary Clinton by Gage Skidmore 2.jpg: Gage [GFDL (http://www.gnu.org/copyleft/fdl.html) or CC BY-SA 4.0 (http://creativecommons.org/licenses/by-sa/4.0)], via Wikimedia Commons