Poll: Palin Losing Support Including Republican Support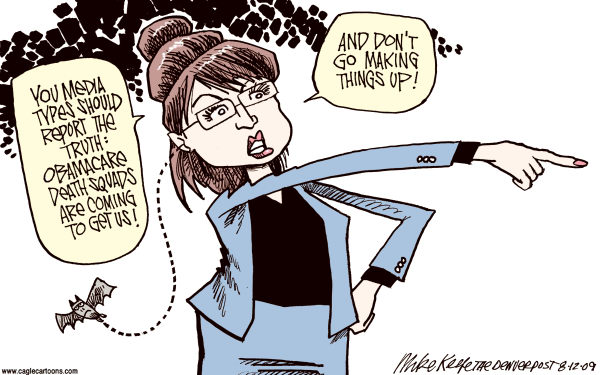 A new CNN/Opinion Research Corporation has bad news
for former Alaska Governor Sarah Palin: 7 percent of those polled now have a less favorable opinion of her since May — and apart from overall erosion in her support, the drop is attributed to her loss of
Republican support:
Thirty-nine percent of people questioned in a CNN/Opinion Research Corporation survey released Wednesday have a favorable opinion of the former Alaska governor and last year's Republican vice presidential nominee. That's down seven points from a poll conducted in May, and it's also nine points lower than the 48 percent who now say they now view Palin unfavorably. Forty-three percent viewed Palin negatively in May.

"Most of that change has come among Republicans and conservatives," says CNN Polling Director Keating Holland. "GOP voters still like Palin — two-thirds continue to have a favorable view of her — but she is not as wildly popular among GOPers as she was in the spring, when eight in ten Republicans had a favorable view of her."

It's unclear if the drop in Palin's rating is due to her resignation as Alaska governor, a year and a half before her first term ends, or if anything else she has done is contributing to the dip in her numbers. The poll was conducted July 31 through August 3, before national coverage of Palin's stinging criticism of President Barack Obama's health care reform proposals.
So this will be one to watch: will her mind-boggling statement that Obama's health care propoals includes actual "death panels" — an inaccurate statement picked up by some members of the talk show political culture and repeated at town halls across the country — help her or hurt her with these numbers? Some conservatives were cheering when she made the comment about the "death panels" so it is possible her numbers could go up — or stay the same.
But it's unlikely she's gaining ground among independent voters or Democrats who aren't fond of their own party's liberal wing.
More often than not, Palin seems to be at the center of controversies of bad publicity. The old saying "I don't care what you say about me as long as you spell the name right" doesn't always apply to politics.
Especially if it seems as if your name is spelled W-a-y O-u-t T-h-e-r-e.
Meanwhile, the Christian Science Monitor reports that Palin is leaving office "with a mountain of ethics issues" in her path. CNN again:
Palin is considered one a number of Republicans who may want to make a bid for the 2012 GOP presidential nomination.

"A 39 percent favorable rating makes it that much tougher for Palin to become president should she decide to run in 2012. Her favorable rating is almost identical to the numbers that former vice president Dan Quayle got just after leaving office in 1993," says Holland
.
Republican Governors haven't exactly been falling all over themselves to repeat, endorse or even comment on Palin's "death panel" comment. For instance, the AP reports that in a conference call yesterday some key GOP governors "sidestepped" questions about the death panel.
Not exactly a ringing endorsement — and a sign that on this issue, at least, they view Palin as W-a-y O-u-t T-h-e-r-e.
The cartoon by Mike Keefe, The Denver Post, is copyrighted and licensed to run on TMV. All Rights Reserved. Unauthorized reproduction prohibited.

UPDATE: Here's an example of a prominent Republican who is making it clear she does not agree with Palin:
U.S. Sen. Lisa Murkowski on Tuesday told an Anchorage crowd that critics of health care reform, the summer's hottest political topic, aren't helping the debate by throwing out highly charged assertions not based in fact.

"It does us no good to incite fear in people by saying that there's these end-of-life provisions, these death panels," Murkowski, a Republican, said. "Quite honestly, I'm so offended at that terminology because it absolutely isn't (in the bill). There is no reason to gin up fear in the American public by saying things that are not included in the bill."

Former Gov. Sarah Palin stirred up controversy last week by suggesting on her Facebook page that people like her parents and Down syndrome son might have to appear before "Obama's 'death panel' so his bureaucrats can decide, based on a subjective judgment of their 'level of productivity in society,' whether they are worthy of health care. Such a system is downright evil."

Experts who have reviewed the various pieces of legislation, which run for hundreds of pages, say there's no such provision.

Murkowski said it's essential the nation's health care system be reformed to improve access to care, boost existing cash-strapped programs such as veterans' health care and control escalating costs.

Still, she said, Congress should slow down and not rush into bad legislation. And critics shouldn't inflame the debate with lies, she said.

"I'll be honest with you," Murkowski said. "There are things that are in this bill that are bad enough that we don't need to be making things up."