Poll: Americans more likely to blame Trump, Republicans if government shuts down
Forget what Fox & Friends, Sean Hannity and Trump supporters on Twitter are saying. Will the public blame the Democrats if there is a government shut down? A new poll says no. And the margin is padded by independent voters and women — even Republican women:
A new ABC News/Washington Post poll finds substantially greater Republican risk in a government shutdown, with Americans by a 20-point margin saying they're more likely to blame Donald Trump and the Republicans in Congress than the congressional Democrats if one occurs.

Forty-eight percent in the national survey say they'd blame Trump and the GOP, vs. 28 percent who'd blame the Democrats in Congress. An additional 18 percent would blame both equally.

As is often the case in Washington mud fights, political independents make the difference: They're more likely to blame the Republican side by 46-25 percent. But there's also a broad gender gap, with comparative GOP vulnerability among independent women and even among Republican women – notable results a day before the 2018 women's marches on Saturday.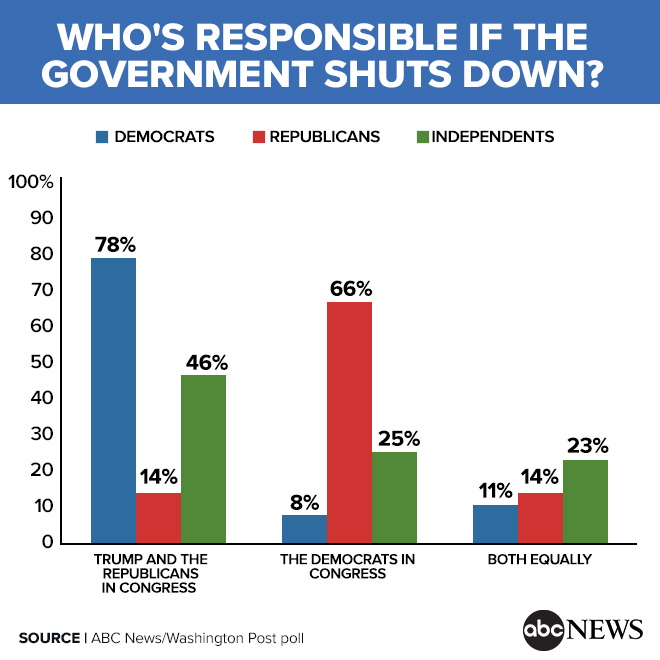 The GOP is now facing a batch of warning flags:
Results among independents are similar to the 1996 and 2013 shutdowns; in both cases, the public generally – and independents in particular – blamed congressional Republicans. Those experiences send a clear warning signal: Both shutdowns were highly unpopular.

Partisan gaps also disfavor the GOP in this survey, produced for ABC News by Langer Research Associates: Seventy-eight percent of Democrats say they'd blame Trump and the GOP caucus for a shutdown, while fewer Republicans, 66 percent, say they'd blame the Democrats in Congress. And women are 16 points more apt than men to say they'd blame Trump and the GOP.

The political and gender gaps come together: While just 9 percent of Republican men would cast blame on their own side of the aisle, this doubles to 18 percent of Republican women. (GOP women also are 13 points less apt to say they'd blame the Democrats.) Further, 38 percent of independent men would blame the Republican side, but 55 percent of independent women say they'd do so. Democratic men and women, by contrast, are well aligned on the question.

Ideological divisions are typical, and again include gender differences, with both moderate women and conservative women more likely than their male counterparts to say they'd blame Trump and the GOP for a shutdown.
And: there are also divisions within conservatives. People who consider themselves very conservative think the Democrats will be blamed. Those who are conservatives think the GOP will be blamed.
Could this be part of the reason Trump has decided to meet with Minority Leader Chuck Schumer?