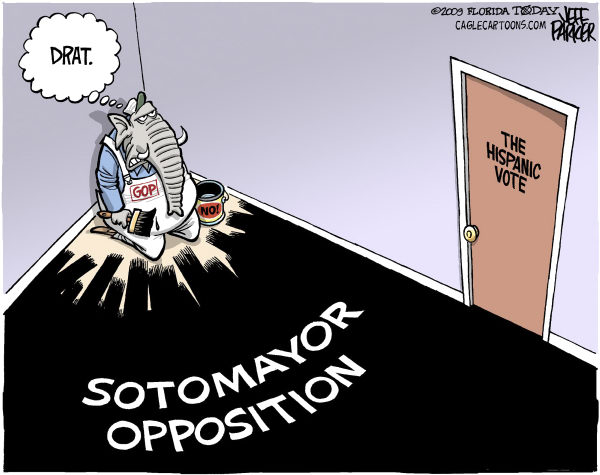 A new Washington Post-ABC News poll finds that President Barack Obama's Supreme Court nominee Sonia Sotomayor is supported by most Americans for that job — and that Obama apparently found the American political center in appointing her:
A sizable majority of Americans want the Senate to confirm Supreme Court nominee Sonia Sotomayor, and most call her "about right" ideologically, according to a new Washington Post-ABC News poll.

Senate hearings on Sotomayor, President Obama's pick to replace retiring Justice David H. Souter, begin in two weeks, and 62 percent of those polled support her elevation to the court. Sotomayor, 55, is currently a judge on the U.S. Court of Appeals for the 2nd Circuit in New York.

If confirmed, Sotomayor would become only the third female justice and the second on the current nine-member court. But there is no gender gap in support for her, with men and women about equally likely to be on her side.
And the poll underscores a tidbit that is coming up frequently in the polls: Obama seems to have pieced together a coalition of Democrats and independent voters, with a large chunk of Republicans consistently against him…and his coalition of support voters:
Partisan differences, however, abound. Nearly eight in 10 Democrats and about two-thirds of independents said they want the Senate to confirm Sotomayor, but that drops to 36 percent of Republicans. Overall, most Republicans deem the judge a "more liberal" nominee than they would have liked.
And it underscores another tidbit as well: Obama's opposition among Republicans comes most solidly from conservative Republicans, versus more moderate Republicans (who do exist but they don't have talk radio and talk cable shows):
But Obama's nominee also divides Republicans: While conservative Republicans are broadly opposed, most Republicans who describe themselves as moderate or liberal support her. More than seven in 10 conservative Republicans said she is too liberal, which is more than double the proportion of centrist or left-leaning Republicans who say so.
This suggests that what we could be seeing in all of these polls — and this could change with breaking events, poorly handled crises, overreaching or policies that blatantly flop — is the increasing marginalization of conservative Republicans away from the country's consensus on many issues. If this group is isolated, its clout could increasingly diminish if Obama consolidates his support on other issues with his emerging coalition. Just charging Sotomayor with being a "liberal" is not going to cut it with most voters, as this poll shows.
And when someone yells that someone is too "liberal" or too "conservative" and someone disagrees the person who disagrees considers the person doing the yelling too conservative or two liberal. Not an advantageous position if elections are indeed won by who wins the center.
As noted in this earlier post, Sotomayor is shaping up as a potential liability — for Republicans.
The cartoon by Jeff Parker, Florida Today, was copyrighted and is licensed to appear on TMV. . All Rights Reserved. Unauthorized reproduction prohibited.
Joe Gandelman is a former fulltime journalist who freelanced in India, Spain, Bangladesh and Cypress writing for publications such as the Christian Science Monitor and Newsweek. He also did radio reports from Madrid for NPR's All Things Considered. He has worked on two U.S. newspapers and quit the news biz in 1990 to go into entertainment. He also has written for The Week and several online publications, did a column for Cagle Cartoons Syndicate and has appeared on CNN.