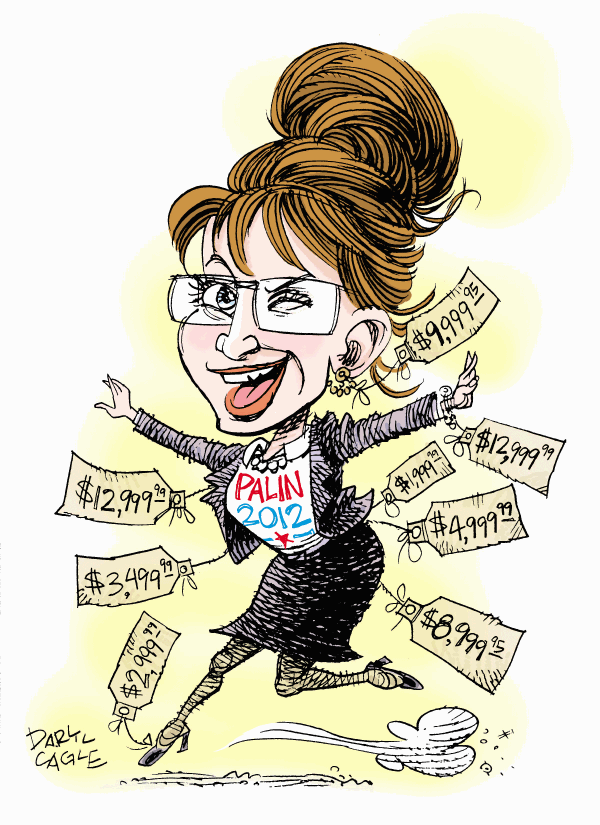 Alaska Governor Sarah Palin's string of unflattering or unhelpful political news is continuing. Her problem: it's projecting an image of disarray, defensiveness and weakness.
The Alaska state Democrats have nixed her pick of an aide for state Senate, — and a new magazine article has come out in which her husband blames the fuss over her expensive campaign wardrobe on…the Republican Party. None of this helps feed a needed image of a powerhouse popular Governor with Big Mo propelling her towards the 2012 nomination.
The first story won't feed the concept that Palin is a steamroller, particularly because of the part about her own party not liking her pick:
Senate Democrats this afternoon rejected Gov. Sarah Palin's appointment of Tim Grussendorf to the state Senate.

Palin appointed Grussendorf, a legislative aide, on Sunday to the seat that opened when Juneau Democrat Kim Elton resigned to take a federal job.

It was a controversial pick that Grussendorf's own party said immediately it would try to block.

The party has proposed that Juneau Rep. Beth Kerttula get the job.
But the second story could prove to be the most damaging to Palin, because correctly or not it could be taken as her throwing her own party under the limousine (the GOP wouldn't use a bus) to combat a lingering imagery problem from the campaign that is not helpful to her to this day:
The husband of Alaska Gov. Sarah Palin says the Republican Party's lavish spending on her wardrobe during the presidential campaign was "out of our control." In the May issue of Men's Journal, Todd Palin was asked about the more than $150,000 that the Republican National Committee spent on clothes, accessories and beauty services for the GOP vice presidential nominee. He defended his wife, saying she was focused on preparation for her debate with Joe Biden.

"She never went to Saks, or any of that stuff," he said. "You come into a campaign late, you put all your trust into the team, you got people who are working on VP ops for a long time, and we're just focused on debate prep. I couldn't give a rat's (expletive) about clothes. Please. I mean these are my Sunday go-to-meeting jeans!"

Sarah Palin and Republican presidential nominee John McCain faced a storm of criticism over the tens of thousands of dollars spent at high-end stores to dress the Alaska governor and her family. Some of the purchases included a $75,062 shopping spree at Neiman Marcus in Minneapolis, one for $49,425 from Saks Fifth Avenue and $4,902 at Atelier, a stylish men's store.

The buys were a stark contrast to Sarah Palin's image as a "hockey mom" who calls herself part of an average, middle-class American family.

Sarah Palin has said she neither wanted nor asked for the wardrobe.
Palin's problem here won't be with Democrats: many of them can't stand her already. And polls showed that she didn't help McCain's support from independent voters. Clearly, as many other analysts have also noted, Palin will have to broaden her support if she realistically wants to win in 2012. Palin's problem now will be with Republican bigwigs, who reportedly are not her biggest fans and who are trying to combat the image of the GOP as the party of the rich. Now, right in the middle of their ongoing efforts, here comes Palin's camp stressing that it wasn't her but party bigwigs who insisted that she wear a wardrobe picked out with all the frugality of an AIG executive bonus.
Meanwhile, there are some bumps along the path of Palin trying to not just set up machinery to get her into the Oval Office in 2012 but to help foster the image that her political ship is a stable and sleek one. The Washington Post's Chris Cillezza writes:
Alaska Gov. Sarah Palin continues to suffer growing pains as she attempts to build a national political operation in hopes of positioning herself as a viable presidential candidate in 2012.

The latest bump in the road comes in the form of a Politico article — headlined "Staff Infection: Allies Rip Palin Team" — that features any number of juicy quotes that all point to one fundamental problem: there appears to be a significant disconnect between Palin's official governor's staff and the group of advisers that have grown up around her new leadership PAC.

At the heart of the problem, according to Politico, is John Coale, who, as the Fix first reported, is serving as an informal adviser to Palin. Coale, an affluent trial attorney who has given significant sums to Democrats in the past, also happens to be the husband of Fox News Channel's Greta Van Susteren.

In interviews with the Fix and Politico, Coale said he and Palin speak by phone regularly and email back and forth roughly once a week.

That's not the case, according to Meg Stapleton, a spokeswoman for the governor.

"He met the Governor because of a Greta interview," said Stapleton of Coale in an email exchange with the Fix. "He has spoken to her maybe a half dozen times, including on the campaign trail. They have exchanged emails less than half a dozen times."
And then there is the ongoing spate of news stories about Palin being the featured speaker at party's House and Senate Republican campaign committees annual dinner in June. After a big announcement, it turned out she would be replaced by former House Speaker Newt Gingrich, who is also someone dreaming less of a White Christmas than the top office at the White House. And so the cottage industry of speculative and assured analysis articles began:
Did she really accept? Did she slight Congressional Republicans? Did she really say she couldn't go? Was she really pushed? Do they consider her a rising star? Or do they really not like her? The Swamp:
No April Fool's here.

No fools at all, it appears.

"The on again, off again, we don't know what we're doing again, dinner is now officially off, again" for Sarah Palin (pictured in an AP photo at another dinner) and the National Republican Senatorial Committee (NRSC), whose dinner once hoped to make headlines with the Alaska governor.

"It's not because she did something drastic like deciding to drive a Prius or observing Earth Hour or anything," the Christian Science Monitor's Jimmy Orr writes at The Vote Blog. "It's because she never accepted the invitation in the first place."

"Make sense?" Orr asks. "Welcome to the Republican Party of 2009."
The Swamp's Silva concludes Palin was pushed out the door while Gingrich was ushered in:
Over-eager NRSC staffers jumped the gun, according to a SarahPAC spokeswoman for the governor's Political Action Committee.

"Enthusiasm during a scheduling meeting among SarahPAC members to discuss events that we thought the governor should consider attending was misinterpreted as a confirmation of attendance," Meghan Stapleton told the Associated Press.

Of course, the NRSC sees things differently: Claiming it had a commitment, and a confirmation as well. But, with the June dinner fast-arriving (by Washington standards), they have dis-invited the party's 2008 vice presidential nominee.
Why does all this matter? Individually, it may not look like much, but there has been a perceptible shift now in Palin's status.
1. Immediately after the election for a while it appeared as if Palin would be high profile and emerge as the party's symbol and most prominent voice.
2. News cycles were later dominated by GOP voices such as Rush Limbaugh and top Congressional leaders. At the same time, it became clear that when Palin ran for Veep some problems — and resentments — piled up at home. All politics is local and her focus became there.
3. To re-establish herself as the almost "inevitable" darling of the dominant conservative wing, she has to emit an image of being at the top of her game. Think Hillary Clinton leading up to 2008: Clinton had some minor toe stubbing but much of what she did enhanced her image.
4. The GOP is still open to someone becoming its prime voice. Stories about Palin being rebuffed by the opposition party at home, grappling with national organizational problems, losing THE key speaking spot to Gingrich, and having associates blame the wardrobe controversy on the RNC muffle the voice she needs to emit.
Perhaps Palin's problem is that she doesn't have her Karl Rove, or David Alexrod. But taken together it suggests that if she wants it in 2012, more than ever it won't be handed on a silver platter.
Will there be a big struggle and will opponents take the gloves off when dealing with Palin? If you had to bet, given the increasing signs of weakness and disarray, you could say: You betcha.
Daryl Cagle's cartoon above is copyrighted and licensed to appear on TMV. All Rights Reserved. Unauthorized reproduction prohibited.