Poli-Takes: The Rattling Of The Cages: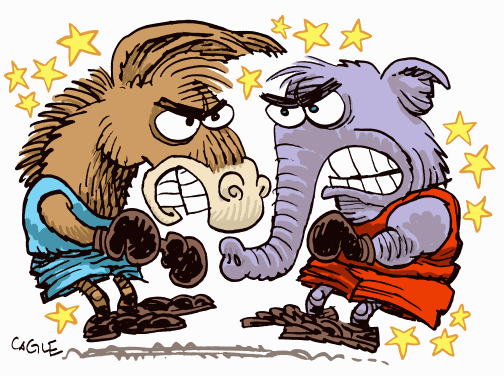 The past two weeks saw clarity on the road to November as eight states held primaries. While nothing attracted the attention of the ideological slugfest that was the Dan Lipinski-Marie Newman Democratic primary in Illinois last arch, there were some closely watched races that yielded better clues as to what we might be looking at in Congress and the statehouses in November and beyond.
First, let's start with Pennsylvania.
There had been inklings since the "me-too" movement that 2018 was shaping up to be the "Year of the Woman," and in the Keystone State at least, that seems to be materializing. Four women emerged as the Democratic nominees in districts that Republicans currently held, but are considered strong to near-certain pickups (all are open).
While other states have routinely elected women to both houses, Pennsylvania has been behind the curve. Only six women have represented the Keystone State in Congress. In fact, especially stinging is that females have come up agonizingly short of winning U.S. Senate seats three times – in 1964, 1992 and 2016. Nevertheless, last week showed signs of reversing that trend. Some may even compare it to California in 1992 where a plethora of women won Congressional seats in the Golden State, including two that were simultaneously elected to the Senate.
In the Montgomery County based Fourth district, State Representative Madeline Dean denied a comeback attempt by long-ago ex-Congressman Joe Hoeffel and a new pface on the scene with bright potential, anti-gun activist Shira Goodman. The district is lopsidedly Democratic and Dean's win ensures that she'll have a seat in the 116th Congress. Equally certain to head to Congress is prominent attorney Mary Gay Scanlon, who mustered 28% in an open Delaware County seat. She beat a donnybrook of impressive yet unknown Democrats male and female to earn the nomination. In a Chester-Berks County based district, Chrissy Houlahan was unopposed for the nomination and considering that the sole Republican on the ballot had been considered a token primary opponent to incumbent Congressman Ryan Costello before he abandoned his re-election, the odds of Houlahan winning the seat that preferred Hillary Clinton by nine points seems darned close to becoming a reality.
Finally, the Lehigh-Northumberland based Seventh District also produced a hard-fought win by a female contender but it's not clear whether that outcome was more satisfying to those who wanted to see a female nominee, or those who wanted AOM- Anyone But John Morganelli. Despite fears that the progressive vote would split between two candidates. Susan Wild edged Morganelli for the nomination 33-30%. Morganelli, who can easily pass for Dan Lipinski II, had been under fire from liberals for his opposition to abortion and sanctuary cities. But he had been a titanic vote-getter as Northumberland's D.A. and many initially viewed him as unstoppable, a fear that was proven wrong as Wild was able to rely o her base in Northumberland and a few surrounding counties to outpace his Northumberland margin. With her hard-fought win, Wild is certainly favored to capture the seat that very moderate Republican Charlie Dent is vacating but because her opponent, Marty Nothstein, has some degree of name-recognition in the area as a former Lehigh Commissioner and Olympian, the race could tighten come fall, espcially because, few would argue with Morganelli's contention that it is not a particularly liberal district. But it is a democratic leaning district and given the electoral climate, Wild's odds certainly are worth betting on.
Lost over Democratic euphoria over the Pennsylvania outcomes is the fact that the party suffered what may be a big loss in a race for a pivotal seat. Ex-Congressman Brad Ashford, the only Democratic incumbent to have been defeated by a Republican in 2016, was gunning for the rematch with Don Bacon and national Democrats were energized by his comeback. But Ashford was upset by Kara Eastman. Many blamed Ashford's loss on the fact that he wasn't a "political animal" in that he didn't like to raise money. Additionally, he and Eastman were friends and that sharply limited him going negative. Whatever the case, some Democrats are despondent because they say Eastman might be too progressive to win the seat in November. On its face, there's some truth to that. One reason Ashford was so widely embraced by national Democrats was because he was[i]seen as having great appeal to Republicans? Why? Because he used to be one. Eastman backers point out that the district only gave Trump a two percent win and that's true. But one major issue on which she and the Congressman differed was the Keystone pipeline. He supported it while she opposes it. While the issue is now moot because of federal implementation, expect Bacon to exploit it. This district may be ground-zero for Democratic enthusiasm in the fall.
Another Democratic setback, albeit one far less visible was the GOP primary for the special election to succeed Ohio Congressman Pat Tiberi who resigned. While the Democrats did get the candidate they want – Franklin County (Columbus) Recorder Danny O'Connor, so did the GOP as State Senator Troy Balderson prevailed over Club for Growth backed Melanie Leneghan by a single percentage point. Had that occurred, national Republicans hinted that they might not even contest the district. But Baldassari squeaked through and limited polling shows him with a narrow albeit inconsequential lead.
Turning to the Senate, two primaries were held for contests that will be key to determining which party will control the Senate – Indiana and West Virginia. While it's no surprise that the Democrats did not get the candidates they wanted to take on Joe Donnelly and Joe Manchin respectively, the fact is, that does little to change the state of the race.
In the Hoosier State, Republican Congressmen Luke Messer and Todd Rokita bruised and battered each other to such an extent that Democrats knew that both were damaged goods against Donnelly. Instead, State Representative Mike Braun presented himself as an outsider. But Donnelly has straddled his obligation to his party and the conservative lean of his state nicely (his backing Neil Gorsuch's Supreme Court nomination may rob Republicans of a critical talking point) and despite his convincing win, Democrats view Braun as less than impressive.
In West Virginia, Democrat were salivating over the chance that controversial and criminal coal baron would capture the GOP nod to face Manchin. Yet while a few early polls – and one late poll, showed Blakenship ahead, the likelihood was always nil that the party would get two Roy Moore's in a year. In what certainly takes the cake for bizarre culminations of campaigns – and that's saying something given all the campaigns, I've followed, Blakenship "Cocaine Mitch" and the Majority Leader conveyed his appreciation on primary night by tweeting a Netflix ad with the caption, "Thanks for playing, Don" (which did little to please Netflix executives). In Attorney General Patrick Morrisey, the lay of the land is still the same with Manchin trying to appeal to Demosoars in a state that gave Donald Trump 69%. One feather in his cap: the nomination did not go to Third District Congressman Evan Jenkin who had ties to the coal areas that had veered against Democrats. Plus, Blankenship has hinted at a third-party run which will drain Morrisey's votes.
There were a number of gubernatorial primaries that set match-ups for November.
The most consequential may be the Buckeye State which saw Attorney General Mike DeWine nominated by Republicans to face his predecessor and the man he defeated, Rich Cordray. Democrats breathed a huge sigh of relief because the man he beat – ex-Congressman Dennis Kucinich was unelectable – pure and simple.
The surprise was not that Cordray dispatched Kucinich, but that the margin was 40%. Conversely, Republican DeWine bested Lieutenant Governor Mary Taylor 60-40%. Those margins were completely counter to the expectations as many saw Cordray only a narrow favorite against Kucinich while DeWine was expected to skate past Taylor. Nevertheless, it now sets up what is expected in the end to be a pretty close race. The primary was an opportunity for Cordray to assure nervous Democrats that he could step up his game and, though the consensus is that he has a distance to go, many are breathing easier. Against DeWine, he will be facing someone who has held political office for four decades. What he has to worry about is correlation to this year to 2006, a year that he lost re-election to Sherrod Brown by twelve points. Now, DeWine may face resentment from African-American leaders for leading an effort in two presidential election cycles to cut-back early voting in Ohio. The man he undertake that effort with: his now running-mate and former rival for the nomination, Secretary of State Jon Husted.
Among the states that hosted gubernatorial primaries: Idaho. While both sides had cacophanous, base=oriented primaries, it was the outcome on the Democratic side that was considered at least a mild upset as Paulette Jordan defeated A.J. Balukoff for the nomination. Balukoff had never stopped running since he lost to the state's departing three-term Governor, Butch Otter four years ago and many Democratic officeholders backed him in the nomination for a reason. These included 12 of Jordan's 16 Democratic colleagues, supported him (the other four were neutral). She will now face Lieutenant Governor Brad Little who defeated Tea-Party backed Congressman Raul Labrador in the primary. Jordan would be the first female and the first Native-American to become governor but though anything's possible, winning will be a tall order.
Neal Larson in The Idaho State Journal headlined a column entitled, "Do Not Underestimate Paulette Jordan." That much is true. Many compare Jordan's surge to the Obama movement of ten years ago, particularly as it relates to new voters. But while Idaho is enjoying the biggest population growth of any state, it is still conservative and Little has been posturing to succeed Otter for years. That invites great contrast considering that Jordan only won her House seat four years ago. If Labrador had been the nominee or even if Otter had been seeking re-election, Jordan might have a better shot. Instead, while the ultimate margin may be wide, I would be shocked if we were saying anything other than Governor Brad Little come January.
Finally, a word must be said about the fact that the generic lead for Democrats seems to be shrinking. Earlier in the year, Democrats seemed a lock to take control of the House. Now, many Republicans who were openly fretting about their chances have now become buoyant that they'll hold the chamber. Both sides need to settle down. In any election year, there are ebbs and flows. This year, the many liberal aligned interest groups motivated to vote will do so – there's no turning back the energy that has been formed. Other swing voters will need to be persuaded but given that this was the case anyway, events that occur closest to the election will govern how they vote, which is why September and October is when either side will drive things home. My view is that the GOP controlling everything gives Democrats the upper hand at winning swing voters. And at this point, a Democratic House is, while not quite assured, certainly a likely reality come November.