Pirates Attack More Ships And Vow Revenge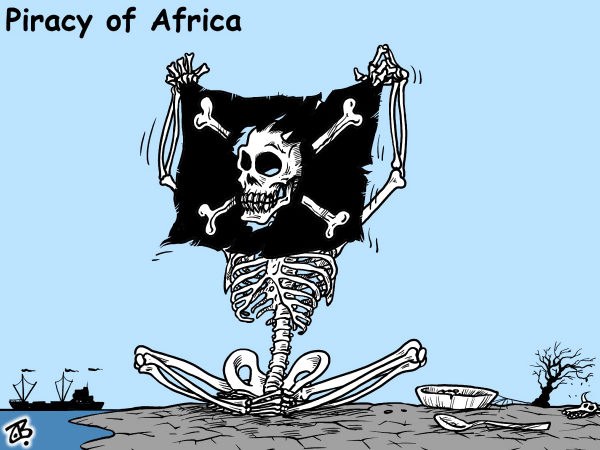 Expect the issue of pirates — and possibly escalations of violence by pirates — to continue to grow because there are already signs that the pirates operating off Somalia intend to send a signal that the U.S. operation that freed a captive and ended in the deaths of three of their comrades won't stop them, and may even spur them on.
The breaking news is that the pirates are seizing more ships, vowing revenge and that the U.S. military takes them very seriously. The amusing images of Peter Pan's Captain Hook and Johnny Depp will soon be falling to the wayside as this battle between nation states, shipping corporations, a country that is a shambles, and clans that have a lucrative business model shift into higher gear. Some evidence:
Pirates attacked two more cargo ships Tuesday, continuing a spate of hijackings despite recent U.S. and French military action against hijackers in the waters.

NATO spokeswoman Shona Lowe told the Associated Press that the M/V Sea Horse, a Lebanese-owned cargo ship, was attacked and captured Tuesday by pirates in three or four speedboats. She had no further information.

Pirates also attacked and seized the M/V Irene between 1 and 2 a.m. local time Tuesday, about 100 miles southwest of Al Mukalla, Yemen, according to the U.S. Fifth Fleet in Bahrain and pirate trackers. The ship was a St. Vincent and the Grenadines-flagged vessel, managed by a Greek company, and crewed by just over 20 sailors.
Pirates also took two Egyptian fishing boats — with a combined crew of up to 24. And pirates are now vowing to increase the body count — with people not from their side:
Jama' Si'ad, a member of the Somali pirates in the coast of Somalia has vowed on Tuesday that they will kill and revenge from any of the American and French forces they capture in the Somali coast.

"We are very sorry for what happened to our friends who were shot and killed by the French and American marines. But we will pay a quick reaction of that killing. If we capture any of the American or French citizens, we will kill them with guns, swords and any kind of weapons we can," said Jama'
Meanwhile, the U.S. military says it takes the pirates' threats seriously and is prepared, AFP reports:

The US takes "seriously" threats from Somali pirates to avenge the deaths of fellow thieves killed by US Navy snipers, the Pentagon's top officer, Admiral Michael Mullen said Tuesday.

"I certainly take their comments … seriously," said Mullen, chairman of the US joint chiefs of staff, speaking to ABC television, after US Navy snipers on Sunday ended a five-day hostage drama by killing three pirates.

Mullen said the US military is giving careful consideration to the risk of an increase in aggression during future pirate attacks in the perilous waters off Somalia.

"We're very well prepared to deal with anything like that. And that would certainly be part of our review militarily," he said.

Mullen added that review was part of an ongoing US military effort to confront the scourge of banditry on the open seas.

"We've … initiated a review on the joint staff to look broadly and widely and deeply at the overall strategy," he said.
Taken together: this indicates the struggle will escalate…
Cartoon by Emad Hajjaj, Jordan. This cartoon is copyrighted and licensed to appear on TMV. All Rights Reserved. Unauthorized reproduction prohibited.