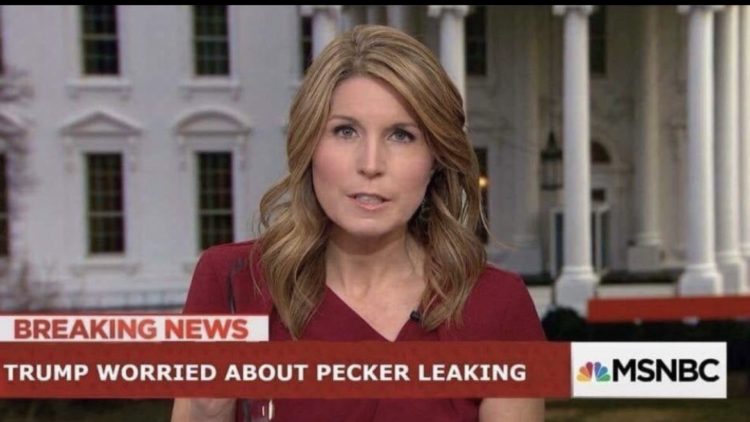 Former National Enquirer CEO David Pecker has been pitchforked into the headlines again as he testified in the Stormy Daniels hush money case. The New York Times:
The Manhattan grand jury weighing evidence about Donald J. Trump's role in a hush-money payment to a porn star heard testimony on Monday from a crucial witness, but there was no sign an indictment had been filed, according to people with knowledge of the matter.

The witness, David Pecker, the former publisher of The National Enquirer, also testified in January. Since the grand jury was impaneled early this year by the Manhattan district attorney, Alvin L. Bragg, it has heard from at least nine witnesses — including Mr. Pecker, who has now appeared twice — and is expected to vote on an indictment soon.

It is unclear whether the grand jury took any action on Monday, but one of the people with knowledge of the matter said it had not voted on an indictment. Grand juries operate in secret, leaving the timing of indictments something of a mystery.

Mr. Pecker was a key player in the hush-money episode. He and the tabloid's top editor helped broker the deal between the porn star, Stormy Daniels, and Michael D. Cohen, Mr. Trump's fixer at the time.>
His testimony is big news on the cable TV political entertainment shows. And makes for great headlines in tabloids: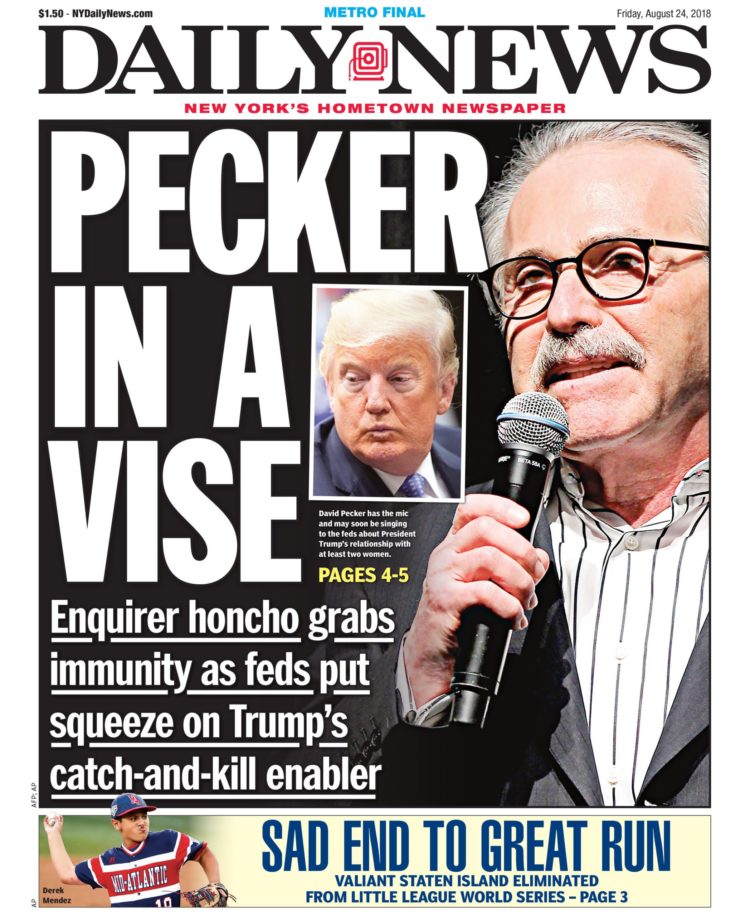 Reminder, David Pecker reportedly had a *safe full* of damaging Donald Trump stories as part of their "catch and kill" (payoff) scheme.

Sounds like they're looking at more than just Stormy. https://t.co/jLTSK40k8d

— Angry Staffer ? (@Angry_Staffer) March 27, 2023
The reason for David Pecker's testimony before the Manhattan grand jury today is apparent

He met w Cohen & Trump in 2015 to agree on making covert payments to women to benefit the campaign

So he likely corroborated Cohen & demolished Costello

I explained @CNN w @wolfblitzer pic.twitter.com/5HynKuXfgq

— Norm Eisen (@NormEisen) March 27, 2023
BREAKING: New details of the Alvin Bragg Manhattan Grand Jury witnesses today:

– One witness was former National Enquirer publisher David Pecker.
– This was Pecker's second time testifying before this Grand Jury.
– He was reportedly driven into the building after noon today,…

— Brian Krassenstein (@krassenstein) March 27, 2023
Manhattan DA's office alum @KFAlegal on the grand jury hearing from David Pecker:

"If there was any question whether or not Alvin Bragg was going to seek an indictment, this tells me that yes, he's going to ask the jury to vote one way or another. He's not going to pull back." pic.twitter.com/Eyg0iFHvHW

— All In with Chris Hayes (@allinwithchris) March 28, 2023
Mystery witness in Monday's grand jury: David Pecker of National Inquirer.

His testimony can show the scheme was designed to affect outcome of election.

He reportedly communicated directly with Trump on payment (The Fixers by @joe_palazzolo @mrothfeld)https://t.co/CYrIhLDxzd

— Ryan Goodman (@rgoodlaw) March 27, 2023
So who is David Pecker (Inquiring Minds Want To Know!). He was as close to a friend as Trump ever had. Pecker regularly squashed true stories about Trump by buying exclusive rights to them and not publishing, like Trump illegitimate child, and Playboy Bunny Karen McDougal affair https://t.co/44RvgTpbqe pic.twitter.com/F5RZwjDMx2

— Tomi T Ahonen Insists Is Not A Pecker (@tomiahonen) March 27, 2023
src="https://platform.twitter.com/widgets.js" charset="utf-8″>
Joe Gandelman is a former fulltime journalist who freelanced in India, Spain, Bangladesh and Cypress writing for publications such as the Christian Science Monitor and Newsweek. He also did radio reports from Madrid for NPR's All Things Considered. He has worked on two U.S. newspapers and quit the news biz in 1990 to go into entertainment. He also has written for The Week and several online publications, did a column for Cagle Cartoons Syndicate and has appeared on CNN.