Of Special Relationships and 'Special Places' (UPDATES)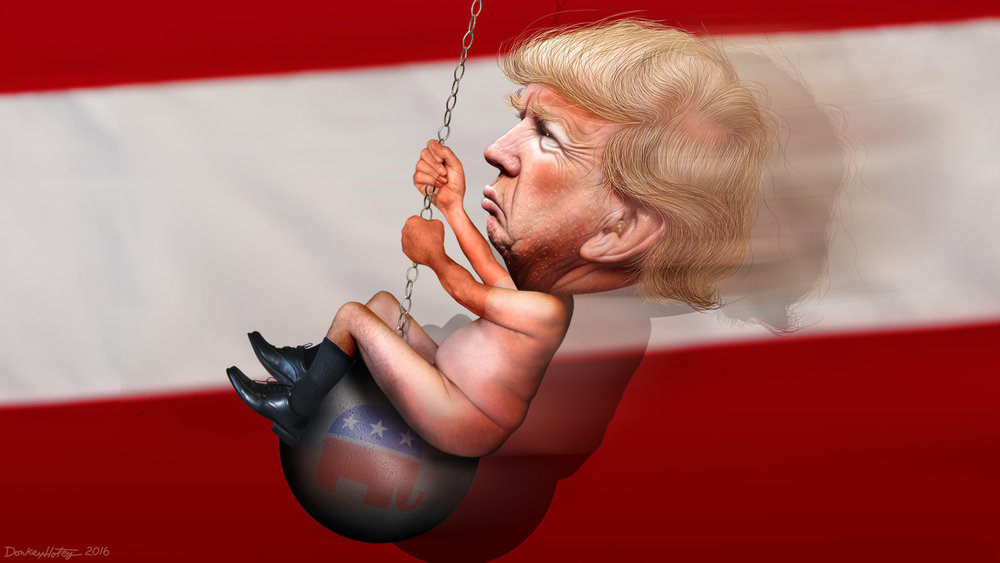 CODA: Former Secretary of Defense William Cohen has aptly referred to Trump's foreign policy towards our allies as "a wrecking ball." Hence the change in image, courtesy donkeyhotey.com.
UPDATE II:
In a symbolic vote of solidarity, "Canada's House of Commons on Monday unanimously condemned the personal attacks on Prime Minister Justin Trudeau by U.S. President Donald Trump and his surrogates as the famously polite nation simmered over the weekend broadsides by its U.S. ally."
Read more here
UPDATE I:
In a great semi-satirical piece – "semi" because, recently, life is imitating satire a lot — Dana Milbank at the Washington Post "eulogizes" Trump for finally having "the guts to stand up to Canada."
Confirming that Canada "had it coming, eh," ("They inflicted Nickelback on us. We did nothing"; "They sent us Justin Bieber. We turned the other cheek" etc.), Milbank praises Trump for having "the brains and the guts to stand up to the menace of the north" and highlights some of the "compliments" Trump and his minions dished out to Canada and Trudeau this past weekend (below) and before.
Milbank explains why "Trump needs to quit the group and make his own G-8 — the Great Eight — with more sympathetic world leaders…"
World leaders such as:
Rodrigo Duterte of the Philippines, who enjoys "a great relationship" with Trump as he deploys extralegal killing squads.

North Korea's Kim Jong Un, who is "very open" and "very honorable" in running the most repressive regime on Earth.

Egyptian dictator Abdel Fatah al-Sissi, who established himself as a "fantastic guy" with his bloody crackdown on dissidents.

Turkish President Recep Tayyip Erdogan, who is "getting very high marks" as he jails opponents.
Also, the Saudi regime, China's Xi Jinping and, of course, Putin,
After reminding us that Canada is "a clear and present danger to the United States," Milbank says:
Given Canadians' well-known instability — their currency is called the "loonie" — there can be only one solution: We are going to build a wall from Maine to Alaska — and Ottawa is going to pay.
"Fifty-four forty or fight! MAGA! Take off, hosers," Milbank concludes.
Well done, Dana, those "hosers" had it coming.
Original Post:
After the disastrous G-7 Summit, not many will claim that – at least for the time being — those very "special relationships" still exist between the United States and some of its closest allies.
Even before the summit, relations were already strained by Trump's insulting comments against one of our closest (in both a geographical and emotional sense) friends, trade partners and national security allies: Canada.
When Trump insisted that one of our greatest foes, Russia — the country that invaded Ukraine and annexed Crimea, the country that in cold blood shot down a passenger aircraft and the country that "every day, through assassinations, cyber-attacks, and malign influence…is assaulting democratic institutions all over the world,"* — be readmitted to the G-7, it not only offended our allies, but also one of our own Senators.
After clearly stating why and how "Vladimir Putin chose to make Russia unworthy of membership in the G-8," John McCain said,
The President has inexplicably shown our adversaries the deference and esteem that should be reserved for our closest allies. Those nations that share our values and have sacrificed alongside us for decades are being treated with contempt…This is the antithesis of so-called 'principled realism' and a sure path to diminishing America's leadership in the world…
But despite all that, it is a wonder that the G-7 summit did not explode into open hostilities as some had feared.
That is, until Trump was safely aboard Air Force One on his way to meet North Korea's Kim Jung Un, where, according to The Atlantic "[i]t is a good guess that he will show himself much more respectful and conciliatory to this dictatorial adversary than to America's democratic friends."
Once aboard Air Force One, and hopefully once it cleared Canadian airspace, all hell broke loose. Again, according to The Atlantic, "the president emitted a vituperative series of tweets aimed at his Canadian counterpart."
After Mr. Trudeau told reporters that Canada would stand firm when it came to new U.S. tariffs and would "not be pushed around," Trump's minions joined in in a "snake pit of hissing," mostly at Canada and its Prime Minister.
Trump himself revenge-twitted calling Mr. Trudeau's statements "false" and adding that Mr. Trudeau was "very dishonest and weak" and "acted so meek and mild."
On Sunday morning, Larry Kudlow, Trump's top economic adviser, called the words and actions of the Canadian prime minister a "betrayal" intended to make Trump "appear weak before his summit meeting on Tuesday with North Korea's leader" and that Trump "is not going to let a Canadian prime minister push him around,"…so there!
From "pushing around," the "diplomatic dialogue" quickly descended into "special, not-so-nice places" when Peter Navarro, the president's top trade adviser, promptly joined the melee taking a cue from his bosses: "There's a special place in hell for any foreign leader that engages in bad-faith diplomacy with President Donald J. Trump and then tries to stab him in the back on the way out the door," Navarro said on "Fox News Sunday."
President of the European Council, Donald Tusk, quickly countered Navarro's insult by offering a much better special place for Trudeau: "There is a special place in heaven for @JustinTrudeau. Canada, thank you for the perfect organisation of G7!" he twitted.
Other G-7 heads of state also joined in rebuking Trump's bullying tactics.
Chancellor Angela Merkel labelled Trump's rejection of G7 communique "sobering" and "depressing" sharply criticizing "Trump's decision to retract his endorsement of the G7 communique."
Her foreign minister, Heiko Maas twitted, "You can destroy an incredible amount of trust very quickly in a tweet.
According to Politico, "France pledged on Sunday to stand by the G7 summit statement disowned by Donald Trump and took a swipe at the U.S. president by declaring that international cooperation could not depend on 'fits of anger, or 'little words.'"
Canadian foreign minister, Chrystia Freeland, said, "Canada does not believe that ad hominem attacks are a particularly appropriate or useful way to conduct our relations with other countries."
Neither did many U.S. politicians, diplomats and journalists.
And once again, the wisest, most reasoned and bipartisan words came from the ailing, patriotic Senator John McCain:
To our allies: bipartisan majorities of Americans remain pro-free trade, pro-globalization & supportive of alliances based on 70 years of shared values. Americans stand with you, even if our president doesn't.
Speaking of "special places," one has to wonder what special place in history is reserved for Donald J. Trump.
*Senator John McCain