The surprise news that President Barack Obama has been awarded the 2009 Nobel Peace Prize didn't put a damper on the ongoing, nonstop 7/24 political partisan warfare in the United States — in fact, it was akin to throwing a lit match into a big, fat puddle of gasoline.
The Huffington Post has an eye-opening post HERE: conservatives reacted with outrage, anger and some demonization (one writer even suggested it was an "affirmative action" decision) while the DNC seemingly morphed into conservatives and the RNC, issuing a statement that reeks of demonization as much as the reeking GOP demonization. (Can the DNC's hiring of Karl Rove be far behind?)
This raises the operative question:
Will someone next year get a peace prize from slowing down the United States' increasingly bitter — and predictable — take-no-prisioners-and-allow-no-nonemotional-discussion- partisan war?
P.S. Speaking of predictable rhetoric, here's Rush Limbaugh's reaction.
What's the likely impact of Obama's award?
Those who hate him will still hate him.
Those who support him will say it proves their support was warrented because the Nobel committee "got" what Obama is trying to do and has already done in terms of the tone of American cooperation with other nations.
It won't hurt him in terms of imagery among voters who don't already hate the committee. They will see the headlines and hear about it and it may be a tiny positive tidbit.
Predictions: (1) There will soon be a blog writer or radio and/or cable host who will try to link the award, Obama, Roman Polanski and Hollywood together. (2) For years Republicans have accused Democrats of "hating America" if they didn't agree with GOP policies or news Republicans welcomed. Democrats will increasingly do the same — as the DNC has indicated it already is doing.
In reality, even Obama supporters can raise questions about this award, since it is clearly being given on the basis of promise and potential versus solid, perceptible accomplishments to date.
That's an issue on which people can reasonably differ — except reasonable, non-demonizing, nonscreaming, nonoutraged discussion is difficult to find on the American scene.
You can check out all of the weblog reaction (a lot of it can be predicted depending on the partisanship of each website) by going HERE. You can also GO HERE to check even more of it out.
UPDATE: Meanwhile, more political cartoons are coming in: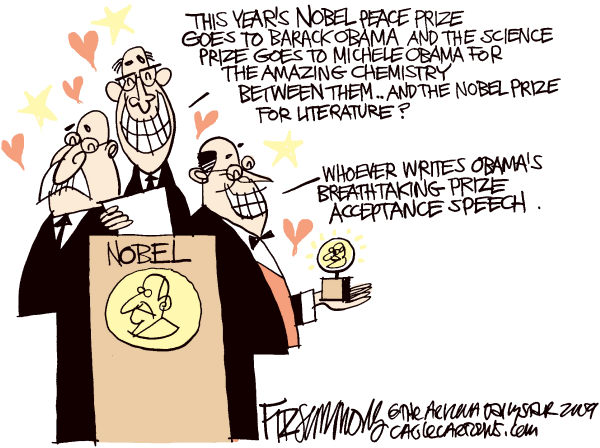 David Fitzsimmons, The Arizona Star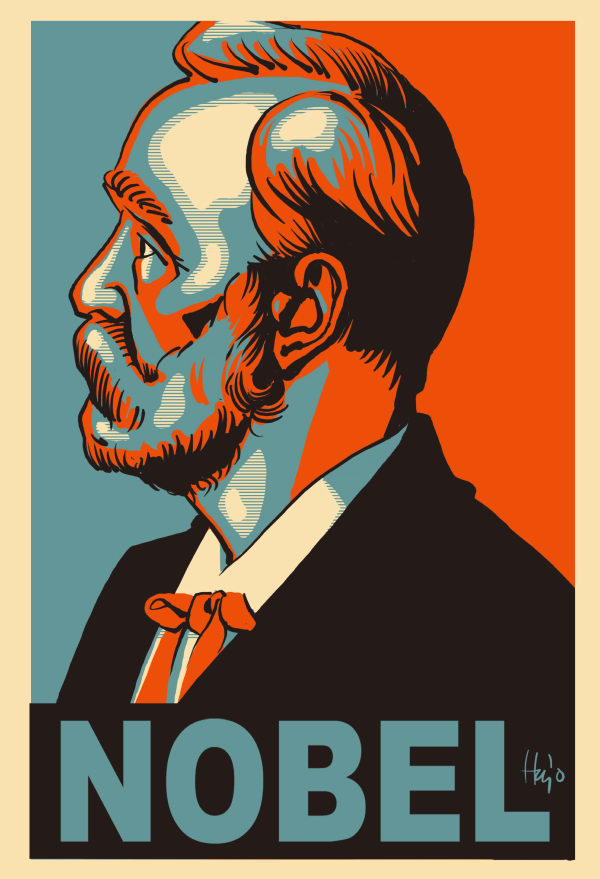 Hajo de Reijger, The Netherlands
These cartoons are copyrighted and licensed to run on TMV. Unauthorized reproduction prohibited. All rights reserved.
Joe Gandelman is a former fulltime journalist who freelanced in India, Spain, Bangladesh and Cypress writing for publications such as the Christian Science Monitor and Newsweek. He also did radio reports from Madrid for NPR's All Things Considered. He has worked on two U.S. newspapers and quit the news biz in 1990 to go into entertainment. He also has written for The Week and several online publications, did a column for Cagle Cartoons Syndicate and has appeared on CNN.