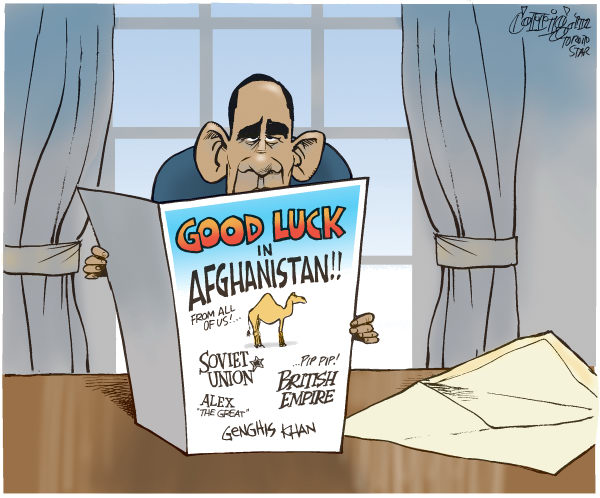 When the President unveiled his vehicle for getting from here to there in Afghanistan last night, it was not, as W's chief of staff described the Iraq invasion in 2002, a "new product" but an eight-year-old jalopy retooled for an even longer, bumpier ride.
As Barack Obama "assumed full ownership," there was no shortage of tire-kickers, starting with John McCain, who judges wars on durability (i.e., 100 years in Iraq). The President reportedly placated his rival in last year's race by assuring McCain that the 2011 trade-in date could be modified by "conditions on the ground," a warranty loophole big enough to drive another Surge through.
The post-purchase debate will be all the livelier for an aging gas-guzzler that has none of the curb appeal of George W. Bush's choice, the Saddam Hussein 2003 model with such then-new features as WMDs and a shock-and-awe startup for quick acceleration.
At a pre-speech lunch, the President failed to sell even such an avid buyer of that previous rollout as Tom Friedman…
MORE.

The cartoon by Patrick Corrigan, The Toronto Star, is copyrighted and licensed to appear on TMV. Unauthorized reproduction prohibited. All rights reserved.