North Korean Regime Plays Nuclear Hardball with Obama: The Daily North Korea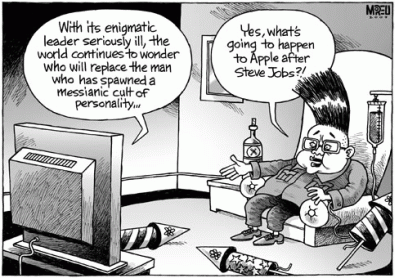 Joe Biden wasn't wrong when during a fundraiser some months ago, he told potential donors that Barack Obama would be tested early on in his presidency. Among those apparently trying to capitalize on the president-elect's 'youth and inexperience,' is the regime of North Korean despot Kim Jong-il.
According to this article from The Daily North Korean, a publication staffed largely by people who have escaped that imprisoned nation and monitor events there, Pyongyang is angling for outright recognition as a nuclear weapons state from the Obama Administration before talks resume. Furthermore, the article cites a recent statement from the North Korean regime that is the geopolitical equivalent of asking for the moon:
"Even in one hundred years, we won't lay down our nuclear weapons first – not without the total abolition of U.S. nuclear weapons. The only way to resolve this issue is to hold nuclear disarmament talks with all nuclear states."
In a related article, the Daily North Korean reports that the regime is claiming that because Pyongyang has 'bested' the United States in talks over its nuclear program, the regime is expecting a 'good year.' The headline of the article is Kim Jong-il Regime Promises 'Rice with Meat Soup', and includes an interview with a North Korean cadre about how they are selling this line to the population.
By Jeong Jae Sung

January 15, 2008

South Korea – The Daily North Korea – Original Article (English)

A North Korean Foreign Ministry spokesperson has reiterated Pyongyang's position on the order of events leading to a normalization of U.S.-North Korea relations and the denuclearization of the Korean Peninsula, including the issue of verification.

In a statement on January 13th, Pyongyang labeled its doctrine as "Normalization First, Denuclearization Later." According to the North, the United States and North Korea must achieve denuclearization through disarmament talks after – not before – the complete normalization of relations.

Pyongyang is again emphasizing that it has developed a nuclear program to confront America's nuclear threat and its hostile policies toward North Korea. This is the same claim made at the time of the second North Korean nuclear crisis in 2002.

The statement appears to be part of the Pyongyang regime's plan for confronting the incoming Obama Administration as a "nuclear state."
READ ON AT WORLDMEETS.US, your most trusted translator and aggregator of foreign news and views about our nation.