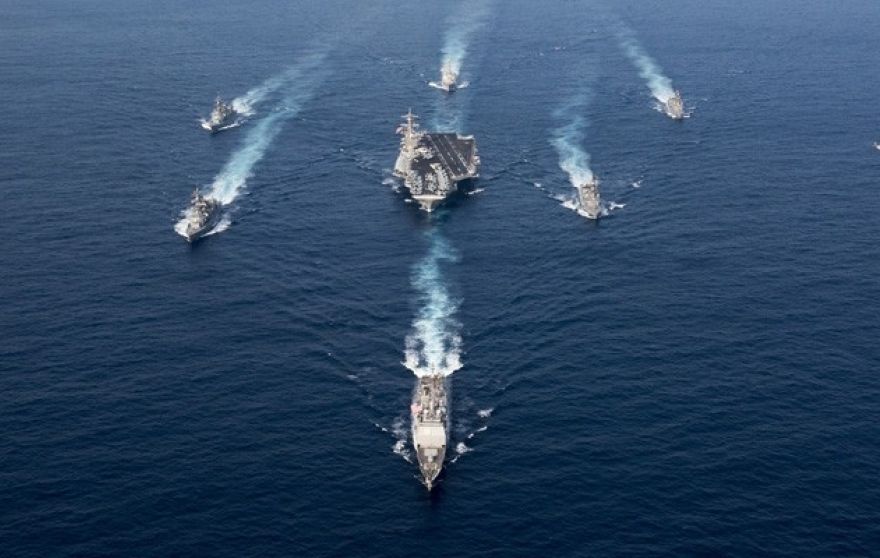 Note: This post will be updated periodically as events warrant.
UPDATE V:
In what could be called, "the plot thickens," The Salt Lake Tribune reports:
China and Russia have dispatched intelligence-gathering vessels from their navies to chase the USS Carl Vinson nuclear-powered aircraft carrier, which is heading toward waters near the Korean Peninsula, multiple sources of the Japanese government revealed to The Yomiuri Shimbun.

It appears that both countries aim to probe the movements of the United States, which is showing a stance of not excluding military action against North Korea. The Self-Defense Forces are strengthening warning and surveillance activities in the waters and airspace around the area, according to the sources.

::

The dispatch of the intelligence-gathering vessels appears to be partly aimed at sending a warning signal to the United States
BREAKING UPDATE IV:
Vice President Pence has just landed at Camp Bonifas, South Korea, just South of the Demilitarized Zone (DMZ) separating North and South for a previously unannounced visit to the DMZ.
Pence is there for a briefing with military leaders and to meet with American troops stationed there.
ABC News: "The joint U.S.-South Korean military camp is just outside the 2.5-mile-wide DMZ. Pence's visit, full of Cold War symbolism, comes amid increasing tensions and heated rhetoric on the Korean Peninsula."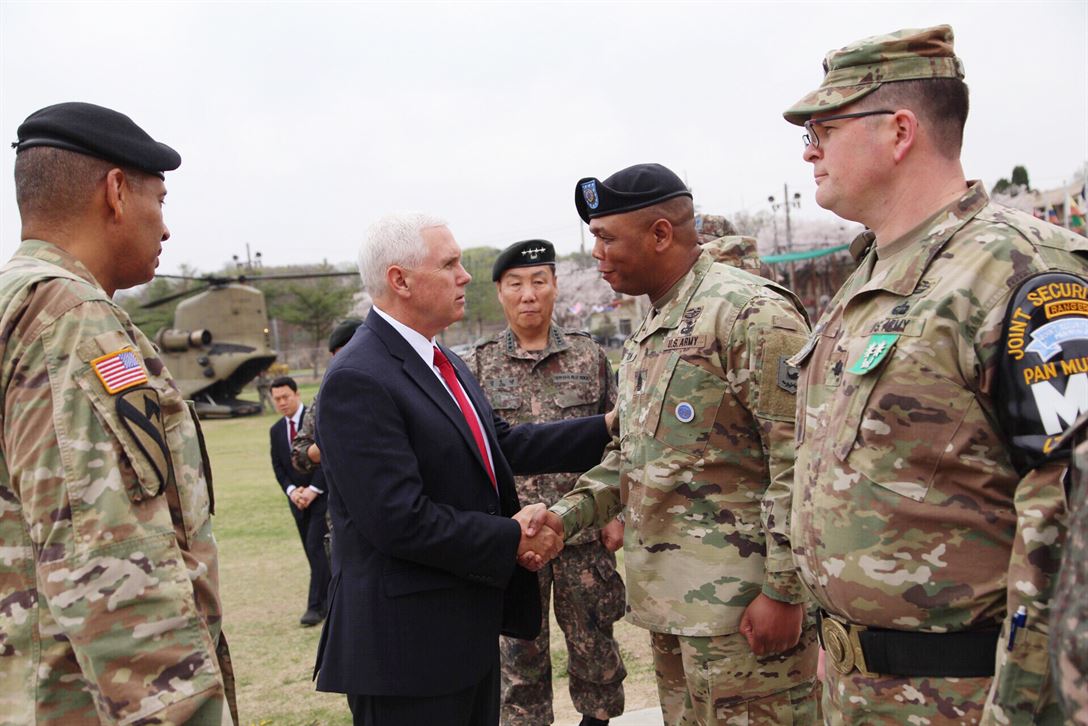 Vice President Mike Pence shakes hands with Command Sgt. Maj. Steven L. Payton, senior enlisted advisor for United Nations Command, Combined Forces Command and U.S. Forces Korea, near the Demilitarized Zone in South Korea, April 17, 2017. Army photo by Sgt. 1st Class Sean K. Harp
UPDATE III:
It is now (very early) Monday morning (April 17) on the Korean Peninsula.
The "unpredictable weekend" came and went without any serious incidents – except for an embarrassing North Korean missile launch failure…
Vice President Pence, joined by his wife and two adult daughters, arrived in South Korea…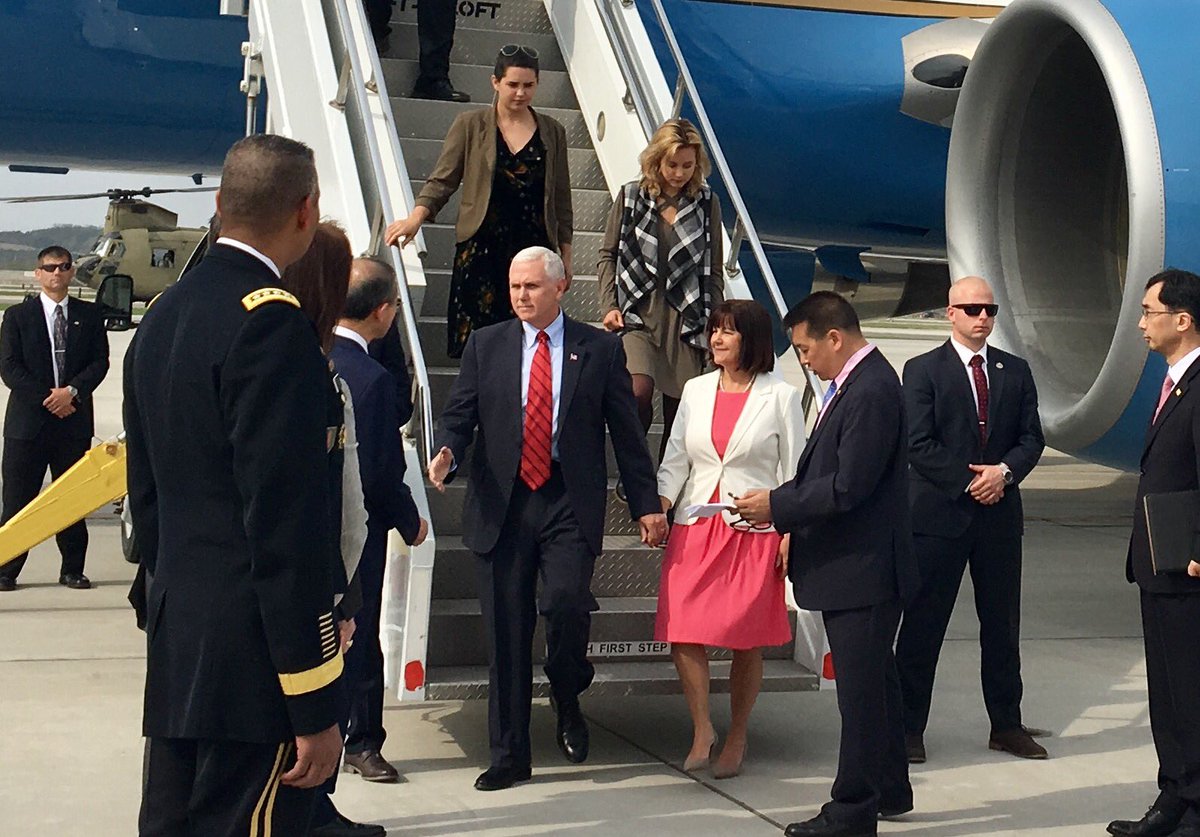 … laid a wreath at the Seoul National Cemetery and joined American and South Korean troops for Easter Sunday church services and a meal.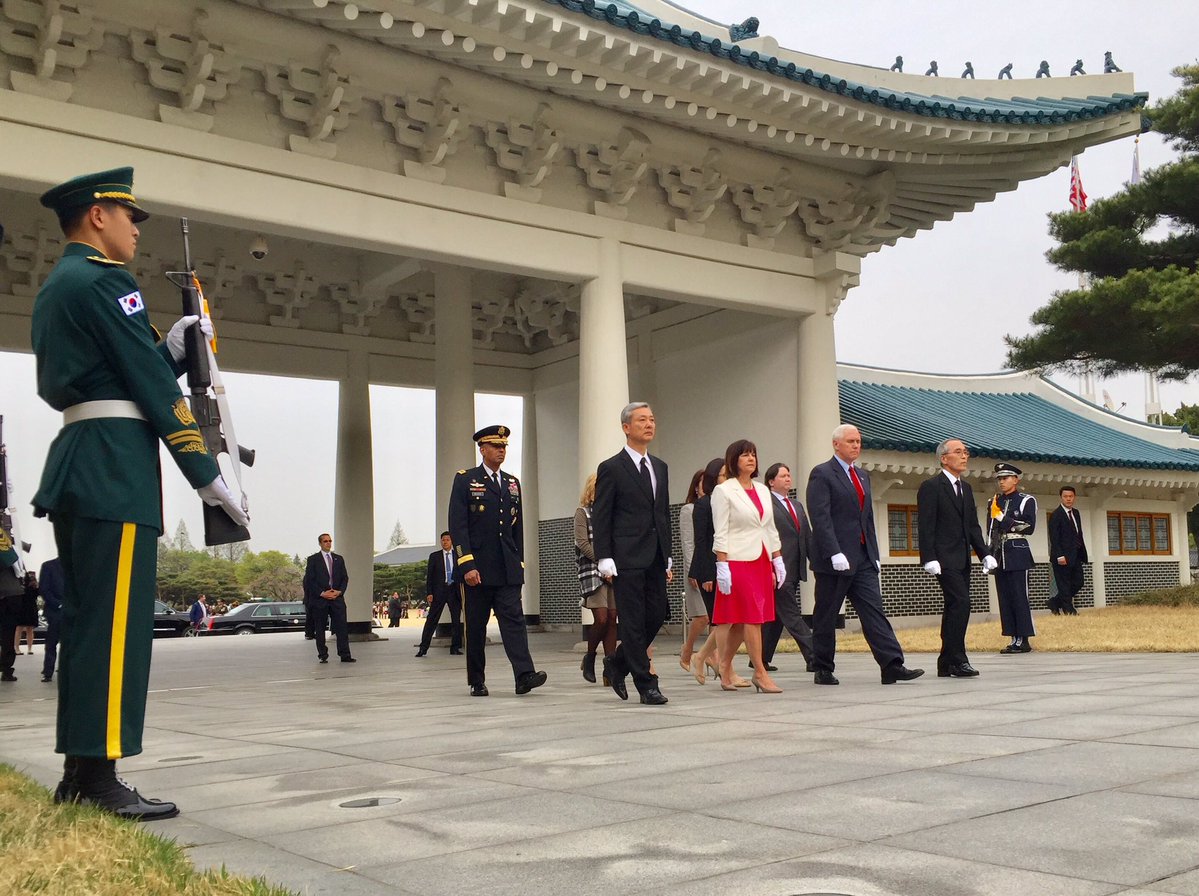 Is the crisis over?
Was this all "hype"?
Was/is China the key?
Did North Korea blink?
Did Trump's bravado work?
Was the spectacular missile failure U.S. sabotage or just lousy North Korean engineering?
Will the embarrassing missile launch failure encourage the irrational North Korean despot to try to restore his "honor" by still carrying out a sixth nuclear test?
Stay tuned.
Photos: White House
UPDATE II:
April 15, 7:56PM EST
North Korea launched a missile but it blew up almost immediately, the U.S. military said. It comes amid escalating tensions with the U.S.

The missile was fired from near the east coast port of Sinpo, the U.S. Pacific Command said, home to a known North Korean submarine base. North Korea launched a land-based version of its medium-range, submarine-launched ballistic missile from the Sinpo area earlier this month, but it did not fly far.

This latest launch came just a day after North Korea held a massive military parade to celebrate the anniversary of the birth of the state's founder, where the regime showed off advances in its missile technology
The Post adds, "The missile was fired just minutes after Vice President Pence took off from Alaska, on his way to Seoul, where he is expected to issue a strong warning to North Korea to stop its provocative behavior or face the consequences."
The Defense Department:
The president and his military team are aware of North Korea's most recent unsuccessful missile launch. The president has no further comment.
UPDATE I:
As Vice President Mike Pence heads for the Asia-Pacific region on Saturday to confer with top officials in Seoul, South Korea, and with other allies, top on the list will be the "belligerency of North Korea" and the assessment of military options, including the installation of the Terminal High Altitude Area Defense (THAAD) missile defense system on the Korean Peninsula.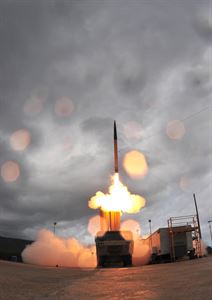 The Terminal High Altitude Area Defense, or THAAD, element gives the Ballistic Missile Defense System a globally transportable, rapidly deployable ability to intercept and destroy ballistic missiles inside or outside the atmosphere during their final, or terminal, phase of flight. Missile Defense Agency photo
Original Post:
As the Carl Vinson Strike Group approaches the Korean Peninsula (additional destroyers are being deployed and further military preparations made), North Korea is expected to mark the 105th anniversary of the birth of its founding father, Kim Il Sung, on Saturday, April 15, with its sixth and biggest nuclear test. The following day, Sunday, the vice president of the United States is due to arrive in Seoul, South Korea.
Finally, North Korea's unpredictable leader has warned, "if the US dares opt for a military action, crying out for 'pre-emptive attack'…the DPRK is ready to react to any mode of war desired by the US," in response to Trump's unpredictability, something Trump himself has boasted of.
What can the world expect out of all this unpredictability?
Of course, by definition, no one knows.
But here are some reports (confirmed and unconfirmed), "analyses," predictions and – finally – some facts:
What will the U.S. do?
NBC quotes "multiple senior officials" that the U.S. "is prepared to launch a preemptive strike with conventional weapons against North Korea should officials become convinced that North Korea is about to follow through with a nuclear weapons test…"

How would the U.S. launch such attacks?
Again NBC News:
The intelligence officials told NBC News that the U.S. has positioned two destroyers capable of shooting Tomahawk cruise missiles in the region, one just 300 miles from the North Korean nuclear test site.

American heavy bombers are also positioned in Guam to attack North Korea should it be necessary, and earlier this week, the Pentagon announced that the USS Carl Vinson aircraft carrier strike group was being diverted to the area.

The U.S. strike could include missiles and bombs, cyber and special operations on the ground.
However, NBC News says, South Korea must sign off:
Implementation of the preemptive U.S. plans, according to multiple U.S. officials, depends centrally on consent of the South Korean government. The sources stress that Seoul has got to be persuaded that action is worth the risk, as there is universal concern that any military move might provoke a North Korean attack, even a conventional attack across the DMZ.
The danger of such a "preemptive" attack is, according to NBC News, that "it could provoke the volatile and unpredictable North Korean regime to launch its own blistering attack on its southern neighbor":
On Wednesday, North Korea said it would "hit the U.S. first" with a nuclear weapon should there be any signs of U.S. strikes.
On Thursday, North Korea warned of a "merciless retaliatory strike" should the U.S. take any action.
On Friday, the New York Times reports that China, "which has been trying to steer between the Trump administration's demands for it to do more to stop North Korea's nuclear weapons program and its longstanding reluctance to risk a rupture with the North, its neighbor and longtime partner," had these comments — the "bluntest this week":
"The United States and South Korea and North Korea are engaging in tit for tat, with swords drawn and bows bent, and there have been storm clouds gathering," China's foreign minister, Wang Yi, said in Beijing, according to Xinhua, the state news agency.

"We urge all sides to no longer engage in mutual provocation and threats, whether through words or deeds, and don't push the situation to the point where it can't be turned around and gets out of hand," Mr. Wang said after meeting with his visiting French counterpart, Jean-Marc Ayrault, according to Xinhua.

"No matter who it is, if they let war break out on the peninsula, they must shoulder that historical culpability and pay the corresponding price for this," Mr. Wang said.
In other signs of "preparation," Foreign Policy writes:
In a major show of force, the U.S. Air Force conducted a no-warning drill of the entire 18th Air Wing stationed at the Kadena air base in Okinawa on Wednesday, rolling out dozens of F-15 Eagles, E-3 Sentries, KC-135 Stratotankers, and HH-60 Pave Hawks for display.

The Air Force also sent a "nuke sniffer" WC-135 Constant Phoenix surveillance plane capable of detecting radioactive debris to Kadena, a sure sign the Pentagon was waiting for a test.
All this in addition to the already heavy U.S. presence in South Korea consisting of 28,500 American troops at a division headquarters, an armored brigade, an aviation brigade, an artillery brigade, naval forces and four squadrons of F-16 and A-10 jets at more than a dozen military bases and installations.
In the unconfirmed reports category:
RT (Formerly Russia Today – Consider the source):
North Korea's military promised to "ruthlessly ravage" the US if the American aircraft carrier group that is currently on its way to the region takes aggressive action.

"Our toughest counteraction against the US and its vassal forces will be taken in such a merciless manner as not to allow the aggressors to survive," a statement from the military said.

"The Trump administration, which made a surprise guided cruise-missile strike on Syria on April 6, has entered the path of open threat and blackmail," the statement added.

The General Staff noted that, American military bases in the Pacific, Guam, the island of Okinawa, which hosts the bulk of US troops in Japan, as well as the US mainland, are all within reach of North Korea's strategic missiles.
Infowars quotes a "questioned" report that Japan is finalizing plans to evacuate 60,000 of its citizens from South Korea in the event of war "because the city does not have enough bunkers to shelter its entire population."
Japan's Prime Minister Shinzo Abe warned Thursday that North Korea might be capable of firing a missile loaded with sarin nerve gas toward Japan, according to USA TODAY.
Although Japan does not see "a high risk of military action," it expects to be consulted by the United States if it decided to attack, as North Korea has about 350 missiles that can hit Japan, according to Reuters.
A sobering fact is the presence of 28,500 U.S. soldiers, sailors, airmen and Marines who would be vulnerable to North Korea's artillery and rockets (or worse) the moment hostilities with North Korea commence.
Even more sobering is the fact that many of our troops are accompanied by their families. Hopefully, the part of the mission of U.S. forces in South Korea, to remove those non-combatants from harm's way when and if the need arises, will be timely, effective and totally successful.
Finally, it is hoped that the presence nearby of the powerful Carl Vinson Carrier Strike Group led by "America's Favorite Aircraft Carrier," carrying about 7,500 sailors and representing an awesome array and diversity of firepower will make cooler heads prevail.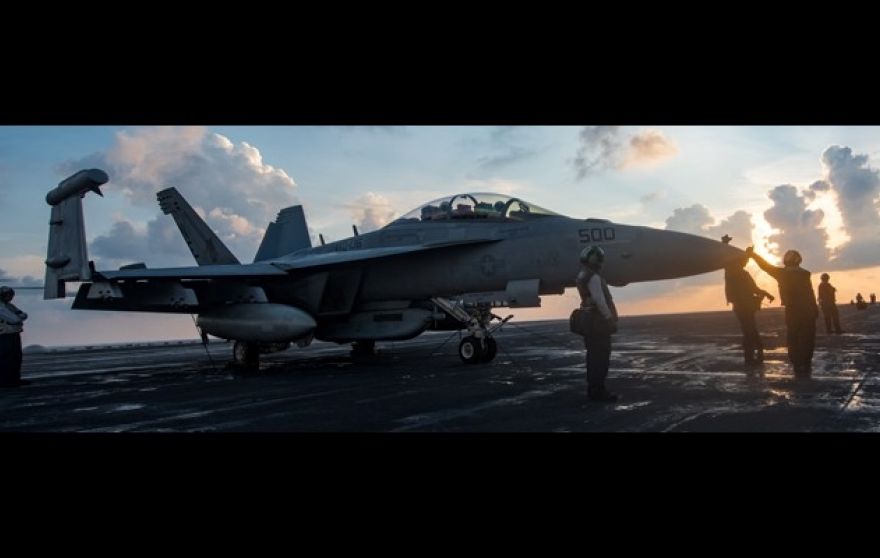 Sailors assigned to the Electronic Attack Squadron 136 "Gauntlets" prepare an EA-18G Growler for flight on the aircraft carrier USS Carl Vinson . (U.S. Navy photo by Mass Communication Specialist 3rd Class Matt Brown)

CODA: More about the Carl Vinson Strike Group:
The strike group, established in 2009, includes the ship's Carrier Air Wing 2, and embarked Destroyer Squadron 1 deployed with Ticonderoga-class guided-missile cruiser USS Lake Champlain, as well as Arleigh Burke-class guided-missile destroyers USS Michael Murphy and USS Wayne E. Meyer.
The USS Carl Vinson is capable of carrying 90 fixed wing aircraft and helicopters.
It is deployed with the embarked aviation squadrons of CVW-2 which include the 'Black Knights' of Helicopter Sea Combat Squadron 4, the 'Blue Hawks' of Helicopter Maritime Strike Squadron 78, the 'Bounty Hunters' of Strike Fighter Squadron 2, the 'Blue Blasters' of VFA-34, the 'Kestrels' of VFA-137, the 'Golden Dragons' of VFA-192, the 'Black Eagles' of Carrier Airborne Early Warning Squadron 113, the 'Gauntlets' of Electronic Attack Squadron 136, and the 'Providers' of Fleet Logistic Support Squadron 30.
Sources Fox News and U.S. Navy
Lead photo: The USS Carl Vinson ), the Arleigh Burke-class guided-missile destroyer USS Wayne E. Meyer and the Ticonderoga-class guided-missile cruiser USS Lake Champlain in an exercise with Japan Maritime Self-Defense Force destroyers. (US Navy photo by Mass Communication Specialist 3rd Class Matt Brown)
Edited to correct a quote that was wrongly attributed to China.
The author is a retired U.S. Air Force officer and a writer.