A slew of websites (old and new media) are now running photos of a sign that has appeared at today's conservative anti-tax, anti-government spending, anti-health care reform rally in Washington — and it once again raises the question:
Is the Republican party now morphing into a political organization that only wants to reaffirm it's existing members' political grudges, outrage or hatreds? Or is it possible for the party to rebound by actually making a positive, affirmative case for its beliefs, offering voters — particularly independent voters who may waver in one direction or another but who don't belong to a political party — a menu of reasons why the Republican alternative is a better one?
It seems as if the former is the prevailing trend. This sign has not only popped up but it is being printed up and distributed.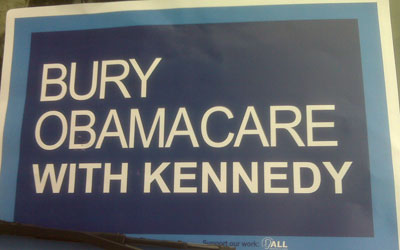 And
The Huffington Post shows this incarnation:
It's hard to understand the mentality behind this kind of sign — unless it's to provide good,
visual product
for Fox News and clips for Glenn Beck and Sean Hannity.
It won't win any Democrats over to their cause. And polls show independent voters are often split but one common trait is that many independent voters detest the divisive, raw partisanship that now passes for "political discussion."
The sign is strictly for the choir.
Many other Americans who might listen to this choice will be turned off the second they see this sign. So it's unlikely the choir is going to get a lot of new applicants once they see this sign. Some folks will see this sign and decide it's not worth listening to their concert.
P.S. to demonstrators: "Class" isn't only a room where schoolkids sit (unless they've been kept out of school by their partisan parents because the President is going to deliver a speech telling them to stay in school).