Mike Peters Guest Cartoon: Trump, ICE and Children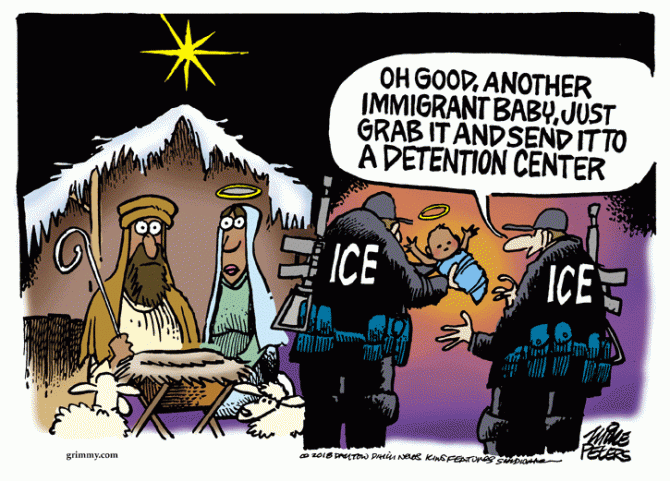 OF RELATED INTEREST:
— Youngest migrants held in 'tender age' shelters
–-Separated migrant children are headed toward shelters with a history of abuse and neglect
–-Lewandowski refuses to apologize for 'womp womp' comment
—Family Separation Is Trump's Immigration Policy. Here's Why He Won't Own It
—Trump alone to blame for family separations, but entire GOP will pay
—'Today I renounce my membership': Longtime GOP strategist Steve Schmidt announces he's leaving the party
And a sampling on Twitter:

Rep. Elijah Cummings: "You've got toddlers sitting around in a room crying for their mother or their dad … children literally being used as hostages, really, so that President Trump can have his way." @Morning_Joe

— Kyle Griffin (@kylegriffin1) June 20, 2018
Trump says he hates that immigrant children are being locked up in cages. "It's terrible that these foreign kids are taking cages that SHOULD be used for American journalists."

— MAD Magazine (@MADmagazine) June 20, 2018
Dear God.

Infants. Tiny babies.

Birth to 3 months is known by many as the "fourth trimester." It is theorized human newborns have to emerge earlier than ideal because we have such large heads. As a result, we are born without fully developed neurological systems. https://t.co/3IAEuOPsKT

— Leah McElrath ???? (@leahmcelrath) June 20, 2018
Here is Fox News in my country trying to whip its audience into a frenzy of fear. The "war" he's talking about is TV crews at the border telling the public about a Trump policy that separates migrant parents from children. This is what he describes as "trying to destroy." https://t.co/pJkO3BtTAY

— Jay Rosen (@jayrosen_nyu) June 20, 2018
Welp, I guess we've put to rest the question: "Nazi Germany: Could it happen here in America?"

— Soledad O'Brien (@soledadobrien) June 20, 2018
Paul Ryan said just now on CNN that he refuses to pursue narrowly focused emergency legislation to help these traumatized children. Instead, he wants to use them as leverage to achieve his political goals on a variety of immigration issues.

— Walter Shaub (@waltshaub) June 20, 2018
This. https://t.co/Vw9ofRq5AF

— Anne Frank Center (@AnneFrankCenter) June 19, 2018
Locking up children and separating them from their parents is "cruel" and "immoral." It doesn't secure our borders. It erodes our moral center. This abhorrent policy must end. https://t.co/v0WeL47HdF

— Anne Frank Center (@AnneFrankCenter) June 19, 2018
< ?center>

About that Peace Prize nomination … https://t.co/nO07MyAL1r

— Kyle Cheney (@kyledcheney) June 20, 2018
Mike Peters is recognized as one of our nation's most prominent cartoon artists for his outstanding work as both a political and comic strip cartoonist. His favorite expression "WHAT A HOOT" certainly sums up his outlook on his life and work which are inexorably entwined. Mike's warm, easygoing and zany demeanor is evidence that his personality matches his creative talents. As so eloquently phrased by a colleague — "Mike is the Peter Pan of the cartooning world; he's boyishly charming, good with a rapier and doesn't spend a lot of time on the ground. And he doesn't seem to want to grow up".
The Comic Strip Mother Goose & Grimm appears in over 800 newspapers worldwide and consistently places in the top 10 most popular ratings. Licensees distribute Grimmy products all over the world, and the Grimmy TV show continues to air in several countries. Mother Goose & Grimm is included in the Toon Lagoon theme park at Universal Studios that opened in July 1999. This copyrighted cartoon is licensed to be run on TMV and is from his website.