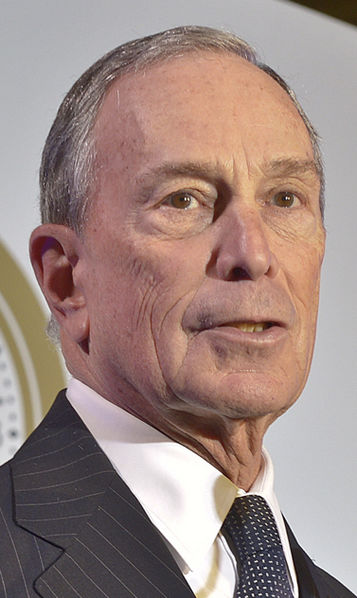 Former New York Mayor and billionaire Michael Bloomberg, in a column on Bloomberg News, has said he won't run for President. This isn't the first time he seemed poised to run and didn't but this year there seemed a bigger market for him. Except he concluded he could not win. He explains:
But when I look at the data, it's clear to me that if I entered the race, I could not win. I believe I could win a number of diverse states — but not enough to win the 270 Electoral College votes necessary to win the presidency.

In a three-way race, it's unlikely any candidate would win a majority of electoral votes, and then the power to choose the president would be taken out of the hands of the American people and thrown to Congress. The fact is, even if I were to receive the most popular votes and the most electoral votes, victory would be highly unlikely, because most members of Congress would vote for their party's nominee. Party loyalists in Congress — not the American people or the Electoral College — would determine the next president.

As the race stands now, with Republicans in charge of both Houses, there is a good chance that my candidacy could lead to the election of Donald Trump or Senator Ted Cruz. That is not a risk I can take in good conscience.
This is of note:
I have known Mr. Trump casually for many years, and we have always been on friendly terms. I even agreed to appear on "The Apprentice" — twice. But he has run the most divisive and demagogic presidential campaign I can remember, preying on people's prejudices and fears. Abraham Lincoln, the father of the Republican Party, appealed to our "better angels." Trump appeals to our worst impulses.
It fits in with other accounts, so some ask if Trump is serious about what he says — and some think he is. The point, though is, given what he is saying (and how he is behaving like he's running for President of Boorshead Meats rather than the President of the United States) the country cannot take a chance and thoughtful people must oppose and/or work against Trump. He writes:
Threatening to bar foreign Muslims from entering the country is a direct assault on two of the core values that gave rise to our nation: religious tolerance and the separation of church and state. Attacking and promising to deport millions of Mexicans, feigning ignorance of white supremacists, and threatening China and Japan with a trade war are all dangerously wrong, too. These moves would divide us at home and compromise our moral leadership around the world. The end result would be to embolden our enemies, threaten the security of our allies, and put our own men and women in uniform at greater risk.

Senator Cruz's pandering on immigration may lack Trump's rhetorical excess, but it is no less extreme. His refusal to oppose banning foreigners based on their religion may be less bombastic than Trump's position, but it is no less divisive.

We cannot "make America great again" by turning our backs on the values that made us the world's greatest nation in the first place. I love our country too much to play a role in electing a candidate who would weaken our unity and darken our future — and so I will not enter the race for president of the United States.
But he notes he's not going to remain silent:
However, nor will I stay silent about the threat that partisan extremism poses to our nation. I am not ready to endorse any candidate, but I will continue urging all voters to reject divisive appeals and demanding that candidates offer intelligent, specific and realistic ideas for bridging divides, solving problems, and giving us the honest and capable government we deserve.

For most Americans, citizenship requires little more than paying taxes. But many have given their lives to defend our nation — and all of us have an obligation as voters to stand up on behalf of ideas and principles that, as Lincoln said, represent "the last best hope of earth." I hope and pray I'm doing that.
The question is whether Bloomberg will actively campaign against a candidate who he believes is appealing to the worst in Americans or who is only out to please their political tribe. And whether he'll put some hefty money to battle those who he feels endanger his vision of America where his lofty speaking and lofty writing mouth is.
Photo: Metropolitan Transportation Authority of the State of New York (100Years_5792) [CC BY 2.0 (http://creativecommons.org/licenses/by/2.0)], via Wikimedia Commons
Joe Gandelman is a former fulltime journalist who freelanced in India, Spain, Bangladesh and Cypress writing for publications such as the Christian Science Monitor and Newsweek. He also did radio reports from Madrid for NPR's All Things Considered. He has worked on two U.S. newspapers and quit the news biz in 1990 to go into entertainment. He also has written for The Week and several online publications, did a column for Cagle Cartoons Syndicate and has appeared on CNN.