"Rosie the Riveter," the striking bandana-clad woman working at an industrial lathe at the Alameda Naval Air Station just after the Pearl Harbor attack, quickly became the face behind J. Howard Miller's iconic poster "We Can Do It!" and a timeless image representing the millions of American women who entered shipyards and manufacturing plants in support of the nation's war effort.
"Rosie's" image and memory continue, to this day, to inspire Americans, including this author who has frequently recalled her story, even to the point of perhaps confusing readers with the mention of another "Rosie," Veronica Foster, the face of Canadian women in the war effort known as "'Ronnie the Bren Gun Girl."
But this author is not alone. Others have misidentified Rosie the Riveter.
For many years, the media identified a woman from Michigan, Geraldine Hoff Doyle, as the "real-life Rosie the Riveter."
Doyle innocently believed she was the woman in the photo, which she first saw in 1984. And it did look like her own photos from the 1940s—so much so that friends marveled at how one of their own had become a minor celebrity. Through some twists and turns, before long, Doyle's identity as the authentic Rosie the Riveter had become accepted fact. The Michigan Senate and the state's Women's History Hall of Fame officially recognized her. When she passed away in 2010, there was a worldwide vigil for the loss of the "We Can Do It!" woman.
In 2010, Professor James J. Kimble, an associate professor of Communication & the Arts at Seton Hall University, began "a six-year journey" to find the real "Rosie the Riveter" and discovered that the real Rosie was Naomi Parker Fraley, born in Tulsa, Oklahoma:
Fortunately, journalists were more than happy to report on the discovery of a more definitive Rosie. Gradually, Fraley did get to reclaim her identity as the woman in the 1942 photo—and quite possibly the poster itself.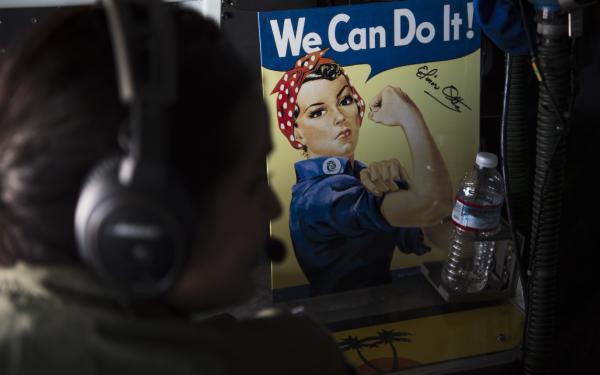 Sadly, the Real Rosie the Riveter passed away on January 20, 2017, at the age of 96, less than two years after reclaiming her iconic identity.
While, regrettably, there has been confusion about the identity of the real Rosie the Riveter, there is no confusion about the contributions millions of women made to our nation's defense during some very perilous times, nor about the inspiration they were to generations to come.
The author is a retired U.S. Air Force officer and a writer.