Memo fail puts Nunes' re-election at risk
Republican Rep. Devin Nunes — whose "I've got a story that'll bust this town wide open" memo is to politics what Gerando Rivera's highly touted live 2-hour televised opening of Al Capone's vault was to television and Rivera's reputation — is now in danger of possibly losing his California House seat. This couldn't happen to a nice Putin "useful idiot":
GOP Rep. Devin Nunes has represented California's 22nd Congressional District since 2003 — in title, at least. For the past year, however, Nunes has served the interests of the Trump White House while hanging his constituents out to dry.

Now, with the April 2018 primary elections only a few months away, voters are signaling that they've had enough of Nunes' antics.

According to the latest figures from Public Policy Polling, Nunes is barely polling ahead of a generic Democratic primary opponent, holding a lead of just 50 percent to 45 percent — less than one percentage point outside the margin of error.

In the last three election cycles, Nunes has won with more than 60 percent of the vote, including 2016 when he won with 68 percent of voters in the historically Republican district.

But the new poll numbers look even worse when you put a face to the name of that generic Democratic primary opponent.

According to a campaign spokesperson for Andrew Janz, one of six Democrats who has filed to run against Nunes, Janz's campaign raised more than $100,000 last Thursday and Friday, with $54,394 coming in on Friday alone — the same day the White House released Nunes' overhyped memo, which turned out to be an embarrassing failure for Nunes and his Republican colleagues.

Janz's campaign attributes the spike in support directly to Nunes' memo stunt, which is just the latest example of the Republican using his elected office to serve the president rather than his constituents.
Newspapers no longer carry the weight they once did, and I've always felt officials newspaper editorials have long been considered too influential. But the newspaper in his district, The Fresno Bee, could not have helped his popularity when they ran a blistering editorial. Here's part of it:
What, pray tell, does Rep. Devin Nunes think he's doing by waving around a secret memo attacking the FBI, the nation's premier law enforcement agency?

He certainly isn't representing his Central Valley constituents or Californians, who care much more about health care, jobs and, yes, protecting Dreamers than about the latest conspiracy theory.

Instead, he's doing dirty work for House Republican leaders trying to protect President Donald Trump in the Russia investigation.

It's no accident that this latest attempt to discredit the FBI and distract the public is happening at the same time special counsel Robert Mueller's probe appears to be picking up steam – and focusing on possible obstruction of justice by the president.
Read it in full.
Cartoonists have had a field day. Here's one being syndicated by Cagle Cartoons that ran in Roll call: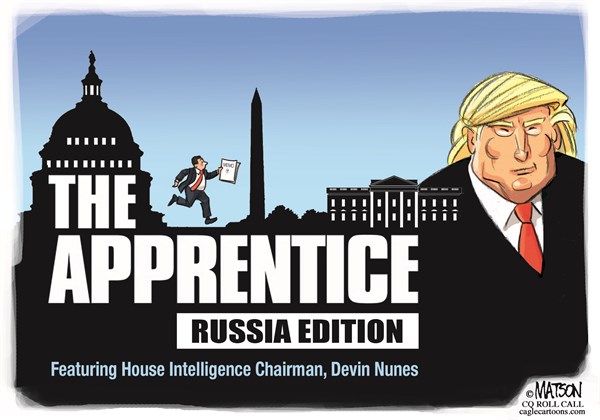 And one done for Politicalcartoons.com (also Cagle Cartoons):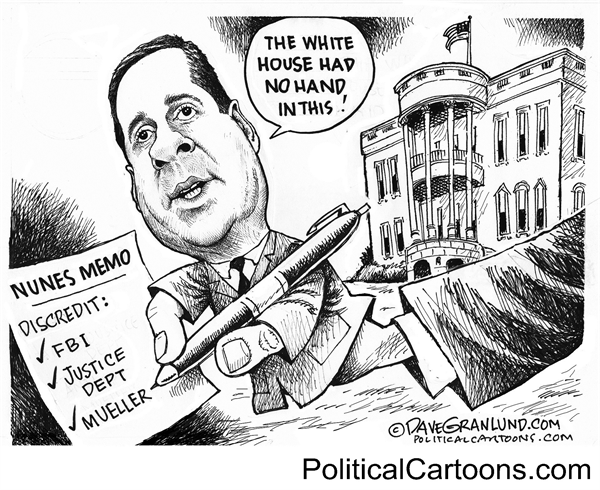 These all help consolidate an image (except among Fox News and Sean Hannity fans) that Nunes is (ahem) not quite an independent Congressman but someone who seems to be more interested in protecting the interests of Russia and President Donald Trump.
Any day I expect him to call Fox News to have them televise the live opening of Robert Mueller's vault.