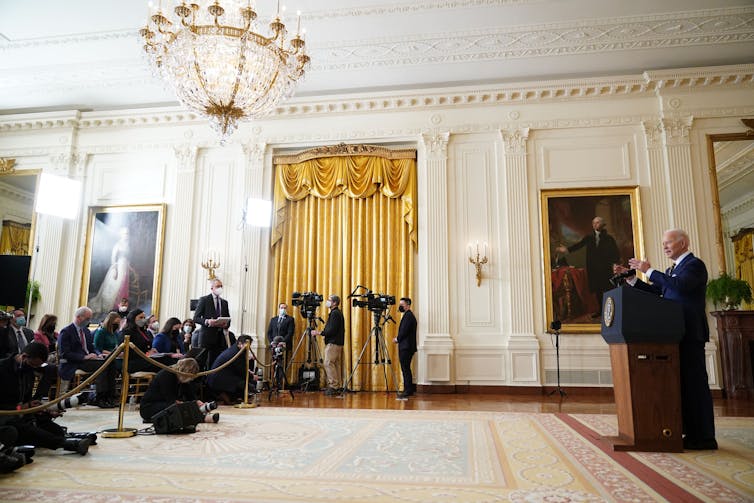 Michael J. Socolow, University of Maine
Joe Biden was inaugurated as the 46th president of the United States of America on Jan. 20, 2021.
Imagine if someone could go back in time and inform him and his communications team that a few pivotal changes in the media would occur during his first three years in office.
There's the latest news that Rubert Murdoch, 92, stepped down as the chairperson of Fox Corp. and News Corp. on Sept. 21, 2023. Since the 1980s, Murdoch, who will be replaced by his son Lachlan, has been the most powerful right-wing media executive in the U.S.
While it's not clear whether Fox will be any tamer under Lachlan, Murdoch's departure is likely good news for Biden, who reportedly despises the media baron.
Adding to Biden's good-luck list is that Elon Musk, an eccentric – and erratic – billionaire, purchased Twitter, now rebranded as X, in October 2022, prompting millions of American users to drop the social media platform, which has become a hotbed of right-wing activity and commentary.
X's power as an influential social, political and cultural force has since continued to decline. Former President Donald Trump even originally spurned an invitation to return to X, after Twitter suspended his account in 2021 for the risk it posed to incite violence. (Trump has since posted one time on X, on Aug. 24, 2023.)
These and other incidents mark an astonishing and even historic run of good luck for Biden, who, like all politicians, remains somewhat reliant on the media to both get his word out and craft a positive public image.
As a scholar of media history, I think it's fair to say no American president since Franklin Delano Roosevelt has enjoyed such a run of good media luck.
Ultimately, this luck – coupled with his avoidance of press conferences – might help Biden evade the intense scrutiny that all presidents face.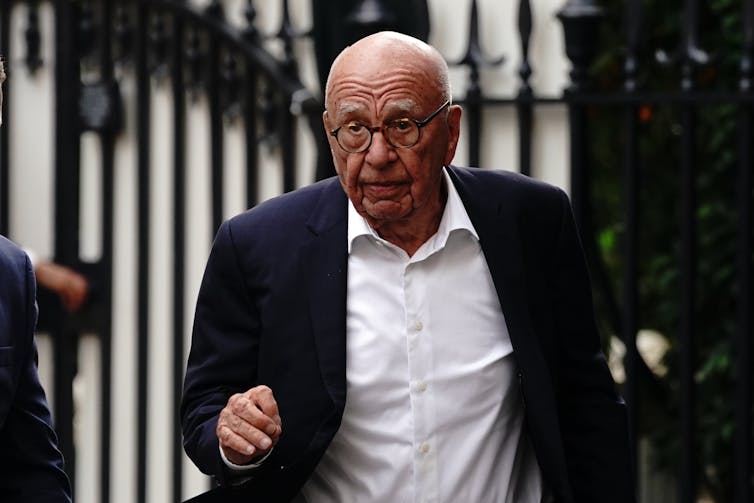 Other conservative voices in decline
A few other major media shifts have transpired during Biden's presidency.
Fox News lost approximately 1 million nightly prime-time viewers, or about a third of its audience, between 2020 and early 2023. CNN and MSNBC ratings tanked, too, reflecting an overall decline of the cable TV news universe.
It's also noteworthy that conservative political commentator Rush Limbaugh died on Feb. 17, 2021, leaving a massive void in right-wing talk radio. Many loyal Limbaugh listeners then deserted AM talk radio as a main way they get their news.
More recently, Fox News fired Tucker Carlson, the host of America's most popular right-wing cable TV news program in May 2023, after Carlson's racist text messages were made public as part of the lawsuit against Fox by Dominion Voting Systems. Fox did regain some viewers after Carlson left.
And, finally, in September 2023, Project Veritas, a right-wing political group known for hiding cameras to embarrass journalists and nonprofits the group considered to be politically liberal, reportedly ended all of its investigations and fired almost all its remaining employees.
Given Biden's low approval levels – only 40.6% of Americans said they approved of Biden in September 2023 polls – I cannot say with certainty that this chain of setbacks for conservative media platforms has helped Biden maintain, or drawn in, more voters and their support.
But this remains an astonishing and even historic run of good luck for a Democratic president when it comes to the media – bringing to mind Roosevelt, who benefited from a similar turn of events.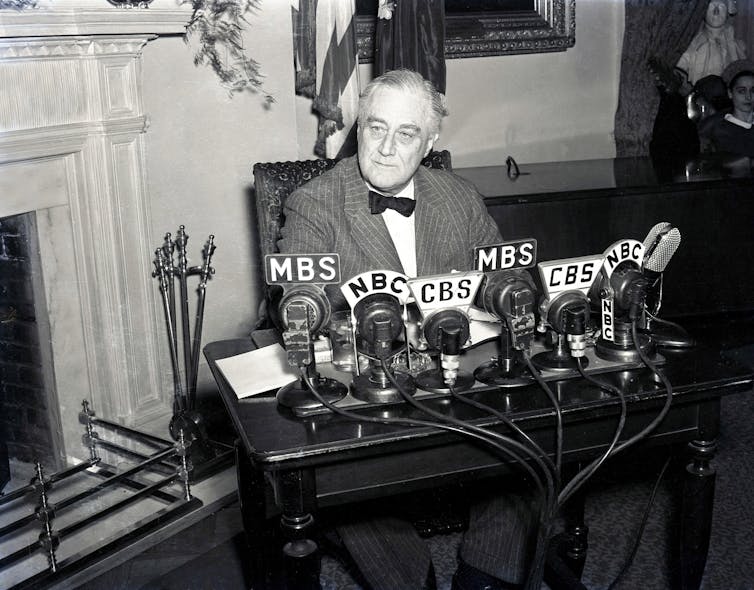 FDR's stroke of good luck
It's important to note that, in some ways, Roosevelt manufactured his luck.
Roosevelt hosted regular, popular fireside chats on the radio in the 1930s and '40s as a way to connect with voters and counter the newspapers that opposed him.
The media supported the White House's attempts to hide Roosevelt's paralysis, the result of contracting polio in his 20s. And, at the request of the White House, some media outlets censored people on the radio who were critical of Roosevelt's policies.
In much the same way, Joe Biden's media team has skillfully exploited the media.
Biden, for example, has kept a relatively low public profile – in the last century, only Presidents Ronald Reagan and Richard Nixon have convened fewer average annual press conferences than the current president at this point in their tenure.
Luck may not last forever
The decline of conservative media over the past few years does not constitute a perfect trajectory for Biden – that would require, for instance, the emergence of a new liberal media figure with the influence of a Limbaugh or Carlson.
But Biden has benefited from right-wing media tumult.
It's not yet clear what Rupert Murdoch's departure will mean for Fox News, especially since his son Lachlan Murdoch was already well established at Fox Corp. as a top executive and staunch conservative.
There's no guarantee that Biden's media luck will hold.
One potentially compromising factor is that Biden's son Hunter is facing felony gun possession charges and is expected to plead not guilty on Sept. 26, 2023.
But much of the media has avoided the most scandalous details or images portraying Hunter Biden's alleged illegal activities – or failed to clearly explain why they have avoided such reporting.
This offers yet another example of Joe Biden's outsized luck.
A belated fall
It is useful to remember that President Warren G. Harding was the president previous to Roosevelt who enjoyed good fortune with the media.
Harding, the only professional journalist to be elected president, enjoyed enormous popularity within the newspaper industry.
Reporters, for example, hid his widely rumored – and eventually proven – extramarital affairs.
But after Harding died unexpectedly in 1923, the truth about his administration's corruption and his personal dealings, including details about hush payments to cover up a secret, unacknowledged child, dribbled out.
This happened first through quiet leaks, then in a flood prompted by a congressional investigation in the late 1920s regarding a top Harding administration official and a bribery scandal.
Harding's reputation never recovered.
In Harding's case, the so-called "first draft of history" provided by the newspapers proved embarrassingly inaccurate.
In other words: The president's luck didn't hold out.

Michael J. Socolow, Professor of Communication and Journalism, University of Maine
This article is republished from The Conversation under a Creative Commons license. Read the original article.