McCain at CPAC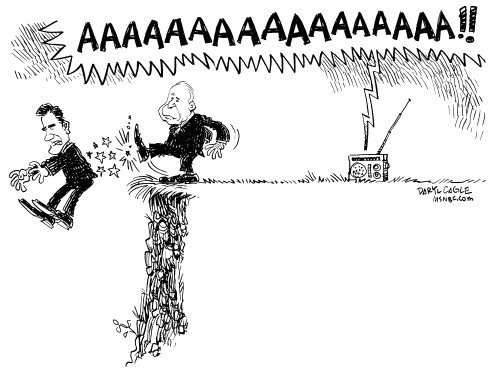 Senator McCain just made his pitch to the Conservative Political Action Conference. It was Pro Life, Pro Gun, Pro War, Pro Tax cuts. To a moderate Independent like me it was frightening. I understand that this is the right wing of his base but his rhetoric was extreme and only Black vs White. Why does he not bother to try to demonstrate that he is willing and able to lead them to a more pragmatic way of thinking?
He took a stand to use force to defeat any who threaten the US and freedom and ridiculed the soft skills of diplomacy promoted by the Dems. But how about addressing the reasons most of these people want to threaten the US: the poverty, the insulation from modern society, the suppression of freedom by their leaders, the failure and fear of moderates to speak out, the corrupting influence of oil wealth… Why not talk about energy independence as a path to reducing the consequences of global competition for energy and as an opportunity to grow our economy?
He took a stand to be pro-gun. But how about incremental efforts to keep guns out of the hands of predators and those who are violent and unhinged?
He took a stand to reduce taxes and cut government programs. But what happens to the poor and disadvantaged among us who loose health care, food assistance and pensions? What happens to our future if the cost of college goes up? He wants to use market forces to reduce health care costs. But the problem is that free market insurance doesn't prevent
providers from stonewalling claims and preventing medical care. Debates should force him to declare who's services he will cut.
He took a stand to reduce Corporate taxes. But when we include all taxes paid by American citizens and businesses it is less than that paid in most other developed countries. Is it merely lower taxes that we want or is it to be convinced that our tax dollars are being spent as efficiently as possible to raise the tide for ALL ships in our harbor? Debates should force him to declare what he would cut to balance the budget and retire the debt.
Ironically he pledged to nominate strict constructionist Supreme Court Judges when it is such judges who have decided that freedom of speech and freedom of money are the same thing as far as elections are concerned. A recipe for the wholesale emasculation of representative government.
This was a scary speech and a scary audience response: Un-nuanced and immoderate. Everything that is wrong with the direction of our country.

Cartoon by Daryl Cagle, MSNBC.com