Maybe Trump Democrats are not a factor after all
Donald Trump boasts that he has created an army of new voters – "millions and millions" – in the Republican primaries while numerous high-ranking GOP officials have swallowed that argument as they swallow their principles and endorse the bombastic billionaire.
Countless pundits have declared that, much like the Reagan Democrats of the 1980s and '90s, "Trump Democrats" will emerge in big numbers this fall.
The overwhelming narrative indicates that Trump is a transformative figure whose ability to attract "new voters" is due, in large part, to the white working class, especially men in the 50-plus age group. In Michigan and especially in Macomb County, Trump's big win in the March primary is attributed in large part to the emergence of Trump Democrats.
Yet, an analysis of primary voting data in several states conducted by Politico finds that this wave of new Trump voters is mostly a media myth.
With the help of a far-flung group of experts, Politico determined that Trump has attracted people to the notoriously low-turnout primaries, but most of these people are not new to the process of voting in a general election, and they are not dissidents or newly minted Trump Democrats.
Based on voting data from Ohio, New Hampshire, Iowa, Florida and South Carolina, the number of newbies and cross-overs drawn in by Trump may be substantially exaggerated. The record GOP turnouts in many states are not due to "lapsed" or disgruntled voters who had given up on politics and elections until Trump emerged.
For example, according to Republican Party figures, 80 percent of those who were part of a record-shattering turnout in February for the Iowa GOP caucuses had previously voted in at least three of the last four presidential elections. So, the new caucusgoers who boosted participation by nearly half compared to 2012 consisted mostly of those who are likely to vote in November anyway.
Little evidence of a Trump wave
In Ohio (the most important state for the GOP in November), the idea that blue-collar voters flocked to the polls because of Trump is not accurate. The numbers show 60,000 new voters in the Ohio Republican primary in March, but there were also about 58,000 new voters in the Democratic primary. No advantage gained there.
In addition, many of the 155,000 party switchers in the Buckeye State – those who voted in a Democratic primary in the past and on the GOP side this time – may have been enticed not by Trump but by John Kasich, the popular Ohio governor who easily won the state's Republican primary election.
Overall, with an unprecedented 17 candidates running, and with a bombastic, polarizing candidate leading the way, record participation should not be the basis for a contrarian story line that says 2016 might be shaping up as a Republican/Trump year. Especially when recent history shows little correlation between primary turnout and which party wins in November. The 187,000 GOP caucusgoers in Iowa, it should be noted, represented about 8.9 percent of the state's voters.
In fact, with so many GOP candidates competing, more than 10 million votes were cast against Trump. While the "Stop Trump" movement failed, it certainly contributed to higher-than-normal turnout.
Were Reagan Democrats exaggerated?

As Trump shuns campaign norms and assumes that his candidacy will attract large numbers of white, low-education voters, some political analysts insist that Trump Democrats will not emerge as a major factor at all in the fall. Neal Gabler, a liberal author, takes that assertion a step further by arguing that Reagan Democrats were never more than a brief phenomenon, not a movement.
In a recent guest column on The Moderate Voice, Gabler cited a study that took a long-term view of voting patterns from 1952-2004:
Nearly all the Democratic decline among low-income white voters without college degrees came in the South: 10.3 percent. Outside the South, the Democratic percentages actually increased (11.2 percent) for an overall national increase of 4.5 percent. Again, that is just among whites. The inescapable conclusion: All those blue-collar workers who are supposed to have left the Democratic Party for Reagan and then stayed in the GOP, or who might soon be leaving for Trump, didn't in the first case, and aren't likely to do so in the second.
As for the polls, they present a mixed bag about the potential Trump coalition. Numerous state exit polls taken during primary election season show Trump suffers from unfavorable ratings among white Democrats approaching 80 percent. On the flip side, a recent national poll found that about 20 percent of likely Democratic voters say they would buck the party and vote for Trump in November.
Clearly, the large number of voters casting ballots and watching televised debates indicate that the Republicans probably enjoy an enthusiasm gap that's to their advantage over the divided Democrats. The widespread GOP disdain for Hillary Clinton obviously could affect turnout in the general election.
But elected Republican officials sheepishly stepping up to "support the nominee," and others struggling with the reality of a pending Trump nomination – even House Speaker Paul Ryan – have been sucked in by Trump's claims that he's the GOP Pied Piper bringing in a flock of new voters.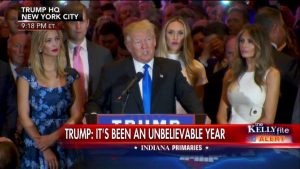 Consider another battleground state, Florida, where new voters are not news. The fast-growing Sunshine State has experienced about 1 million new voters just since 2012. According to Politico, Republican primary turnout in the state jumped by 40 percent from 2012 to 2016. But only 6 percent of those who voted in the 2016 Republican primary did not vote in either of the 2012 or 2014 general elections.
What's more, high turnout in a Florida race featuring the always-entertaining Trump plus a standoff between the state's former governor, Jeb Bush, and a sitting U.S. senator, Marco Rubio, should not be a surprise.
Elsewhere, clear-headed GOP strategists might heed the fact that Democrats lost their support among white working-class men long ago, as evidenced by the past four presidential cycles plus Clinton's limited success at targeting this group in the 2008 primaries. If Trump wins by big margins over Clinton in the South's Red States, those landslides would accomplish nothing in terms of altering the Electoral College map in November.
Daniel Smith, a political science professor at the University of Florida who analyzed his state's primary voting patterns for Politico, suggested Republican Party leaders would be wise to look skeptically at the Trump braggadocio which paints him as the next big thing.
"I think the glass is half full," Smith said, looking at the numbers from Trump's perspective. "But it's a small glass — maybe a shot glass."
Image: Democrats for Donald Trump
Photo: Fox News screenshot