Keeping score: the courts on the Trump Executive Order
Federal judges in California, Massachusetts, New York, Virginia and Washington state have blocked the Trump Administration from enforcing an executive order that restricts immigration from seven Muslim-majority countries.
In a tersely worded ruling on Sunday, U.S. District Judge Dolly Gee (Los Angeles) directed the U.S. government to return Ali Khoshbakhti Vayeghan to this country while his case is being adjudicated. Hers was the fifth ruling.
"Before the Court could rule on the [temporary restraining order staying his deportation from the U.S.], he was placed on a flight to Dubai to be removed to Iran," she writes in the case summary (pdf).
The Executive Order
President Trump's Executive order, issued Friday in conjunction with International Holocaust Remembrance Day, went into effect on signature at 4:42 p.m. Eastern. It banned travel into the U.S. for 90 days for anyone holding a passport from Iran, Iraq, Libya, Somalia, Sudan, Syria and Yemen. It also stopped resettlement of refugees for 120 days.
This ruling affects not just people traveling on a tourist visa but those who are legally a permanent resident (they hold a green card).
The Department of Homeland Security said that the order also barred green card holders from those countries from re-entering the United States. In a briefing for reporters, White House officials said that green card holders from the seven affected countries who are outside the United States would need a case-by-case waiver to return.
In addition, anyone holding dual citizenship that includes one of the seven countries is subject to the ban, according to a State Department statement reviewed by the Wall Street Journal on Saturday.
Travelers who have nationality or dual nationality of one of these countries will not be permitted for 90 days to enter the United States or be issued an immigrant or nonimmigrant visa.
This means a person holding both British and Iranian passports would not be able to enter the United States, for example.
Former New York City mayor Rudy Giuliani has taken credit crafting the document and assembling its braintrust. Giuliani told FOX News that Trump wanted a legal "Muslim ban."
However, the measure was pushed through without review or appropriate briefing to the agencies tasked with implementing it.
NBC is reporting that the document was not reviewed by DHS, the Justice Department, the State Department, or the Department of Defense, and that National Security Council lawyers were prevented from evaluating it. Moreover, the New York Times writes that Customs and Border Protection and U.S. Citizen and Immigration Services, the agencies tasked with carrying out the policy, were only given a briefing call while Trump was actually signing the order itself. Yesterday, the Department of Justice gave a "no comment" when asked whether the Office of Legal Counsel had reviewed Trump's executive orders—including the order at hand. (OLC normally reviews every executive order.)
If true, this is particularly stunning given this statement to the Washington Post, because Sen. Sessions (R-AL) is a three-decade member of Congress. And a lawyer.
In an email in response to a request from The Washington Post, Bannon described Sessions as "the clearinghouse for policy and philosophy" in Trump's administration, saying he and the senator are at the center of Trump's "pro-America movement" and the global nationalist phenomenon.
The EO establishes "preferential treatment for refugees seeking asylum who are identified with 'minority religions' in their country of origin."
In case there was any doubt about the latter provision's intent, Trump told Christian Broadcast News that it was intended to give priority to "Christians" seeking asylum over "Muslims."
In her ruling, Judge Gee cited
Boston / Logan
Boston, U.S. District Judge Allison Burroughs
Here's the signed order issued in Boston fed court, placing a 7 day stay on enforcement of Trump's EO in Mass. Lawyers are celebrating. pic.twitter.com/vcxK5MbLbr

— Shannon Dooling (@sdooling) January 29, 2017
At least three travellers were detained by DHS at Logan Airport Saturday.
Mazdak Tootkaboni, a UMass Dartmouth professor from Iran and a lawful permanent resident of the U.S., was returning from attending an academic conference in France along with his wife and fellow UMass Dartmouth professor, Arghavan Louhghalam, who is also an Iranian national and lawful permanent resident of the U.S.
This ruling may be limited to Logan. However, Judge Burroughs "limited border screening practices to those in place before Mr. Trump's executive order, and it barred not only removal but also detention."
New York / Brooklyn / JFK
#BREAKING: Judge Blocks Trump Immigration Order. #Trump https://t.co/FlTwNWQ8Bo

— Shomari Stone (@shomaristone) January 29, 2017
The first ruling came from U.S. District Judge Ann Donnelly of the Federal District Court in Brooklyn. Judge Donnelly cited possible "irreparable harm" should affected individuals (refugees, visa holders, and citizens of the seven named countries) not be allowed to enter the country. Moreover, she directed the U.S. Marshalls to enforce her temporary restraining order.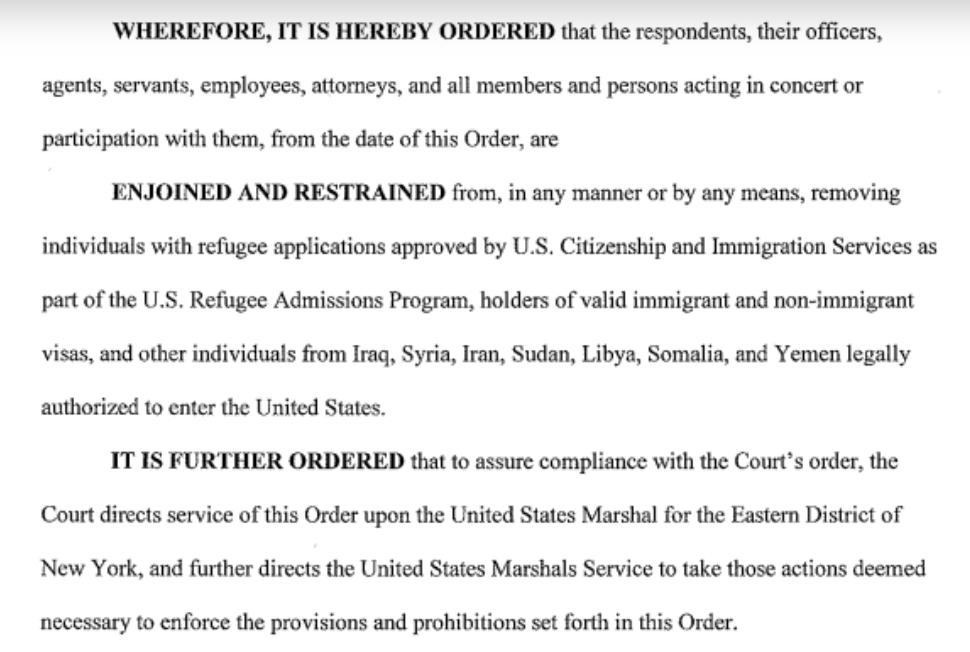 According to Karen Tumlin, Los Angeles-based legal director of the National Immigration Law Center, "the judge specified from the bench that the stay is nationwide."
Judge Donnelly cited the Constitution's due process and the Equal Protection Clause in her ruling.
ACLU currently estimates 100-200 people across US airports being held because of EO. They can all stay until further notice

— Raya Jalabi (@rayajalabi) January 29, 2017
Remember the name. Remember the face. Thank you, U.S. District Judge Ann Donnelly. #ACLU #MuslimBan @realDonaldTrump don't attack her. pic.twitter.com/J3DX7MF1m3

— Bill Marler (@bmarler) January 29, 2017
Seattle / SeaTac
U.S. District Court Judge Thomas Zilly issued an emergency stay of the Executive Order and enjoined the U.S. government from "removing" John Doe 1 and John Doe 2 from the country (pdf). This was the most narrow ruling of the five.
Washington, DC / Dulles
U.S. District Judge Leonie Brinkema in Alexandria, VA, issued a temporary restraining order to block removal of any green card holders being detained at Dulles International Airport.
The ruling affected three legal permanent residents (green card holders) and at least 60 others. The Judge also said that lawyers must be given access to anyone being held by the U.S. government under the Executive Order.
News reports indicate that DHS Border Patrol has still refused to allow detainees to consult with their attorneys.
Attys at Dulles with a fed court order entitling them to see detainees told by CBP "it's not going to happen" Attys seeking contempt order

— Damon Silvers (@DamonSilvers) January 29, 2017
We have a constitutional crisis today. Four Members of Congress asked CBP officials to enforce a federal court order and were turned away.

— Rep. Don Beyer (@RepDonBeyer) January 29, 2017
She has been released! https://t.co/rmDMvzl4GH

— Rep. Don Beyer (@RepDonBeyer) January 29, 2017
Related