John Oliver Helping Trump Understand Trade (Video)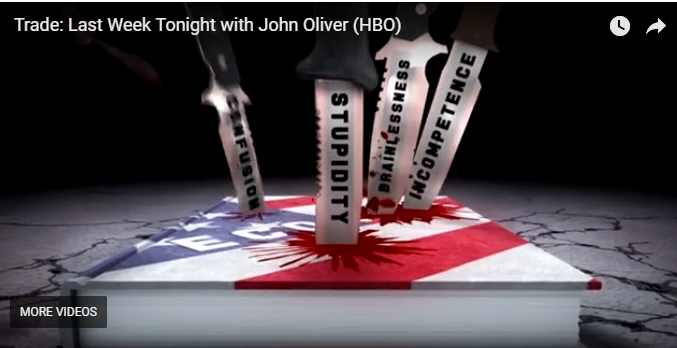 Caveat:
Just as I know beans about medicine, I "know nothing" about economics, in particular trade.
However, that does not keep me from enjoying – and sharing with readers – a hilarious performance by John Oliver on Sunday's "Last Week Tonight" where Oliver schools Trump and his head of the Office of Trade and Manufacturing Policy, Peter Navarro, on trade.
Who knows, Oliver may have some pearls of wisdom for the self-alleged consummate economist. We'll let the economy-savvy readers decide.
In his latest Last Week Tonight episode, John Oliver skewers "trade-that's-what-I-do Trump" by presenting evidence on "how clearly Donald Trump misunderstands even the most basic concepts (trade deficits, economics, tariffs, math, international trade agreements, facts) upon which he's waging his trade war."
For example, he illustrates how other world leaders and real economists – alarmed by how little Trump understands trade — have tried to explain to Trump the foolishness of his trade policies "armed with a series of simple, colorful flash cards…"
How Trump's tariff war with China alone has grown from 18 products subject to tariffs to more than 10,000 to the detriment of the American consumer and especially to the detriment of farmers.
How, "when it comes to trade, nothing happens in isolation," as there can be unpredictable consequences such as "boomeranging" to hit you in the you-know-what, as Oliver graphically illustrates.
How Oliver understands Trump's confusion, because it is truly complicated and how Oliver compares it to sex: "Think of trade like sex. If you're doing it right, it can be good for both partners, though the odds of that happening plummet as soon as Donald Trump gets involved."
But Oliver reserves his "best" ridicule for Peter Navarro who was allegedly found by Trump's "nothing boy" while shopping on Amazon and whose job is "to try to provide the underlying analytics that conform [Trump's] intuition."
Steven Mnuchin — Trump's Treasury Secretary and the White House's "sex bomb" — makes a cameo appearance.
Oliver perfectly addresses Navarro's book Death by China and his hyperbolic documentary by the same name with his own "documentary," addressing "one of the most urgent problems facing America — the destruction of economic knowledge by stupidity" and citing a review of the documentary that calls Death by China "the documentary equivalent of a raving street-corner derelict."
View the video below.
WARNING: Strong language (Similar to Trump's vocabulary).
Lead image: Screen capture John Oliver on Sunday's Last Week Tonight