When JFK was killed, a Holocaust survivor fearfully clung to his rye bread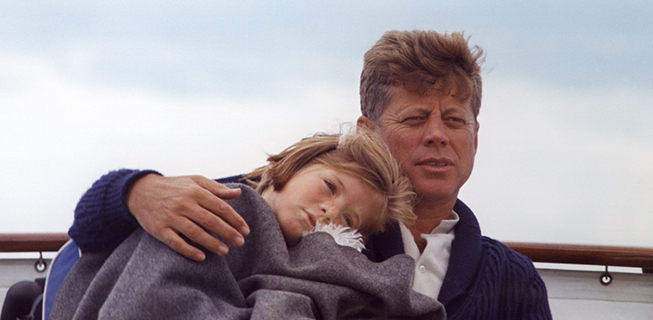 Like anybody else old enough, I remember when President John F. Kennedy was slain, fifty-four years ago today, November 22, 1963. And I also remember Dr. Glanzberg frightfully clutching his loaf of fresh rye bread.
Our tiny Hebrew day school suddenly sent us home just before two o'clock—exactly when we would have concluded our day with the weekly, all-classes' welcoming of Sabbath Eve. There would be no plastic mini-cups of grape juice, thin challah slices, lit candles, and sung blessings that Friday afternoon. I wouldn't have the opportunity to shyly chat with my willowy, fellow sixth grader, Linda Gerstle, outside of the confined classroom, and in the cold sunshine of our modest playground behind the brown brick building.
It was an unseasonably pleasant day in Cincinnati, November 22, 1963: I scanned the front entranceway on Summit Road: there was my mother in her gray Dodge Lancer with the push-button transmission. The breeze picked up and seemed to start howling and the skies turned dark as I sat in the seat next to her and realized that she was sobbing. The radio was not tuned for me to "Top 40" WSAI/ 1360 AM for the Crystals and Dionne Warwick.
No, what came through was Clear Channel WLW 700, "the Nation's Station," where there was news piped in from NBC spoken by hushed, urgent-sounding men about confusion and blood and crushed flowers and a young widow in Dallas, Texas. My mother was weeping quietly as I began to understand what had just recently transpired in Dallas.
Nonetheless, we made our way, as we did every Friday afternoon, to pick up a twisted Sabbath challah at the Avon Bakery on Reading Road. There, the narrow-waisted, kindly older ladies, clad in pink service dresses, were working dutifully and silently behind the counter, running poppy seed and regular loaves through the single slicing machine, handing over waxy bags to their customers while openly crying—as the radio on the shelf above the fruit pastry blasted the shocking dispatches from Dallas and Washington.
Next to us stood Dr. Jakub Glanzberg, the sinewy orthodontist who had survived Treblinka and Dachau only eighteen years earlier, and who worked on my braces while vigorously humming along with the Puccini operas that he piped into the office via Public Radio WGUC-FM. Now he held on to his rye bread as if someone terrible was coming back again to take it away from him. He smiled at me in a crooked, forced way and I saw trepidation in his eyes that told me something had been shaken from its foundations. Dr. Glanzberg, normally given to humming to arias, was trembling with reflexive European terror.
That was the beginning of everything as we came to know the 1960s and it's hard to remember anything clearly before November 22, 1963. A wispy, eerie man named Lee Harvey Oswald, ex-Marine, alleged commie, Russian expatriate, came through the cathode ray of the black and white television set with the pronged antennae and click-click channel setter. We had real demons to fear and young men to bury, starting with the chestnut-haired president and hemorrhaging into thousands and thousands of peach-fuzzed soldiers who began to die for us in the jungles and rice-paddies and fires of Vietnam.
Broadcast live on my luckless living room Zenith, a stocky, TV-gangster-type named Jack Ruby thrust himself out of the grainy crowd in the Dallas police garage and fired a pistol into the sweater of Lee Harvey Oswald that very Sunday afternoon, November 24, 1963.
Suddenly, the government and policemen were no longer sacrosanct as we assumed they were and nothing seemed as safe as we took for granted it would be. There was now "A Threat" out there. Violent death was abruptly an unwelcome companion in our thoughts. Who could have imagined 2017?
Over the next few years, race riots scorched everything from Newark to Watts. Japanese cars and lavish bar mitzvah parties and Afros and bell-bottoms and condoms came through like the tide and even Linda Gerstle went on to her life and our innocent little crush upon each other was as distant and ethereal as the morning stars disappearing into the blazing light of a post-modernity that everyone feted but none of us really, truly welcomed.
And yet: I am unable to forget what happened the following Thursday—which was a grim Thanksgiving yet still a national table set for peace. My father and I took a post-turkey walk in the chilly afternoon in the old Roselawn neighborhood and we stumbled upon Dr. Glanzberg and his wife, Lena. Dr. Glanzberg, now only clutching his wife, smiled at me said: "It's okay, boychik, we can always come home to the ones we love."
Order my current book, 'I DON'T KNOW WHAT TO BELIEVE: Making Spiritual Peace With Your Religion'